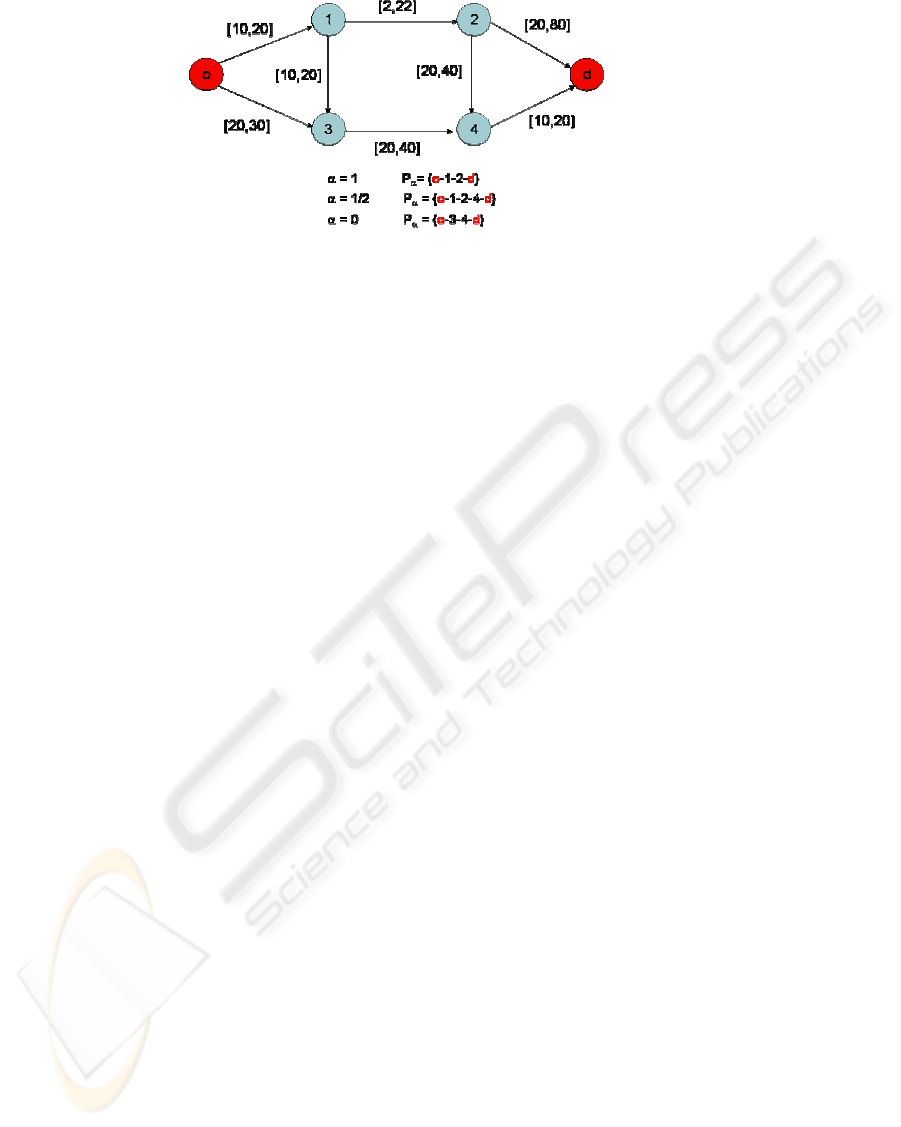 Figure 2: A very simple example.
Ford and Fulkerson [1958] observe that flow-over-
time problems in a given network with transit times
on the arcs can be transformed into equivalent static
flow problems in the corresponding
time expanded
In many different areas of manufacturing, traffic
network, medicine, software engineering and etc.,
the decentralized approach reaches good
performances. Obviously, when all data are
available and of reasonable size, it is always possible
to use a centralized approach.
Naturally, a user will buy a route guidance
system only if he can obtain a benefit, but a system
optimum is not always a good solution from a user
point of view. Probably, a driver is induced to use a
route guidance system, if he/she is confident and
sure that the recommended route is always a good
route for him/her. In our work, we consider a
decentralized decision ap
proach, where each driver
selects his/her route, on the basis of the traffic on the
network.
We consider a hierarchical structure with two
different levels: at a
high level there is a

reference
station
, that represents a sort of real time database,
where all information related to the traffic on the
network are available; at the
local level

is present a
local controller (
Intelligent Traveller Information
System ITIS
). The reference station is responsible for
management functions such as collecting and storing
data, gathered from the network, and disseminating
traveller information.
Figure 1 depicts the set of travellers and flow
entities seeking to travel through the network.
Each vehicle with ITIS calculates its path from the
origin
o
to destination d

on the basis of some
information that is exchanged with the reference
station. For each link of the traffic network we know
the estimated minimum transit time
t
e
min
and the
estimated maximum transit time
t
e
max
parameters are calculated at the high level on the
basis of real-time, collected and stored data. For
t
e
min
is a lower bound on the transit time
(dependent on flow) on
e;
t
e
max
is an upper bound on the transit time
(dependent on flow) on
e

.
As we will discuss in the next section, the value
t
e
max
can be calculated also by considering the
vehicles that are in th
e network, but have not
decided their route yet.
Each vehicle
v
, when computing its optimal
v
v
, assumes that the transit time on
t
v
t
e
min
v
e
max
The parameter
α
v
is a characteristic of the ITIS,
it is a real number
α
v
∈
[0,1]. This
characteristic
α
of the vehicle allows us to determine
different paths and avoid congestion on some links.
A very simple example in which different paths
corresponds to different values for
α
v
is depicted in
Figure 2.
4.1.1
Potential flow evaluation
We introduce the concept of potential flow as a way
of providing an estimate on transit times in the
immediate future by considering vehicles with ITIS
that are in the network, but have not decided their
route yet. Then, the
potential flow
represents all
users that have requested information on the traffic
of the network but have not calculated their personal
route yet. Naturally, it is necessary to have an
evaluation of these potential users to eliminate the
platooning effect.
Here, we consider two different ways to calculate
potential flow (in Figure 3 there is an example of the
two different potential flow evaluations). Since
traffic networks are usually very large and since
ICINCO 2004 - INTELLIGENT CONTROL SYSTEMS AND OPTIMIZATION
320