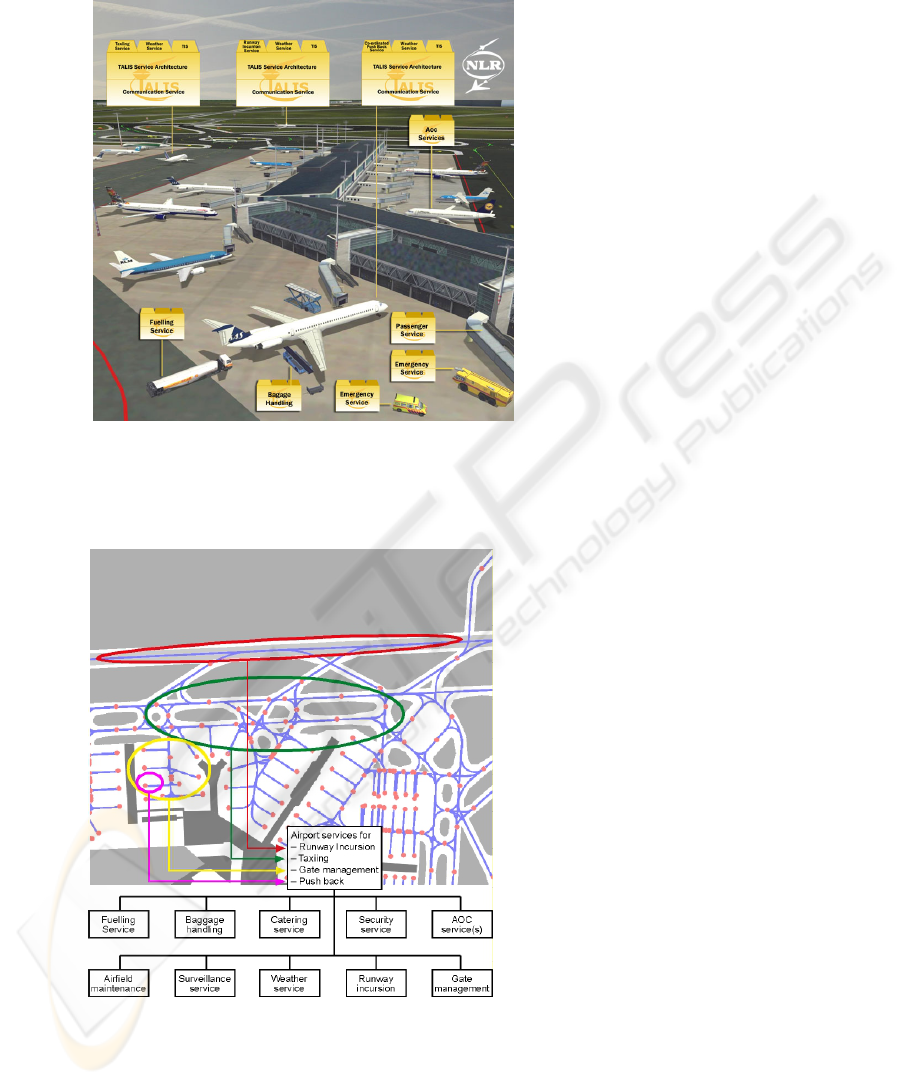 General domain information
technology can integrate the
systems of the various
stakeholders involved into a
network-centric system-of-
systems, a virtual enterprise.
Such co-operation improves
the combined pe
rformance of
all stakeholders involved. In
various other domains, which
lack air transport's safety
concerns, such improvements
have already been achieved.
The Total Information Sharing
for Pilot Situational
Awareness Enhanced by
Intelligent Systems (TALIS)
project [1], realizes a
prototype of such a
network-centric architecture.
Fig. 2. Conceptual overview of the TALIS network-centric architecture
. The completed prototype, consisting of the middleware and two sample
applications, demonstrates the technical feasibility of this network-centric approach.
Fig. 2 provides a conceptual overview of the prototype.
The network-centric architecture
supports services for all flight
phases. Fig. 3 demonstrates the
integration of various actors at
the airport. The pilot-oriented
sample service illustrates the
kind of optimisation that the
prototype aims to support.
Also at an airport the pilot
information-needs are flight-
phase dependent. A coordinated
pushback service will allow the
pilot to improve the reliability of
on-time pushback. For this the
pilot needs amalgamated
information from, e.g., fuelling
services, baggage-handling
services, catering services,
security services and Airline
Fig. 3. Pilot-oriented sample service
Operations Center (AOC) about transfer passengers. This pushback service
optimizes utilization of the taxiway linking the various gates and prevents aircraft
from blocking each other or en
ding up in the wrong take

-off order. Subsequently
53