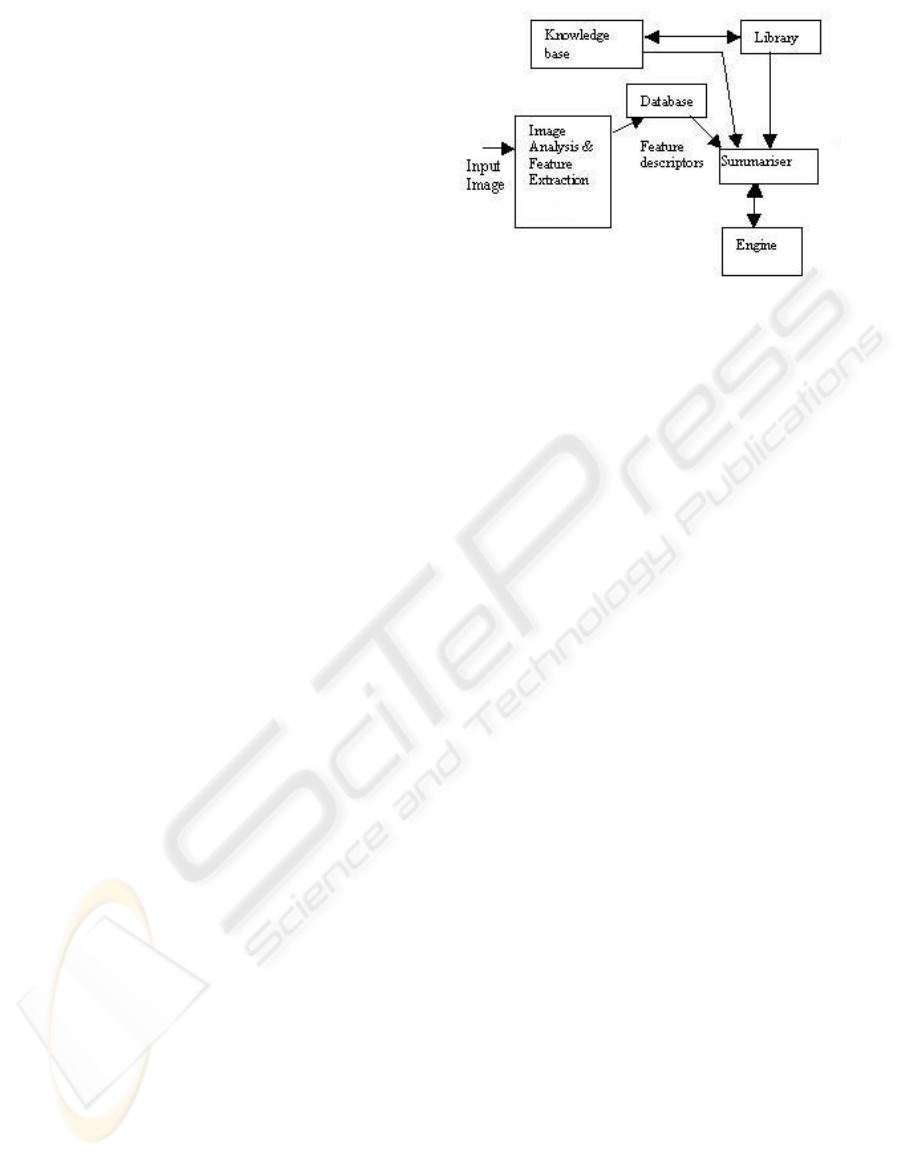 al., 2003a), (Barnard et
al., 2003b) describe the
approach involved
in matching images to text. Their
work describes models used for automatic image
annotation, browsing support and auto-illustration of
blocks of text. Such models are focussed on
prediction of words (from an available pool) that
match with specific image regions. This is a form of
labelling and requires assistance from training data
and manually annotated images.
This paper describes a system that classifies and
automatically interprets natural patterns such as
land, island, water body, river, fire in remote-sensed
images and utilises fuzzy logic (Nair, 2003), (Nair,
Chai 2004), (Nair, 2004) to describe these patterns.
Some feature descriptors such as area, length etc., of
such patterns are extracted and stored in a relational
database. Data mining techniques that employ
clustering and genetic algo
rithms are then used to
develop the most suitable linguistic summary of
each pattern/object stored in the database. This paper
is organised as follows. Section 2 describes the
system architecture, section 3 describes the
approach, section 4 disc
usses the implementation
issues, and section 5 discusses the conclusions and
future work.
2 SYSTEM ARCHITECTURE
The system architecture is
shown in Figure 1. The
input image is analysed using the graphical tool
developed as part of this research (RSIMANA) and
some feature descriptors extracted. These descriptors
are stored thereafter in a relational table in the
database. The knowledge base uses geographic facts
to define feature descriptors using fuzzy sets. It
interacts with a built-in library of linguistic labels,
which also interacts with the summariser as it
supplies the necessary labels to it. The summariser
receives input from these components and performs
a comparison between actual feature descriptors of
the image patterns stored in the database with the
feature definitions stored in the knowledge base.
After this comparison, th
e summariser uses the
linguistic labels supplied by the library to formulate
some possible summaries fo
r each pattern/object in
the database. From among these summaries, the
most suitable one describing each pattern is selected
by interaction with the engine (genetic algorithm).
Figure 1: System architecture
RSIMANA is developed in Java®. Some of the
classes and algorithms developed as part of this tool
are described next. Euclidean distance measure is
used to calculate feature descriptors such as length
and perimeter. Area is calculated by means of a
pixel-counting algorithm. A morphology algorithm
is included to implement erosion of the binary-
thresholded image. Erosion can be used to locate the
centroid of an object/pattern, which is recorded for
use with the remainder of the system. The tool
includes a histogram feature to construct histogram
for a selected region of interest. Additional user-
friendly features are implem
ented such as zoom and
also scale to convert
pixel area, length, and
perimeter to appropriate units.
The tool also aims to identify or classify patterns
such as river, land, island, other water body
(excluding river), fire in remote-sensed images
based on the attributes of their envelopes in the
image. Some of the attributes being considered are
grey level values, colour density slicing, histogram
distribution etc. This research focuses on analysing
multi-band (RGB) satellite images. The tool
implements only unsupervised pattern classification
at this stage. The following set of rules is developed
to perform pattern classification in multi-band
satellite images.
1.
If a pattern/object is to be classified as an
island, it should have a water envelope
surrounding it such that it has a uniform
band ratio at at least eight points on this
envelope (corresponding to directions E,
W, N, S, NE, NW, SE, SW). Also grey
level values on the envelope could be lower
than the grey level values on the object.
2.
If an object does not have an envelope in all
directions as described in rule (1) above,
then it is classified as land.
ICEIS 2005 - ARTIFICIAL INTELLIGENCE AND DECISION SUPPORT SYSTEMS
284