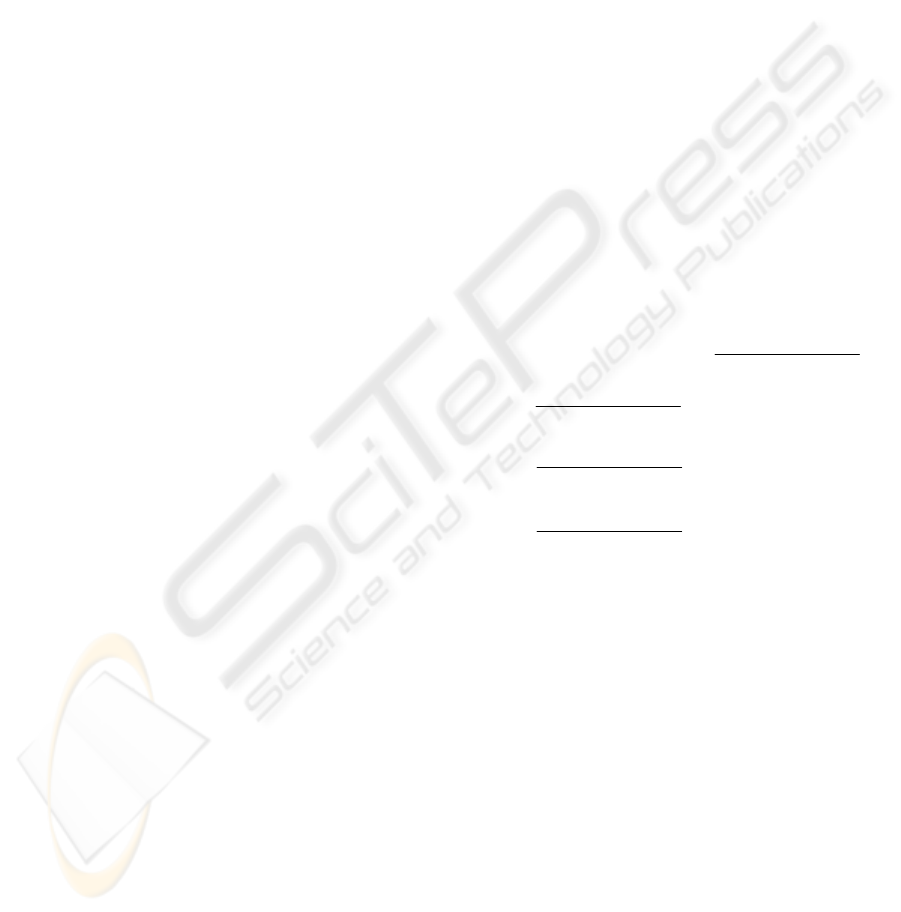 doesn't have the means to search for
something similar in the database; the
problem can be solved establishing that
image as query image and the content-
based image query will provide the similar
images from the database; it is very likely
that among the retrieved images should be
the searched image together with its
diagnosis, observations, treatment; so the
content-based image query can be directly
used in the diagnosis process;
•
It may be necessary in other cases to
specify a region of an image as a query and
to retrieve all images containing a similar
region. In this second case, an automated
algorithm for the correct extraction of color
regions is very important.
•
The education and research activity can be
improved by using the access visual
methods.
•
The visual characteris

tics allow not only
the retrieving of the patients having the
same disease, but also the cases where the
visual similitude exists, but the diagnosis
differs.
There are still few systems that are really
integrated into the medical diagnosis process, and
the work for the application of the most suitable
algorithms in image processing and features
extraction continues (Muller et al, 2004).
The research has shown that the methods used in
content-based image query on common images
(from nature), do not have the same good results on
medical images (Stanescu and Burdescu, 2003).
Therefore, it is necessary
to individualize the
methods on the diagnosis level.
So, on the gray-level images can be applied the
content-based image query based on texture or
shape. A large part of the images given by the
medical apparatus are color, in which case the
characteristics color, color texture and shape must be
considered.
In this article, the research has been effectuated
on color images from the field of the digestive
apparatus gathered with an
endoscope, stored in a
database on which is applied the content-based
image query on color and color texture features.
The paper emphasizes that using the color and
color texture features in
content-based image query
will lead to better results in some diseases. There
are some diseases that
are characterized by the
change of the color and the texture of the affected
tissue, for example: ulcer, colitis, esophagitis,
polyps, ulcer, and ulcerous tumor.
2 CONTENT-BASED IMAGE
QUERY ON COLOR FEATURE
The color is the visual feature immediately
perceived on an image. In content-based visual
query on color feature is important the used color
space and the level of quantization, meaning the
maximum number of colors. This study uses the
representation of images in the HSV color space that
has the properties of being complete, compact,
natural and uniform and its quantization to 166
colors (Smith, 1997).
The color histograms represent the traditional
method of describing the color properties of the
images. They have the advantages of easy
computation and up to certain point are insensitive
to camera rotating, zooming, and changes in image
resolution (Del Bimbo, 2001).
The transformation from the RGB color space to
HSV color space is realized with the equations
(Smith, 1997): v
c
= (r,g,b) represents a color point in
RGB color space and w
c
= (h,s,v) is the color point
transformed in HSV color space, where w
c
=T
c
(v
c
).
For r,g,b
∈
[0…1], then T
c
The procedure of quantization of the HSV color
space to 166 colors is:
bgrv
s
=
),,min(
'
bgrv
rv
r
−
=
),,min(
'
bgrv
gv
g
−
=
),,min(
'
bgrv
bv
b
−
=
),,min(,
),,max(,'5ßh
bgrgand
bgrrifb
=
),,min(,
),,max(,'1ßh
bgrgand
bgrrifg
≠
),,min(,
),,max(,'1ßh
bgrband
bgrgifr
=
),,min(,
),,max(,'3ßh
bgrband
bgrgifb
≠
),,min(,
),,max(,'3ßh
bgrrand
bgrbifg
=
IMPROVING THE RESULTS OF THE CONTENT-BASED IMAGE QUERY ON MEDICAL IMAGERY
433