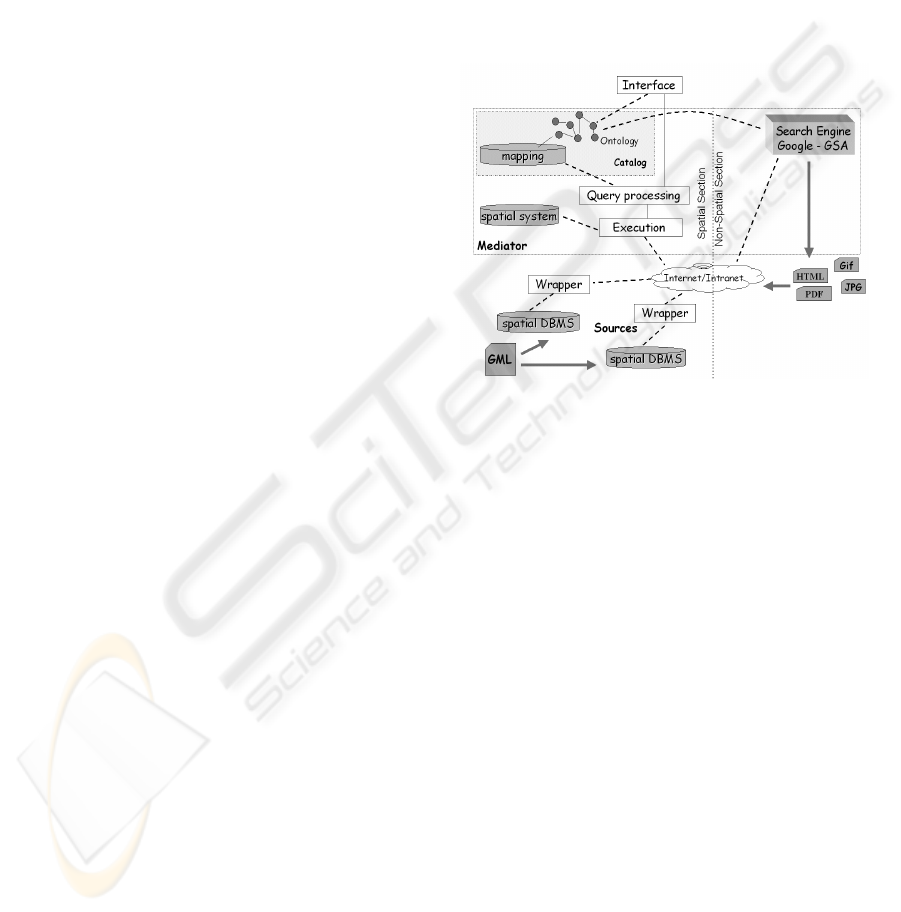 GML uses to encode spatial information in XML are
defined in the specification of OpenGeospatial
Consortium (Open Geospatial Consortium, 2003).
Thus, GML allows a more homogeneous and
flexible representation of the spatial information.
Our system follows a classical architecture based
on
mediator. Thus, we have used a mediator

layer,
which is responsible for
integrating GML resources
and executing the spatial queries. It processes the
user queries and sends full or partial queries to the
GML sources. The sources return alphanumeric
values, and these values are sent to a Search Engine
to search for the associated resources.
Query mediation has been extensively studied in
the literature for different kinds of mediation models
such as
Tsimmis
(Papakonstantinou et al., 1995),
YAT
(Cluet et al., 2001), (Levy et al., 1996
(Boucelma et al., 2002). More directly concerned
with the spatial XML integration, the approaches
developed by (Gupta et al., 1999), (Córcoles and
González., 2003) and (Córcoles et al., 2003) stand
out. (Gupta et al., 1999) extends the MIX
wrapper-
mediator
architecture for integrating information
from spatial information systems and searchable
databases of geo-referenced imagery. MIX is
focused on integrating geo-referenced imagery but
our approach is focused on spatial geometries. On
the other hand, (Córcoles et al., 2003) designed a
novel approach for integrating GML resources. The
proposed architecture uses a Catalog expressed by
RDF to relate the GML resources. Also, (Córcoles
and González., 2003) describes a mediation system
based on RDF for querying spatial and non-spatial
information. Finally, (Córcoles, 2005) shows an
architecture for integrati
ng spatial resources and
non-spatial resources on the web. It has the same
aims as this paper, but it does not use commercial
Search Engines to obtain non-spatial resources.
With regard to the use of current Search Engines
for searching for resources based on spatial
conditions, they are now starting to take their first
steps. So, for example,
Google Maps
(Maps, 2006)
offers an approach to provide information about
businesses following spatial conditions. However, it
offers an ad-hoc solution and not a relation between
spatial and non-spatial resources on the fly.
This paper is structured as follows: An overview
of the architecture is shown in Section 2 and
conclusions and projected future work are shown in
Section 3.
Figure 1 shows the basic architecture of our
approach. It has two main sections:
mediator

and
sources (Wrappers).
Mediator
stores Spatial
resources (named GML resources) and has the main
logic for executing the spatial queries to obtain non-
Spatial resources (non-GML resources) related to
the GML resources.
Mediator
has two aims: on the
one hand, it relates GML resources and makes it
possible to search for them, and on the other hand, it
carries out the search
for non-GML resources.
Figure 1: Architecture of the approach.
Non-GML resources (web pages, gif, pdf, etc)
are stored on "Internet", though we suppose a copy
is stored in the Search Engine. In the implementation
of this approach we have based our work on the
Google Search Engine. To be precise, we have used
the Google Search Applia
nce (GSA). It is an
integrated hardware and software product designed
to give businesses the productivity-enhancing power
of Google search (Google, 2006). However, though
our implementation has been limited to Google
Search Appliance, every feat
ure of this approach can
be applied over Google Search Engine or other
Search Engines. For this reason, in this paper we use
the term
Search Engine

in a general way.
GML resources are stored in the sources (in the
same or different locations), whose purpose is that of
executing the queries received from the
mediator
and returning the results.
The main task of an integration
mediator
is to
provide users with a uniq
ue interface for querying
the data, independently of its actual organisation and
location (Levy, 2000). This interface, or global
schema, is described as an
ontology

.
SEARCH ON THE WEB WITH SPATIAL CRITERIONS - Improving a Search Engine with Spatial Queries
383