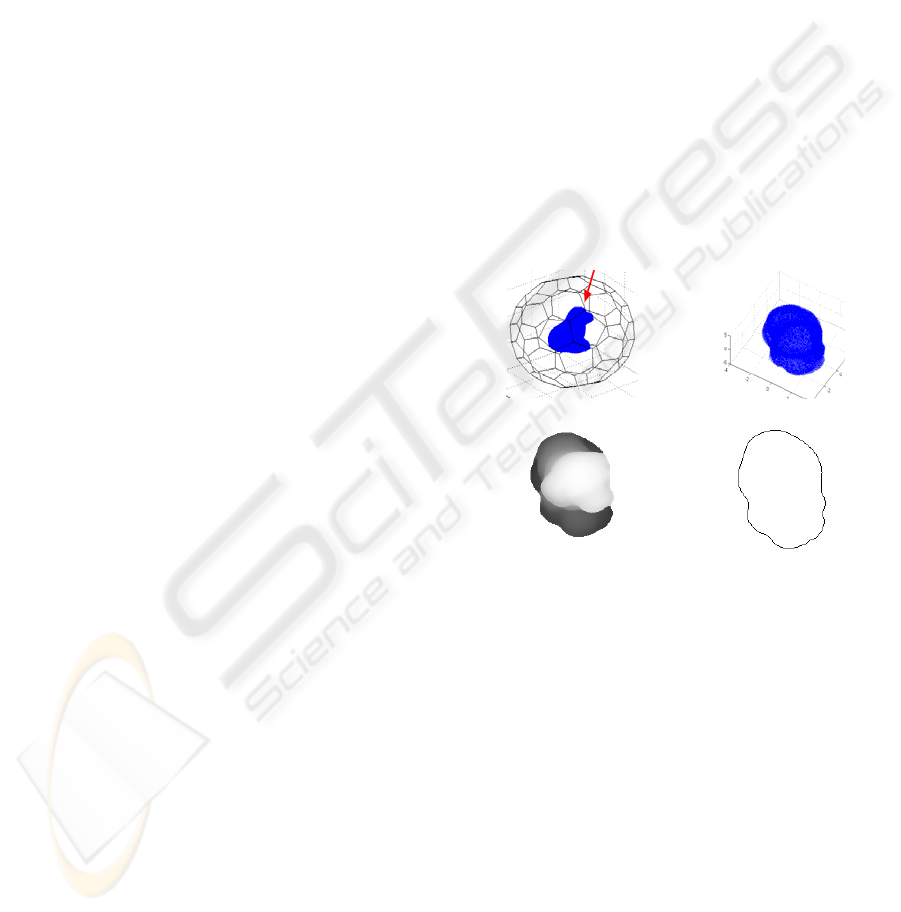 (1999) represent the object
s by some appearance-
based information, namely the parametric
eigenspace. This representation is augmented by
adding some probability distributions. These
probability distributions are then used to provide a
gauge for performing the view planning. Sipe and
Casasent (2002) use a probabilistic extension of the
feature space trajectory (FST) in a global eigenspace
to represent 3D views of an object. View planning is
accomplished by determining - for each pair of
objects – the most discriminating view point in an
off-line training stage. Th
eir approach assumes that
the cost of making a mistak
e is higher than the cost
of moving the sensor.
In general, most of th
ese approaches solve the
3D object recognition problem using stochastic or
probabilistic models and, consequently, they require
a large dataset for training (Deinzer et al., 2006).
Here we present a different way to focus on the
problem.
The key to our active recognition system consists
of using a reduced set of Fourier descriptors to
connect and develop the recognition phases: object
representation, classificatio
n, identification, pose
estimation and next best view planning.
We focus the object representation on silhouettes
because: they can be
robustly extracted from
images, they are insensitive to surface feature
variations - such as color and texture - and, finally,
they easily encode the shape information (Pope et
al. 2005). The most popular methods for 2D object
recognition from silhouettes are based on invariant
moments or Fourier descriptors. Invariant moments
exhibit the drawback that two completely different
silhouettes may have the same low order invariant
moments, which may lead to ambiguities in the
recognition process. Fourier descriptors yield much
more information about the silhouette, and only
similar silhouettes exhibit similar Fourier
descriptors. Since we consider the objects to be non-
occluded and the background to be uncluttered, we
use a representation scheme in which the silhouettes
from different viewpoints are represented by their
Fourier descriptors.
This paper is organized as follows. Section 2
presents an overview of the method. Section 3
describes our object identification/pose estimation
approach. Section 4 details the next best view
method. Section 5 shows the performance of our
method by carrying out experiments on a real
platform, and some conclusions are stated in Section
6.
In this method the scene silhouette (silhouette of the
3D object to be recognized) is recognized among a
set of silhouettes (in our case, 80 or 320 per object)
of a group of objects through an algorithm based on
Fourier descriptors. Therefore, X recognition of the
silhouette of the scene involves both object
identification and pose. The method consists of off-
line and on-line parts.
The off-line process consists of building a
structured database of silhouettes belonging to a
generic set of objects. Firstly, a high precision three-
dimensional model of each object is obtained by
means of a laser scanner sensor. Next, this model is
viewed from a set of homogeneous viewpoints
obtaining the corresponding set of 2D silhouettes.
The viewpoints correspond
to the vertexes of a
tessellated sphere with origin in the centre of mass
of the object. Figure 1 shows an object model inside
the tessellated sphere, the projected image of the
model and its silhouette from a specific viewpoint.
a)
b)
c)
d)
Figure 1: a) Object model put into the tessellated sphere b)
View of the object model from a specific viewpoint, c)
Depth image d) 2D silhouette.
The database is structured in clusters using only
three Fourier descriptors. To build the clustering we
used a k-means algorithm
(Netanyahu et al., 2002).
This strategy allows us to split the silhouette search
space in zones where the silhouettes are roughly
similar. Consequently, the cost of the recognition
process is dramatically reduced. Figure 2 a) shows
the most important Fourier descriptors modules for a
couple of silhouettes. In our case, we have taken the
second, third and next to the last values. Figure 2 b)
presents the reconstructed
silhouette with the three
Fourier descriptors superimposed on the original
one. Note that by selecting the most meaningful
Fourier components it is possible to work with
approximate shapes. Figure 3 shows a spatial
ACTIVE 3D RECOGNITION SYSTEM BASED ON FOURIER DESCRIPTORS
319