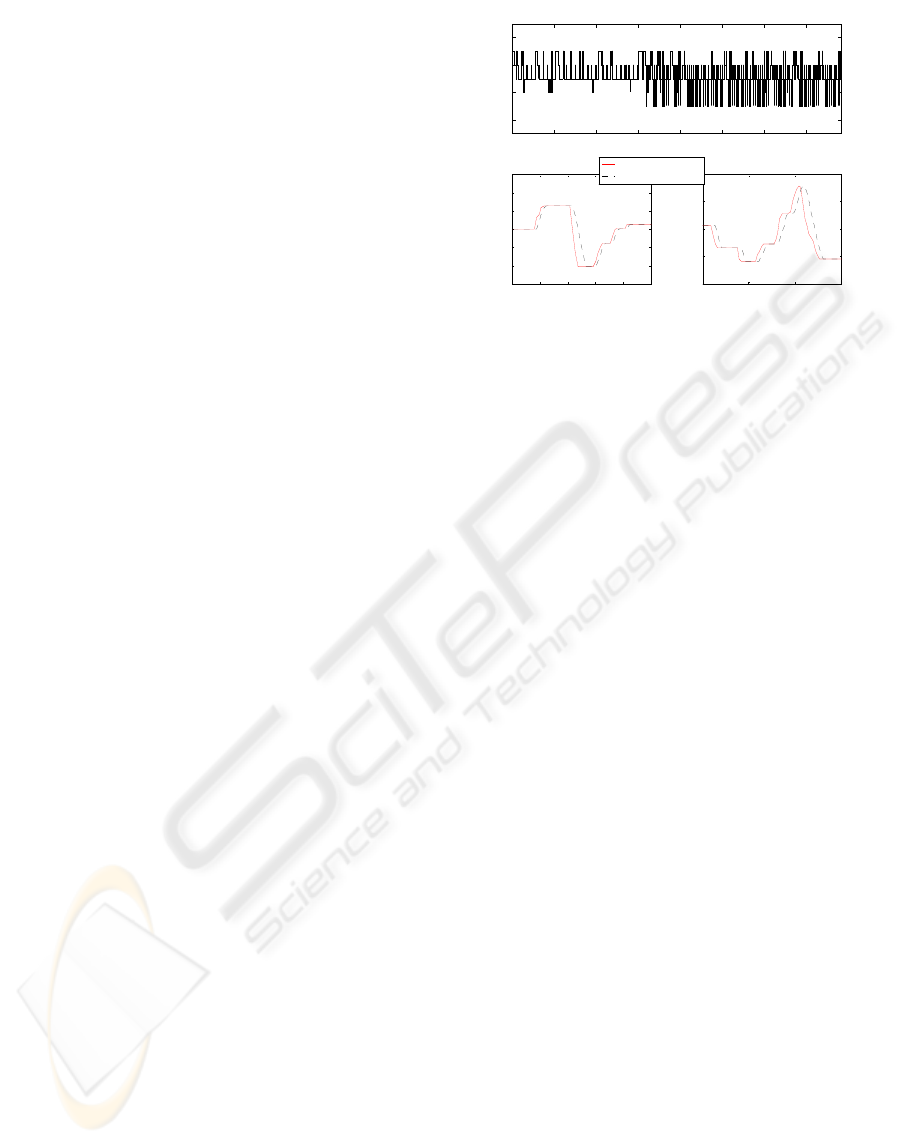 site. It was then decided to use a compromise
between these two protocols: the trinomial
(Xiaoping Liu, 2003). It allows the network not to
remain blocked in case of data loss as there is no
reemission of the lost data. However, contrary to
UDP, trinomial takes into account the transmission
delay (i.e. the received data acknowledgement)
which allows a modulation of the flow and thus a
limitation of the network saturation. In our case, the
"expert" station sends th
e trajectories to the
"patient" station using this
protocol, and it receives
the sensors feedback thr
ough the recepti

on of the
data acknowledgement.
Finally, a connection is established in order to
transmit the ambient imag
es or the ultrasound
images to the "expert" station via the
videoconferencing system. A bandwidth of 256-384
kbps is required depending on the quality of
ultrasonic device to offer the best image quality to
the "expert" station.
To validate the control architecture and to test the
efficiency of our control transmission protocol, a set
of tests was performed during a teleoperation
between the LIRMM in Montpellier and the LVR in
Bourges using the Ethernet RENATER-4 public
network; this network provides a flow of about
30Mbit/s.
These results show Round-Trip Time (RTT)
between Montpellier and Bourges (
which corresponds to the delays measured between
the data transmission and the acknowledgement
reception of this data. The RTT varies between 7
and 11 ms proving the efficiency of the chosen data
transmission protocol.
Moreover, these results show delays obtained
between sending out the control data and the robot
position feedback (
Figure 11
(b) and (c)) (which
include transmission and the time of the servoings).
We can see that the system
needs approximately 20
ms to reach the desired position.
These results are quite satisfactory and allow us
to perform in real time examination in very good
conditions without disturbing the rendering of the
distant environment to the expert (Arbeille, 2004).
0
100

200

300

400

500

600

700
6
8
10
12
Data sent
Time (ms)
(a)
3600
3700
3800
3900
4000
4100
-150
-100
-50
0
50
100
150
Time (ms)
Angle (°)
(b)
-200
-100
0
100
200
Time (ms)
Angle (°)
(c)
Desired Control
Robot Feedback
Figure 11: Result during test between Montpellier and
Bourges (a) represents the data Round Trip Time, (b) and
(c) represent respectively th
e second and the third axis
servoing time delay.
Some improvements (transmission and architectural)
have to be considered to provide the medical expert
with better examination conditions thus ensuring the
best diagnostic as possible.
The communication link (Internet, ISDN,
satellite…) used to emit data from the expert station
induces transmission delays that can provoke
aperiodic data reception and even destabilize the
closed loop global system. This can disturb the
medical expert medical act when this delay varies
too strongly. To avoid that, it is possible to use a
FIFO regulator type (Lelevé, 2000) to synchronise
the data reception, and thus to provide the expert
with a more steady date flow and to adapt more
easily his control of the distant robot to the
transmission delays.
It is also possible to add an autonomous mode
coupled with a level 4 of the teleoperation part, with
the intention to realize a full echography of an organ
allowing a 3D reconstruction. Thus, the medical
expert would select the organ to be investigated and
the robot would fallow all
trajectories needed to
supply the 3D reconstruction wanted by the medical
expert. The virtual diagnosis by the expert is made
from the 3D reconstruction.
From a mechanical view point, the OTELO2
prototype robot (
Figure 12
) corresponds to the criteria
imposed by the medical gesture study and experts'
requirement; it thus ensures identical examination
THE TELE-ECHOGRAPHY MEDICAL ROBOT OTELO2 - Teleoperated with a Multi Level Architecture using
Trinomial Protocol
57