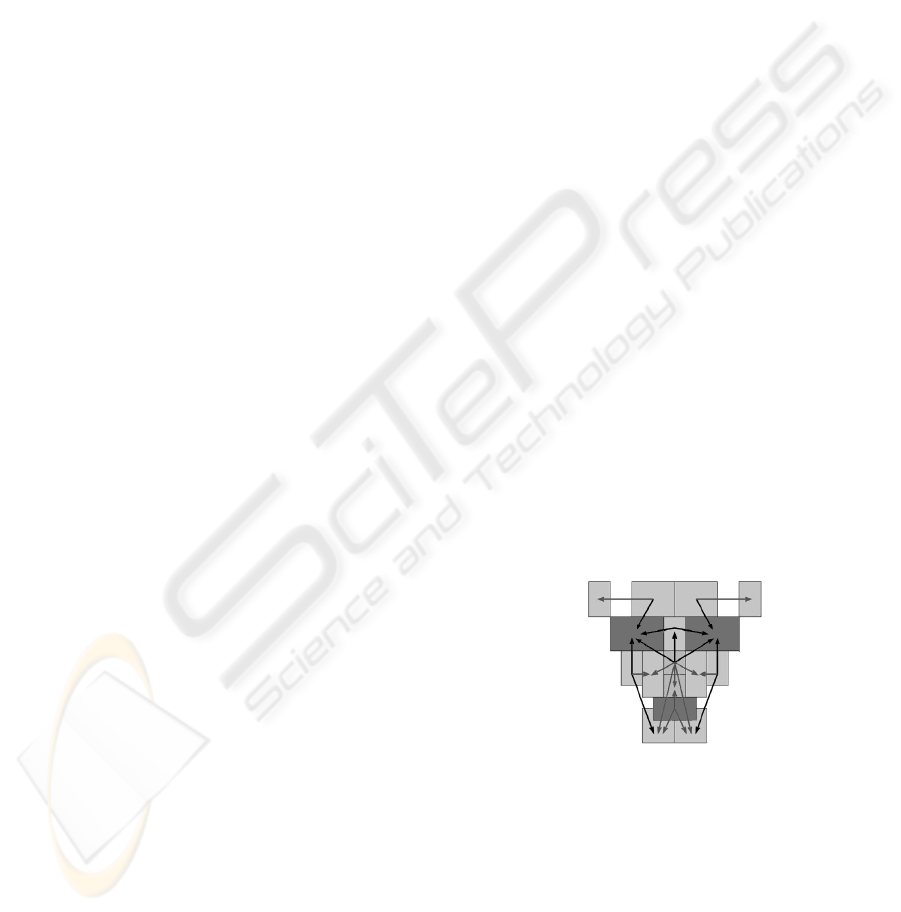 that encode human knowledge of what constitutes a
face. Leung et al. (Leung,
Burl and Perona, 1995).
applied a local feature detector to find faces in an
image. Other systems ( Rowl
ey et al, 1997; Rowley
et al, 1998; Yang and Huang 1994; Juell et al., 1996)
use artificial neural networks to find faces. Lin et al.
(Lin and Fan, 2001) propose
d a system that searches
for potential face regions, based on the triangle that
form the eyes and the mout
h. Sung et al. (Sung and
Poggio, 1994) used metrics that measure the
distance between the input
image and the cluster of
faces and non-faces. Lin Huang et al. (Huang and
Shimizu, 2006) designed three detection experts
which employ different feature representation
schemes of local image and then use a polynomial
neural network to determine whether or not there is a
face in an image. Castrillon et al. (Castrillon et al.,
2007) developed a system for real time detection of
faces in video sequences by means of cue
combination. S. Phimoltares et al. (Phimoltares,
Lursinsap and Chamnongthai, 2007) developed a
two-stage system, which first detects the faces from
an original image by using Canny edge detection
and their proposed averag
e face templates and then
uses a neural visual model (NVM) to recognize all
possibilities of facial feature positions. Kadoury and
Levine (Kadoury and Levine, 2007) proposed a
novel technique which uses locally linear embedding
(LLE) to determine a locally
linear fit so that each
data point can be represented by a linear
combination of its closest neighbors and use this
representation to train Supp
ort Vector Machines that
detect faces.
Most of the aforementioned methods limit
themselves to dealing w
ith human faces in front
view. There are several drawbacks in these
approaches, such as: (1) Th
ey cannot detect a face,
which is smaller than 50 * 50 pixels. (2) They
cannot detect many faces
(more than 3 faces) in
complex backgrounds. (3)
They cannot detect faces
when we have images with defocus and noise
problems. (4) They cannot a
ll address the problem of
partial occlusion of mouth or wearing sunglasses. (5)
It is not easy to detect f
aces in side view. Although
there are some researches th
at can solve two or three
of these problems, there is still no system that can
solve all of them.
In this paper, a new and efficient human face
detection system is proposed that combines artificial
neural networks and image invariants approaches.
Specifically, in Section 2, we present our face
detection algorithm. In Section 3, we discuss the
structures of two neural networks, which have
different performances. In Section 4, we present the
face image data acquisition geometry and evaluate
the performance of the two networks. Finally, we
draw conclusion in Section 5 and point to future
work in Section 6.
2 THE FACE DETECTION
ALGORITHM
Our system uses face detection algorithms which fall
within the third approach mentioned above.
Specifically, we define certain image invariants and
use them to detect faces by feeding them into an
artificial neural network. These image invariants
were found based on Sinha's (Sinha, P.; Yang and
Ahuja, 2003) 14-by-16 pixel ratio template,
summarized next.
2.1 The Sinha Template
The method proposed by P. Sinha (Sinha, P.; Yang
and Ahuja, 2003) combines template matching and
image invariant approaches. P. Sinha aimed at
finding a model that would satisfactorily represent
some basic relationships between the regions of a
human face. More specifica
lly, he found out that,
while variations in illumination change the
individual brightness of different parts of faces (such
as eyes, cheeks, nose and forehead), the relative
brightness of these parts remains unchanged. This
relative brightness between facial parts is captured
by an appropriate set of pairwise brighter - darker
relationships between sub-regions of the face.
Figure 1: The Sinha Template.
The Sinha template is shown in Figure 1, where we
observe 23 pair-wise relationships represented by
arrows. The darker and brighter parts of the face are
represented by darker and brighter shades of grey,
respectively.
Our proposed face detection algorithm is built on
this model. We pre-process a candidate image in
order to enhance the relationships in the Sinha
template and then feed the image into an artificial
SIGMAP 2007 - International Conference on Signal Processing and Multimedia Applications
54