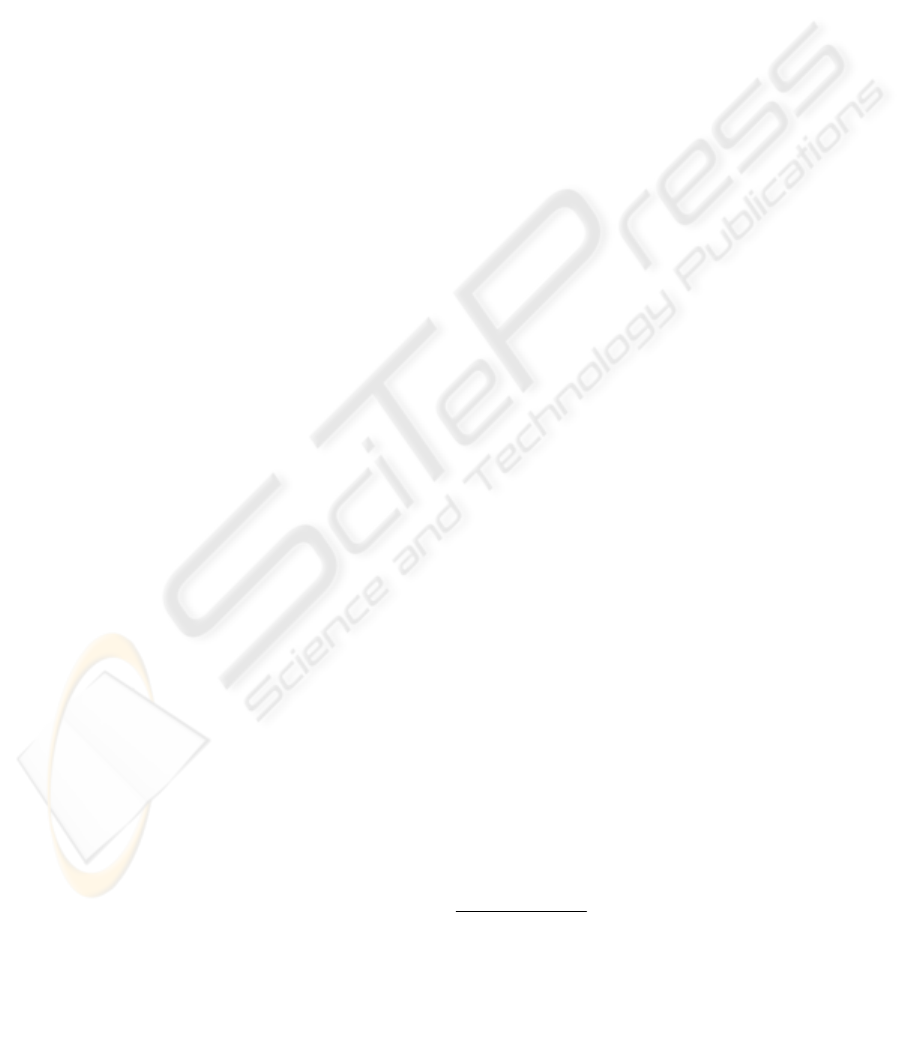 clients non-active resources in two ways: first, it
allows clients to collaborate with the server in the
delivery of initial portions of video, patch streams;
and second, it establishes a group of clients to store
the available information of an existent server
multicast channel to eliminate it. P
n
2P
n
also requires
that output bandwidth is the same as video play-rate.
The Internet environment imposes further
restrictions to P2P streaming schemes in order to
provide VoD service. First, providing service over
non-dedicated network environments implies no
QoS guaranties, transmission
congestion, packet loss
and variable point-to-point bandwidth. Second, non-
symmetrical clients' bandwidth involves a careful
delivery strategy due to clients' output-bandwidth
limitation. Third, Internet
Service-Provider (ISP)
networks differ on supporting (or not) the IP-
Multicast delivery technology. Finally, content
copyright protection affects content storage limited
to non-persistent devices. Thus, content on peers is
only available over a limited period of time.
To solve the above challenges, we have proposed
a VoD architecture for an Internet environment,
which is called P2PVoDSpread. In order to allow
clients (peers) to collaborate with server-delivery
process, we have designed a new delivery scheme
called DynaPeer, based on a P2P paradigm.
DynaPeer policy differs from the previous P2P
schemes in certain key aspects. First, DynaPeer
works with unicast and multicast communication
techniques, depending on the technology available to
the ISP network. Second, this scheme takes into
consideration the non-symm
etric characteristics of
client bandwidth, which is in accordance with
current xDSL technology. Third, our delivery
scheme assumes the non-homogeneity features
founded on Internet, which allows us to design a
realistic delivery scheme for VoD services.
In such P2P systems, peer collaboration depends
on clients' free resources and the availability of
requested multimedia content.
If required content is
not available, peers canno
t then collaborate, and
their resources will be wasted, becoming idle peers.
In this paper, we focus on a multicast-delivery
policy, DynaPeer Chaining, capable of taking
advantage of idle peers in order to improve
collaboration probability and reduce server load.
This scheme allows the im
provement of P2P system
efficiency, even in the mo
st restricted situations
(with low request rates or few peer resources).
Additionally, DynaPeer chai
ning can operate when
peers' output-bandwidth is not so restricted,
facilitating further performance improvement.
The remainder of this paper is organized as
follows. In section 2 we present our system
overview. In section 3, the performance evaluation is
presented. In Section 4, we indicate the main
conclusions and future works.
2 SYSTEM OVERVIEW
The goal of P2PVoDSpread design is to take
advantage of client collaboration to decentralize the
server-delivery process, eventually shifting the
streaming load to peers. Clients make their idle-
resources available so as to generate a complete, or
partial, stream for incoming clients.
In this section, we first present details of
P2PVoDSpread system, which is composed by three
entities: VoD Servers, peers and Virtual Servers.
Then we show how system
operates, emphasizing on
collaboration window concept, extended buffer
strategy and DynaPeer service schemes.
2.1
System Entities and Concepts
2.1.1 VoD Server
The P2PVoDSpread is no
t a server-less system;
rather, it combines a server-based architecture with a
P2P delivery scheme. The
server holds the entire
system catalogue, acting as seeds for the multimedia
content. It is also responsible for establishing every
client-collaboration process, guarantying the QoS
1
.
2.1.2 Peers
In our system, a peer can be a computer or a set-top-
box, interconnected by ISPs network. It is an active
client who plays a given video and is able to
collaborate with the system.
Peers' collaboration capacity is limited by peer
resources (bandwidth and storage) and available
video data. In our case, we consider that peers have
an asymmetrical input/output bandwidth (input
bandwidth is, at least, the same as video play-rate
and output bandwidth is supposed to be lower than
video play-rate) and a limited buffer capacity.
Having insufficient output bandwidth to transmit a
complete video stream implies that several peers
have to collaborate in order to provide service for a
complete streaming session. The number of
1
In the rest of paper, the system description is done from point
of view of a VoD system with a single centralized server, which
stores whole system catalogue. However, the system design can
also be directly applied for others architectures composed by
multiple servers (Proxy or
CDN based architectures).
SIGMAP 2007 - International Conference on Signal Processing and Multimedia Applications
298