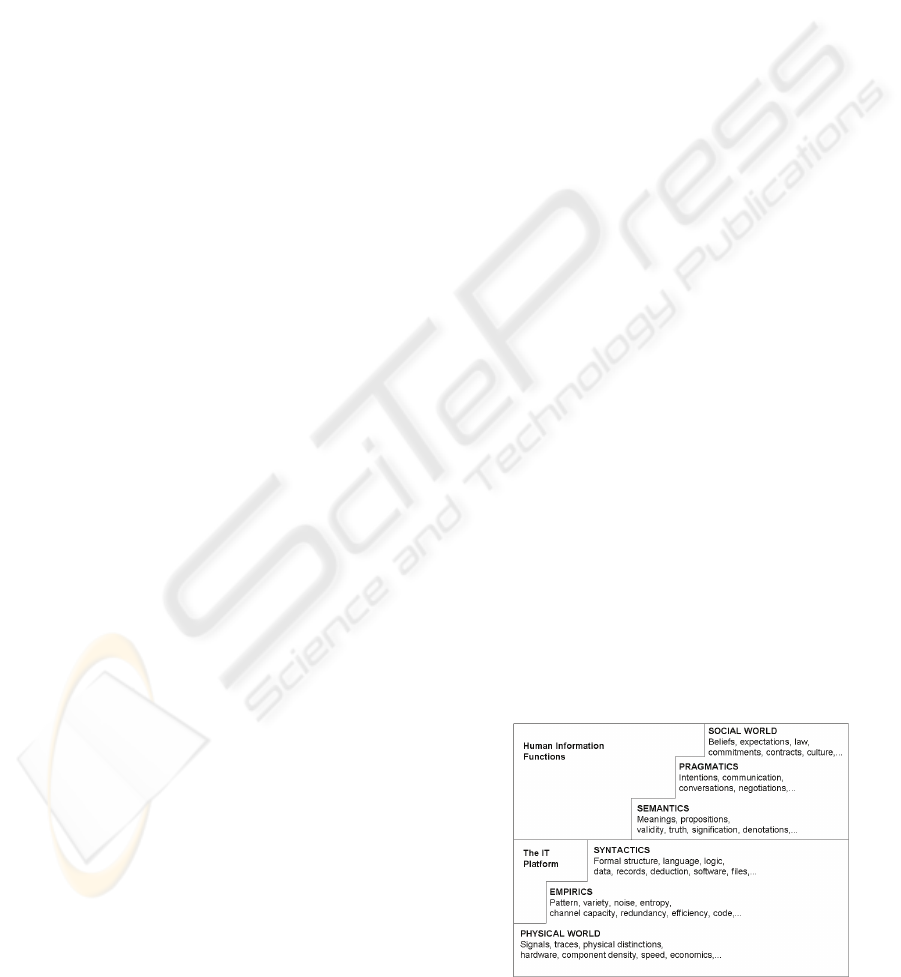 responsibilities to assume in this particular domain.
HCI is a field of study concerned with human and
machine in communication. It draws on knowledge
on both the machine and the human sides. On the
machine side, computer gr
aphics, operating systems,
programming languages, and development
environments are relevant disciplines. For the human
side, communication theory, graphic and industrial
design, linguistics, social sciences, cognitive
psychology, and ergonomics are important
disciplines. Moreover, engineering and design
methods are naturally relevant (Hewett et al. 2007).
The concepts of communication and interaction
are sometimes blurred in the HCI context.
Communication has been studied from different
points of view, with associated models. The semiotic
school understands communication as the production
and sharing of meaning (B
aranauskas et. al., 2002).
Therefore, in the context of this work, we
understand "communication" as implying code
(anything that has a meaning for something or
someone) sharing among systems. Regarding human
and computer systems, they can communicate by
interacting through icons, windows, progress bar,
buttons and other user interface elements.
To our knowledge, literature on user interface
analysis in the domain being considered has not paid
special attention to communication issues. This work
presents an exploratory approach for analysing the
user interface of safety-c
ritical systems regarding
communication aspects. The proposed approach is
applied to the analysis of the Synthetic Vision
Systems (SVS) display that is one of the user
interaction technologies required by PAV aircrafts.
The paper is organized as follows: Section 2
presents the theoretical background which serves as
foundations for the proposed analysis. Section 3
applies the approach to an exploratory study of a
PAV cockpit. Section 4 presents conclusions and
points to further work.
2 THEORETICAL AND
METHODOLOGICAL
BACKGROUND
The theoretical and methodological background
considered in this work is Semiotics that consists on
the study of the signs that are used for
communication. The rules operating upon them and
upon their use form the
core of the communication
study. As there is no communication without a
system of signs, Semiotics as a discipline concerned
with the analysis of signs or the study of the
functioning of sign systems may offer an appropriate
foundation.
Organisational Semiotics (OS) is one of the
branches of Semiotics particularly related to
business and organisations (Liu, 2000). OS
understands that any organized behaviour is
governed by a system of social norms which are
communicated through signs. Methods for Eliciting,
Analysing and Specifying Users' Requirements
(MEASUR), resulted from a Stamper's research
work in the late 70´s (Stamper, 1993), constitutes a
set of methods to deal with all aspects of information
system design: the use of signs, their function in
communicating meanings and intentions, and their
social consequences. The relevant methods for the
specific scope of this work are described as follows:

The Stakeholder Analysis allows all the
interested parts (stakeholders) to be
investigated that directly or indirectly have
influences or interests in the information
system under analysis. In the stakeholders
analysis all interested
parts are categorized in
several groups whose context covers all the
organization.

The Evaluation Framing is an extension of the
Stakeholder Analysis, which allows
identifying, for each st
akeholder category,
their questions and problems, in order to
discuss possible solutions.

The Semiotic Ladder (SL) is an artefact
primarily used to clarify some important
Information System notions such as
information, meaning and communication
(Cordeiro and Filipe, 2004). Stamper
(Stamper, 1973) extended the traditional
semiotic divisions of syntactic, semantics and
pragmatics by adding three other layers: social
world, physical world and empirics as
depicted in Figure 1, which, all together, form
the SL.
Figure 1: Semiotic Ladder,
adapted from Stamper (1973).
ICEIS 2008 - International Conference on Enterprise Information Systems
216