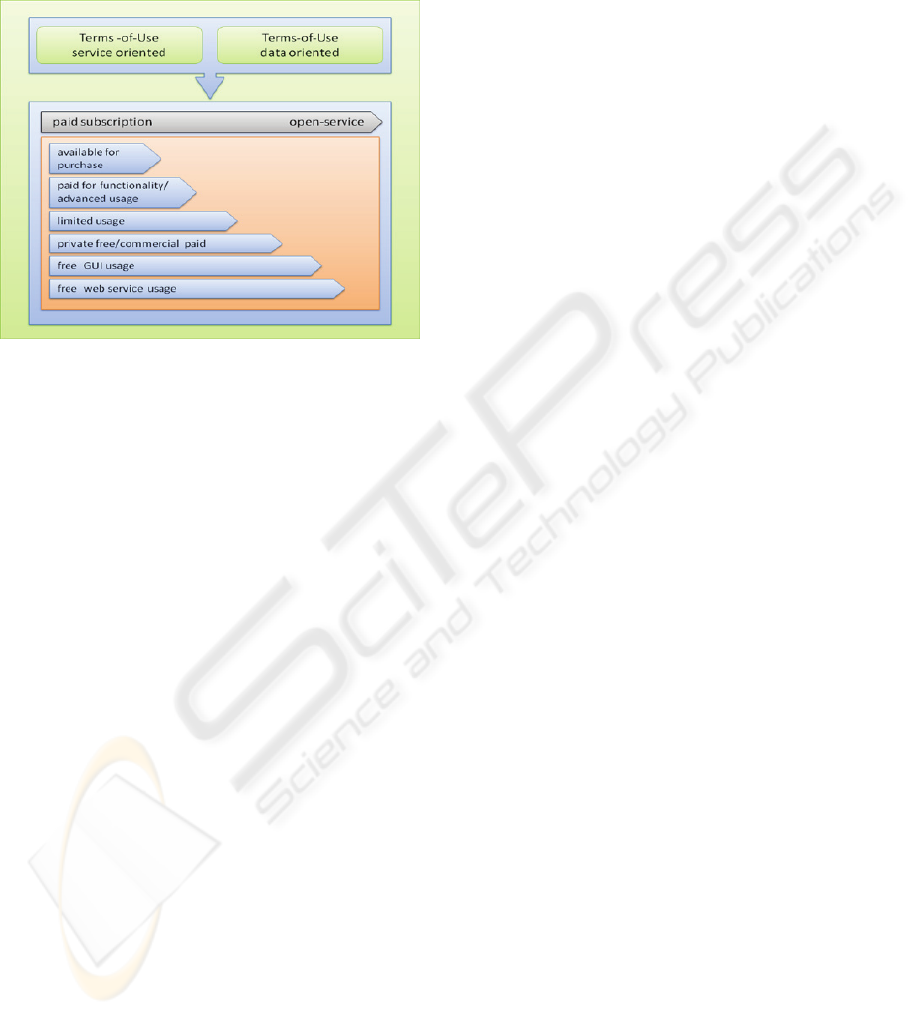 Base which (at the time of writing) allows textual
data to be in English and German only. The
Figure 4. shows a scale of "openess" and
mashability with respect to service and content
licensing.
Figure 4: Mashability Determined by ToS Factors.
4 CONCLUSIONS
The main goal of this research was to provide a
conceptual, technical, business, and legal foundation
for Web 2.0 mashup development and deployment.
We proposed a basic classification of Web 2.0
services from functional points of view and applied
this classification to a
selected set of popular
services. Then, the "Mash-Tree" was proposed.
Further, we have identified "mashing" potential
and issues of the services in three dimensions:
technical, business, and lega
l. The technical analysis
showed that – despite the overall popularity of
SOAP in enterprise computing – in Web 2.0 the
HTTP and REST are predominantly used.
We have revealed that many often-alluded to
practices like screen scraping can rarely be
implemented legally. Our investigations also
brought interesting results about licensing the user-
generated content stored in the Web 2.0 services.
By highlighting technical success factors as well
as distinguishing different types of business and
legal aspects onto the market, this article contributes
to the improvement of further mashup development.
Our research of well-established Web 2.0
services shows that a full mashing potential has not
yet been achieved in the market. A ubiquitous
practicability and usage is closely linked with self-
description and (machine) readability of a service,
which is not achieved in all cases yet. In a vision of
the New Web, services with different focus can be
flexibly mixed into a new context.
The potential of service mashability for
flexibility of software usage and tailored software
customization is bringing new business models to
bear, replacing previous models produced under
monolithic, fixed infrastructures. Scenario based
licensing as well as cross service charging
(Micropayment 2.0) can be a successful achievement
for users and producers.
We hope that our conceptual framework,
classification and aspect evaluation can serve
mashups developers as well as future research.
ACKNOWLEDGEMENTS
The research has been partially supported by the
Czech National Program
Information Society,
project 'E-learning in the Semantic Web Context',
No. 1ET208050401.
REFERENCES
Alonso, G., Casati, F., Kuno,
H. and Machiraju, V. (2004).
Web Services – Concepts, Architectures and
Applications. Springer-Verlag, Berlin, 2004
Creative Commons (2008). http://creativecommons.org,
cited 06/03/08
Fielding, R. (2000). Representational State Transfer,
http://www.ics.uci.edu/~fielding/pubs/
dissertation/rest_arch_sty
le.htm, cited 06/03/08
Gartner Group (1996). Service Oriented Architectures,
Part 1 and 2, SSA Research Note SPA-401-068 and
SPA-401-069, Gartner Press, 1996
Hendler, J., Golbeck, J. (2007).
Metcalfe's law, web 2.0,
and the semantic Web, J
ournal of Web Semantics,
Vol. 10, Elsevier B.V., 2007
Merrill, D. (2006). Mashups: The new breed of Web app,
IBM Developerworks, 2006,
http://www.ibm.com/
developerworks/xml/library/x-mashups.html
Novak, J., Voigt, B. (2007). Mashups: Structural
Characteristics and Challenges of End-User
Development in Web 2.0, in: i-com 02/2007,
Zeitschrift für interaktive und cooperative Medien,
Volume 5, p. 19-25, Oldenbourg Verlag, Munich,
2007 (in German)
O'Reilly, T. (2005). What is web 2.0? – design patterns
and business models for the next generation of
software.
Ort, E., Brydon S., Basler M. (2007). Mashup styles, Part1
and Part2: Server-Side Mashups, 2007,
http://java.sun.com/developer/technicalArticles/J2EE,
cited 06/03/08
GET READY FOR MASHABILITY! Concepts for Web 2.0 Service Integration
167