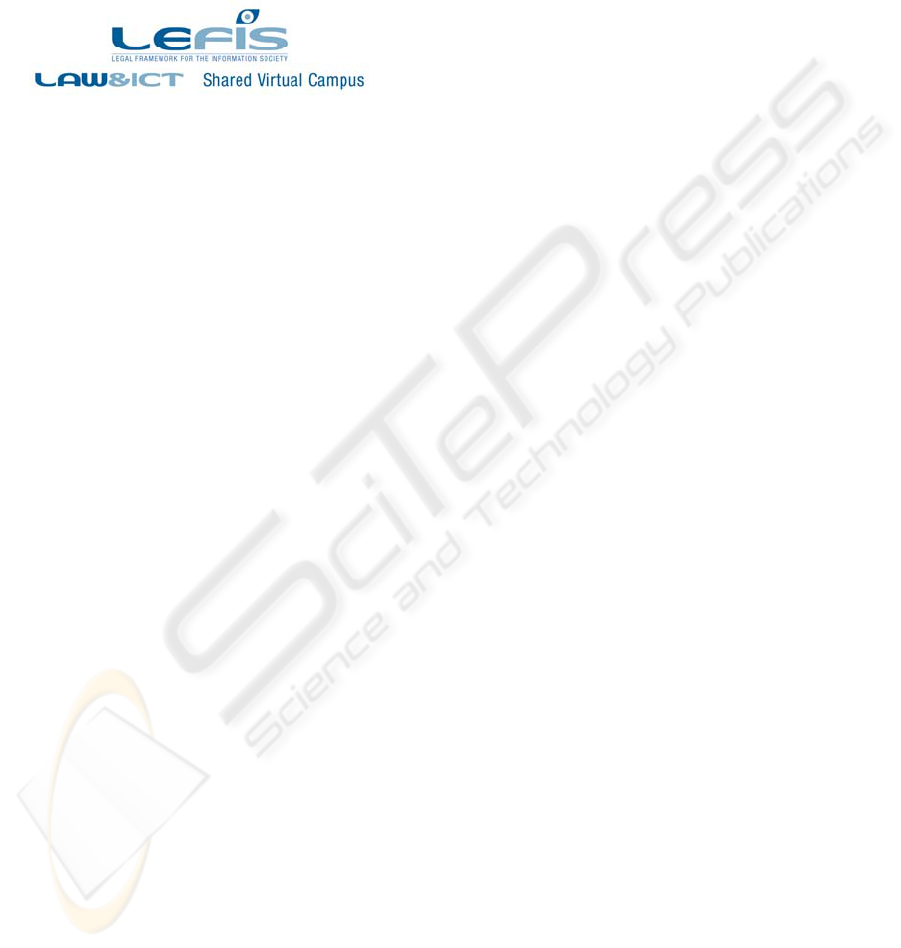 The LAW&ICT Shared Virtual Campus Project
takes this initial development work and extends it
further, including to Lifelong Learning. The project
uses the resources that the mixture of old and new
methodologies and technologies offers, and the
possibilities that development in the European
reform process of the Higher Education Area has
brought to University structure and interaction.
Figure 1: The LAW&ICT Shar
ed Virtual Campus logo.
2 OBJECTIVES
OF THE PROJECT
The transition to the information society promises
new services, solutions, and products but at the same
time brings with it challenges, issues and problems
in many areas. One of these
areas is the joint activity
between Law, Management and Technical knowl-
edge subjects ("knowledge areas"). These joint ac-
tivities comprise an important interdisciplinary field,
especially the intersection
of ICT and law. ICT of-
fers solutions to the legal system for new and better
services to the citizens and to improve the legal sys-
tem itself. Law offers balanced solutions to the use
of ICT in areas such as In
tellectual Property Rights,
privacy, and security. New technological solutions
offer services such electronic signature, e-
Commerce, e-Governance and e-Democracy, and at
the same time introduce new legal issues. These are
also studied in the use of ICT in the legal system and
law in ICT.
ICT and Law is thus a vital discipline. There is
need for training and education and the sharing of
expertise, experience, teaching and learning, and
best practice. This need is to be found across
Europe. But training and education available in this
area are limited, and the sh
aring of best practices
and experience and expertise is not widely practiced.
One reason for this is the scarcity of experts in the
field. Another reason is that
the field itself is not yet
mature and needs to be defined.
The LAW&ICT Shared Virtual Campus objec-
tives are: 1) to teach the topics in a broad perspec-
tive (at all university levels of teaching), using the
possibilities offered by the virtual campus, 2) to cre-
ate an interdiscip
linary team of both technological
and law specialists, and 3) to train a number of stu-
dents to research and to develop the knowledge
about these matters in their own country and share
that information with other students of other coun-
tries, developing a common framework and using
that knowledge to create co
urses to be followed us-
ing on site and e-Learning for citizens interested in
this matter. This will help to the community to
achieve one of the goals focused upon in Lisbon:
making the EU the most competitive knowledge-
based economy.
Also, an initiative like this will reinforce the role
of universities in facilita
ting access to "knowledge
for all" by creating and disseminating knowledge
and innovation to follow up the discussion by the
European Heads of State at Hampton Court in Octo-
ber 2005. In this case this will be reinforced with a
close collaboration between public and private insti-
tutions and universities and firms.
The specific aims of the project are:
1. Creation of an European Shared Virtual Cam-
pus on LAW&ICT to become:
- A developer publishing new studies and initia-
tives.
- A promoter of investigation, research, innova-
tion and dissemination of results.
- An Information exchanger between experts as
well as policy makers and students.
- A Campus Administrator.
- A promoter of new online courses and seminars
to help decision makers to know about LAW&ICT.
- A virtual location for debate and European pol-
icy making.
- A home for editions of Newsletters to exchange
knowledge and good practice.
- Support of an International LAW&ICT Library
and an on-line LAW&ICT Encyclopaedia.
2. Development of:
- An international Bach
elor Degree in ICT and
Law (LAW&ICT Degree): 180-240 ECTS
- An international Masters Degree in ICT and
Law (LAW&ICT Master): 60-120 ECTS
- An international Lifelong Learning Program in
ICT and Law: 2 to 4 ECTS Modules
3. Identification of good practices:
- in the teaching of the legal framework for ICT
issues in Europe through the exchange of national
and particular experiences;
- in the teaching of the application of ICT to ju-
ridical aspects of society.
4. Creation of a network of experts in
LAW&ICT all over Europe to share the knowledge
and disseminate the results and experiences. The
network is envisaged to become bigger and to be
periodically updated and improved. It is devised to
THE LAW&ICT SHARED VIRTUAL CAMPUS
147