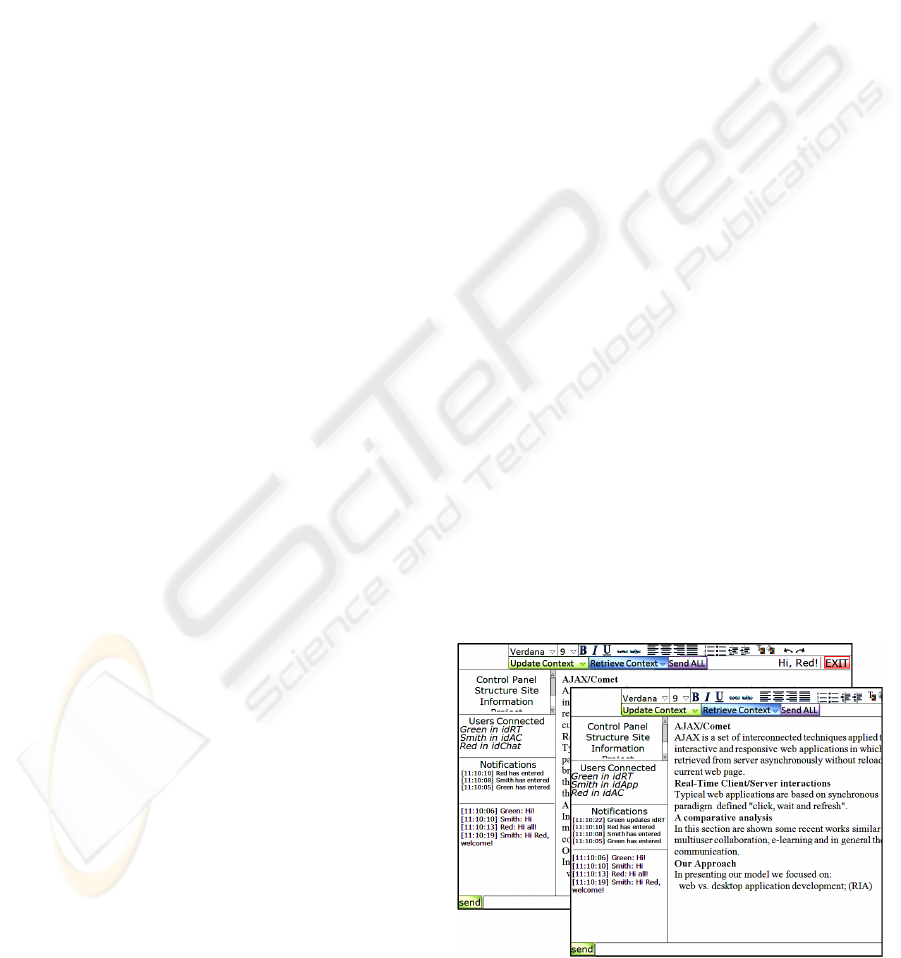 3.1
A Comparative Analysis
In this section are recalled and compared only recent
works, pertinent to real-time collaborative problems
according to Web 2.0 style:
particular attention has
been paid to the updates diffusing procedures to
users and the base techniques of applications.
UsaProxy 2 (Atterer R. et al., 2007) allows the
vision and use of the same page or application by
two different browsers at the same time, without
installing client-side code. In particular it offers two
modes: Monitoring, in which all user actions are
communicated to the second
user's browser that in
this case can only assist, and Shared Browsing, in
which the two browsers are locked together and each
user can see other's actions which he may possibly
influence and then even generate conflicts. The
definite area we are intere
sted in is the Shared
Browsing, in which rather to see a remote pointer of
the other user, the two users can also chat in a
window. Unlike our project, collaboration is
mutually exclusive, one user at a time can operate,
and it is also mainly directed to a couple of users.
The real-time data update between the two browsers
is implemented through the polling technique and a
chat window is placed above the webpage, hindering
users a complete vision.
In (Gstöttner G., 2007) the author, member of
the Austrian ISAC-team (ISAC-team, 2002)
interested in systems for applied mathematics whose
main area is e-learning, suggests to use AJAX
techniques, with the aim to achieve interactive and
responsive web applications, and Data Push method
to send data from the server to the connected clients,
by Polling and Comet. In this case different
connected users can observe the computation
progress but only one user can control and act.
Comet technique is particularly indicated to send
immediately the results of the computation to the
connected users. In this
article it is suggested the
DWR framework to implement Comet technique.
In (Toffetti Carughi et al, 2007) the author
focuses their attention on the modelling methods
shortage for the push-enabled RIA characteristics,
particularly suited for collaborative web
applications, proposing an extension of a language
to implement the different aspects of distributed
communication such as synchronicity, persistence,
and message filtering using a combination of
primitive and patterns. The use case presented is the
multiuser collaboration through a server and the
methods to send and receive events triggered in
response to user actions or directly by the server. To
implement this model was used OpenLaszlo
framework which led to client-side installation of a
flash plug-in.
Google Docs represents a very famous
application for real-time web collaboration
according to Web 2.0 in Beta version. Also in this
case the users share th
e project and receive
simultaneous and regular updates.
As in (Atterer et al., 2007) we propose a chat
module to support the communication between
users, with the innovation of a proper space in web
interface and as
Schrottner
we suggest Comet
technique to inform users about critical data update
mainly using DWR framework unlike the
indications in (Toffetti Carughi et al, 2007).
Moreover in our project there are many other
dissimilarities properly emphasized in the following
description.
3.2
Our Approach: The Ajax/Comet
Techniques for Live RIA
The aim of our project is to
enable all and only users
involved in the task to update every parts of work
simultaneously whereas other users are enabled just
to see the project in the
last realised state.
Figure 3 shows an example of interaction by
graphical interface. The Red user logins and
accesses real-time update mode. His login is notified
in the dashboard in both users and notifications
sections. Green user has idRT as his scope, Smith
user has idAC as his scope and Red, once logged in,
has idChat as his scope. Subsequently Green user
updates idRT, action reported in notifications, in the
meantime Smith has change
d scope, selecting idApp
and Red is devoted to idAC.
Figure 3: An effective chat example of RIA collaborative
schema by Ajax/Comet technique.
A SCHEME OF STRATEGIES FOR REAL-TIME WEB COLLABORATION BASED ON AJAX/COMET
TECHNIQUES FOR LIVE RIA
37