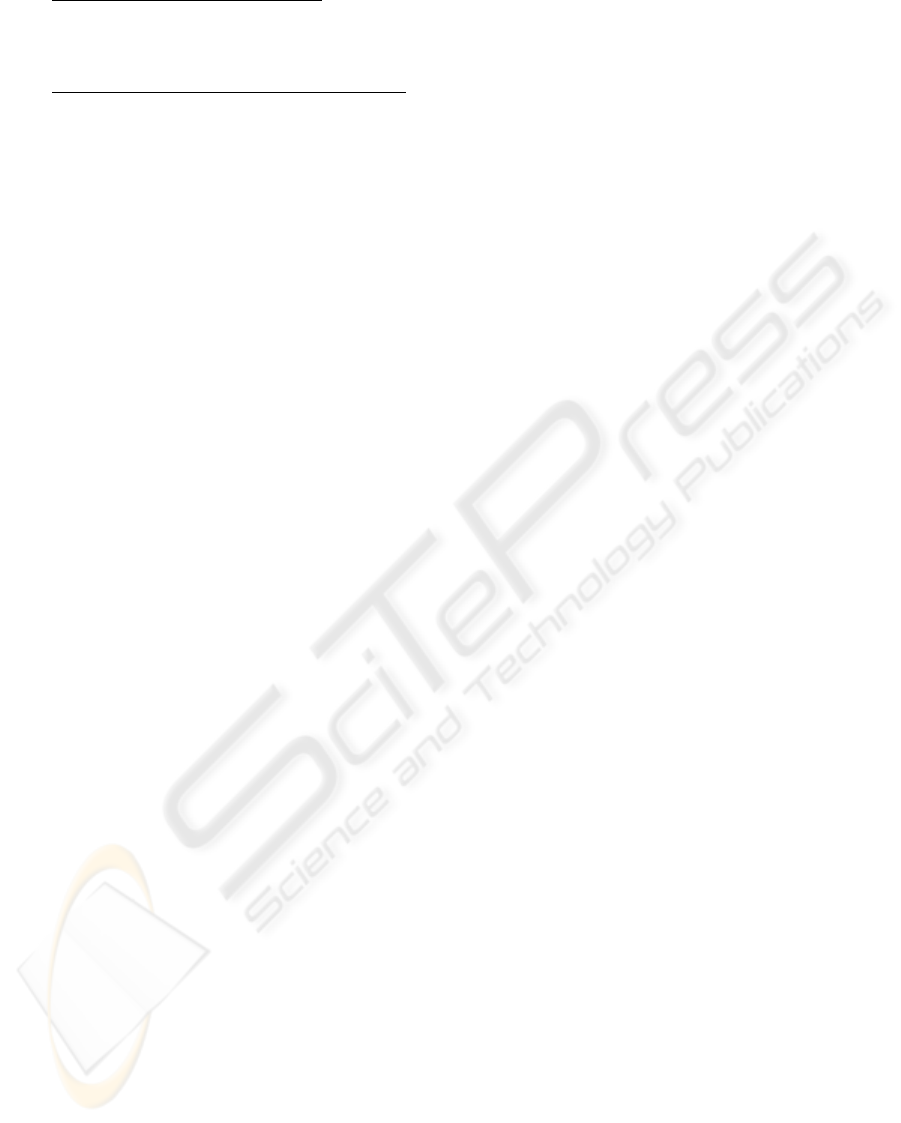 e)
Searching Deepening Knowledge
: search for
new scientific information about the
problem.
f)
Developing Deepening Problems
:
weaknesses or limitations, questions and
working theories often provide significant
guidance for inquiry.
All aspects of inquiry, such as setting up
research questions, searching for new scientific
information, constructing of one's own working
theories or assessing the explanations generated,
are to be shared with other inquirers. These is the
last phase of inquiry process, called "distributed
expertise", and consist in explaining a problem
to other inquirers.
4 FURTHER WORKS:
COLLABORATIVE BUILDING
OF KNOWLEDGE WITH SIENA
Advancement of inquiry can be substantially elicited
by relying on socially distributed cognitive resources
emerging through social interaction between the
learners, and collaborative efforts to advance shared
understanding (Hoppe, U.,1995). Through social
interaction, contradictions, inconsistencies and
limitations of a student's explanations become
available because it forces him or her to perceive
conceptualizations from different points of view.
For this reason, we are working on building a
model of group represented from the information of
the individual models, and with new information,
such us, solidarity in the development of tasks and
collaborations among students in the tasks carried
out on SIENA, dialogues,
etc. So, with this new
model, will be possible visualize the interaction
among students, with four basic elements that
influence the formation of
group: a) presence, in a
particular activity, b) identity, of students c)
interaction, among students y d) communication
(Zapata-Rivera, J. and Gr
eer, G., 2000; Rueda, U.,
Larrañaga, M., Arruarte, A., Elorriaga, J.A., 2003).
REFERENCES
Bull. S. and Nghiem, T. (2002). "Helping Learners to
Understand Themselves with a Learner ModEl Open
to Students, Peers and Instructors". Brna P. and
Dimitrova, V. (Eds.), Proceedings of Workshop on
Individual and Group Modelling Methods that Help
Learners Understand Themse
lves, ITS2002, pp. 5-13.
Dimitrova (Eds.), Proceedings of Workshop on Individual
and Group Modelling Methods that Help Learners
Understand Themselves, ITS2002, pp. 14-25.
Dimitrova, V., Brna P. and Self, J. (2002). The Design and
Implementation of a Graphical Communication
Medium for Interactive Learner Modelling. In
Proceedings of International Conference of Intelligent
Tutoring Systems ITS'2002, pp. 432-441.
Kay, J. (2001). "Learner Control". User Modelling and
User-Adapted Interaction, Vol. 11, pp. 111-127.
Leinonen, T., Virtanen, O., Hakkarainen, K., Kligyte, G.
(2002). Collaborative Discovering of Key Ideas in
Knowledge Building. Proceedings of the Computer
Support for Collaborative
Learning 2002 Conference.
Boulder, Colorado, USA, January 7-11, 2002.
Bull, S., McEvloy, A.T. & Reid, E. (2003). "Learner
models to promote reflect
ion in combined desktop
PC/Mobile intelligent learning environments". Bull,
S., Brna, P. And Dimitrova,
V. (Eds.), Proceedings of
the Learner Modelling for Reflection Workshop,
AIED'2003.
Cook, R. and Kay, J. (1994). The justified user model: A
viewable, explained user model. In Fourth
International Conference on User Modelling, pp. 145-
150. The MITRE Corporation, Hyannis, MA.
Golstein, I.P. (1982). "The Genetic Graph: a
representation for the evolution of procedural
knowledge". Sleeman, D. an
d Brown, J.S. (Eds.),
Intelligent Tutoring Systems, Academic Press, pp. 51-
77.
Hoppe, U. (1995). "The use of multiple student modelling
to parametrize group learning". Greer, J. (Ed.),
Proceedings of World Conference on Artificial
Intelligence in Edu
cation, pp. 234-241.
Larrañaga, M., Rueda, U., Elorriaga, J.A., Arruarte, A.
(2002). "Using CM -ED for the Generation of
Graphical Exercises Based on Concept Maps".
Proceedings of ICCE'2002, pp. 173-177.
Larrañaga, M., Rueda, U., Elorriaga, J.A., Arruarte, A.
(2003). "A multilingual concept mapping tool for a
diverse world". Proceedings of IEEE International
Conference on Advanced Learning Technologies
ICALT'2003, pp. 52-56.
Morales, R., Pain, H. and Conlon, T. (1999). "From
behaviour to understandabl
e presentation of learner
models: a case study". In Proceedings of the
Workshop on Open, Interactive, and other Overt
Approaches to Learner
Modelling, AIED'99.
Le Mans, France. Mühlenbrock, M., Tewissen, F., Hoppe,
H.U. (1998). "A framework system for intelligent
support in open distributed learning environments".
International Journal of Artificial Intelligence in
Education, Vol. 9, 256-274.
Novak, J.D. (1977). A
theory of education, Ithaca, NY: Cornell University.
Rueda, U., Larrañaga, M., Arruarte, A., Elorriaga, J.A.
(2003b). "Study of graphical issues in a tool for
dynamically visualising stude
nt models". Aleven, V.,
Hoppe, U., Kay, J., Mizoguchi
, R., Pain, H., Verdejo,
CSEDU 2009 - International Conference on Computer Supported Education
454