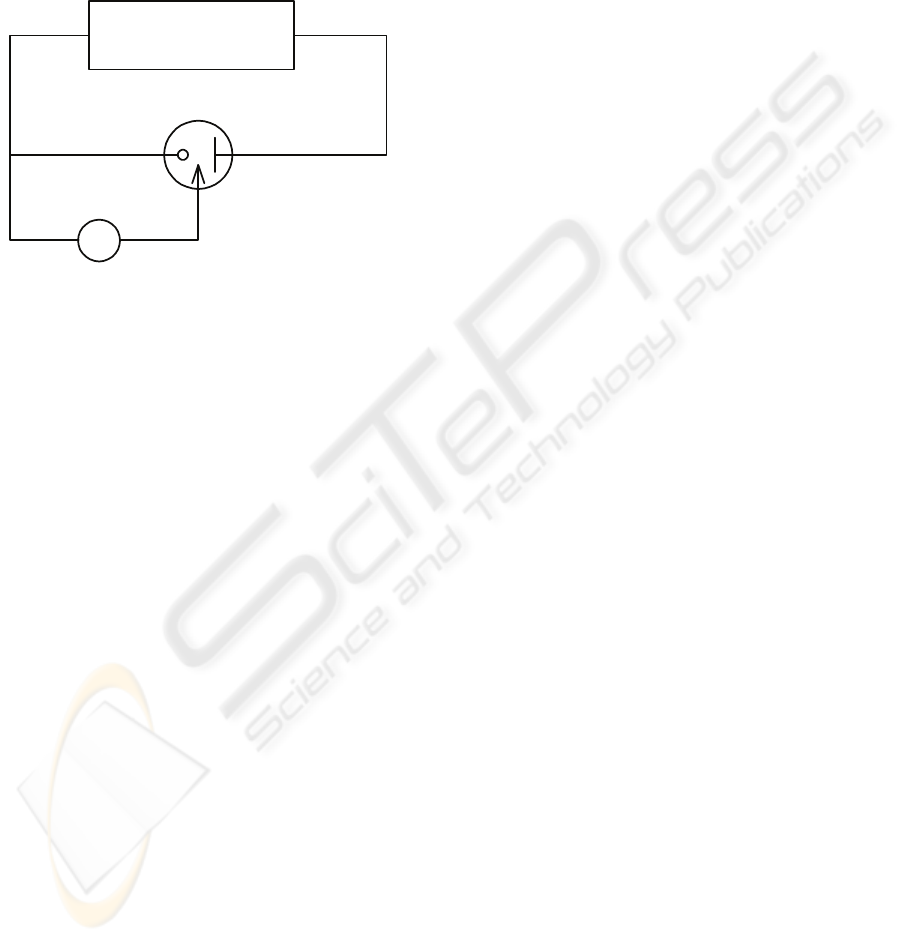 TAA (PTAA) film was then oxidised in a monomer
free solution by a constant potential method for 5
minutes to achieve different doping levels, therefore
different conductivities. Five oxidising potential
OX
) of 0.1, 0.2, 0.6, 0.9 and 1.1 V were chosen to
investigate their effect on the performance of the
fabricated OFET. The arrangement for
electropolymerization is shown in Figure 2.
CH Instruments
Model 440
V
Working electrode
(S & D contacts)
Counter electrode
(Pt wire)
Reference electrode
(Ag/AgCl/3M KCl)
Figure 2: The electrodes arrangement for electro
polymerization.
The OFET electrical characteristic was measured
using Keithley 2602 source measure unit after the
doping process. The microstructure of PTAA film
on the Si substrate was examined using the scanning
electron microscope (SEM).
Following the optimisation of PTAA-OFET
fabrication process, DNA sensing ability of this
OFET was tested. The study starts with DNA
immobilization, a process
where single stranded
DNA (ssDNA) molecules with known sequence
(NH
2
-GAT GAG TAT TGA TGC CGA-3)
synthesized by Invitrogen
Life Technologies are
covalently attached to the PTAA film. To attach the
ssDNA, a 40
μ
L of phosphate buffer (pH 5.2)
containing 20 nmol ssDNA probe and 400 nmol 1-
ethyl-3-(3-dimethylaminopropyl)carbodiimide
(EDC) was applied on the surface of PTAA-OFET
and was kept at 28
°
C for 1 h. Finally, the OFET
was thoroughly washed using phosphate buffered
saline (PBS) solution (pH 7.4) to remove any
unattached ssDNA. After immobilization, the I-V
characteristics of PTAA-OFE
T were measured using
Keithley 2602 source measure unit.
The next step to test the sensing ability of
PTAA-OFET is DNA hybridization, where the
complementary ssDNA is a
pplied to the surface of
OFET and hybridizes with the immobilized ssDNA
via complementary base pairing to form a double
helix DNA. The hybridization was carried out by
incubating the PTAA-OFET with immobilized DNA
in PBS solution containing complementary ssDNA
samples for 1 h at 42
°
C. After hybridization, the
OFET was washed three times using PBS solution to
remove any non-hybridised ssDNA. Then I-V
characterisations were carried out to determine the
effect of hybridization on the OFET performance.
3 RESULTS AND DISCUSSIONS
The PTAA-OFET was electri
cally characterized for
OX
and highest calculated carrier mobility
of 0.25 cm
2
D,sat
= -20 V is achieved with
V
OX
= 0.9 V and threshold voltage (
V
T
) of
approximately 7 V (Tjitra Salim, Aw, Peng, et. al.,
2008). Figure 3 show the OFET characteristics of
PTAA oxidised at 0.9 V where the highest carrier
mobility was achieved. The I-V characteristic is not
of good quality due to the fact that
electropolymerization pro
cess could produce film
with high structural and conjugation defects
(Roncali, 1992)
The above-mentioned results are in good
accordance with the cyclic voltammogram (CV) of
PTAA obtained in a monomer free solution as
shown in Figure 4. From this CV, two anodic peaks
at +0.6 V (A) and +1.05
V (B) are observed. The
first anodic peak marks the beginning of polymer
oxidation, indicating the formation of polaron and
subsequent bipolaron formation, i.e. the charge
carrier (holes) (Chen and I
nganas, 1996). Therefore,
one can see that the PTAA film is in a neutral state
with low charge carriers (holes) density when
V
OX
OX
, the PTAA starts to be
oxidised, increasing the
charge carrier density,
which in turn would increase its conductivity. A
higher conductivity PTAA film
as an active layer is
considered to be responsible for the increase in
μ
of
OX
anodic peak), a strong incr
ease in the anodic current
is observed, indicating the beginning of polymer
oxidative degradation. This explains the low
transistor performance wh
en PTAA as an active
layer was oxidised at volta
ge greater than 1 V.
BIODEVICES 2010 - International Conference on Biomedical Electronics and Devices
160