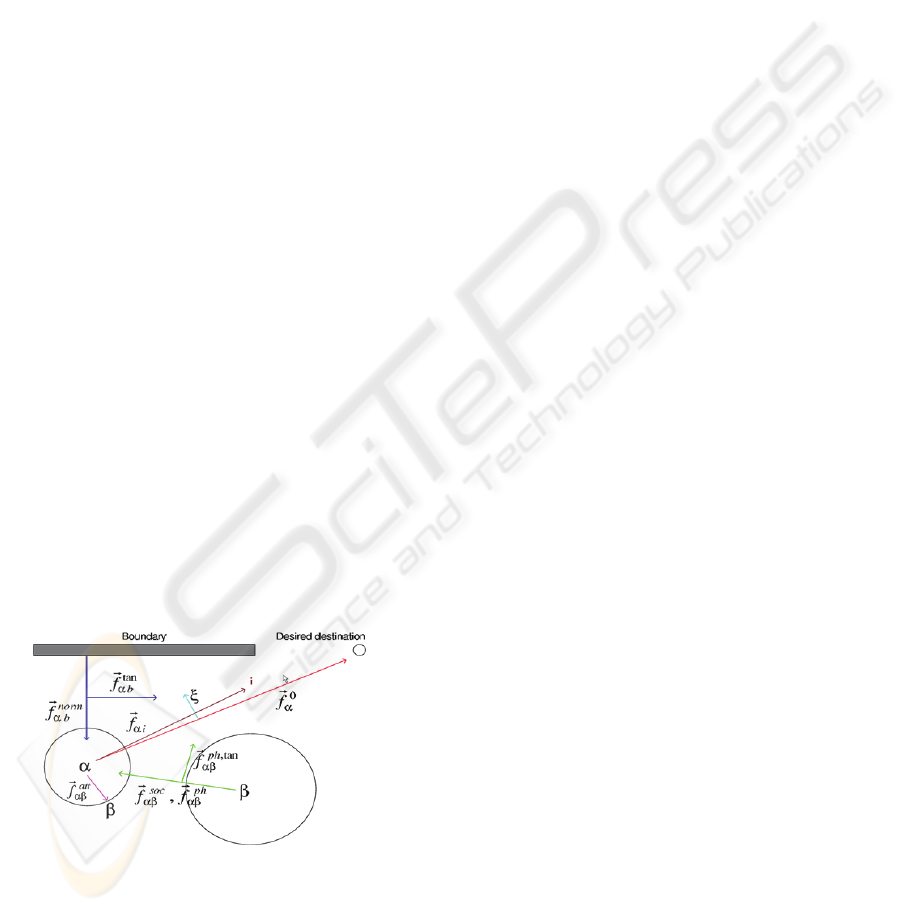 formats offer flexibility in modeling indoor spaces
with various data primitives, they are file-based
formats and, thus, have limitations in being used in
indoor information systems as mentioned earlier. On
the other hand, CityGML which was adopted as a
standard by OGC (Open Geospatial Consortium) is a
3D model that provides different levels of details
ranging from region to interior spaces (Kolbe 2008,
Stadler et al. 2007). CityGML is based on XML
format for the storage of data and has capability of
storing complex semantic information. However, it
has not provided fully functional data base
implementation. One of the reasons is attributed to
the fact that current commercial DBMSs do not fully
support topological structure of 3D objects yet.
Evacuation models have been studied in various
fields such as network flow problems, traffic
assignment problems, and are generally categorized
into two; macroscopic and microscopic models
(Hamacher et al. 2001).
Macroscopic models appear in network flow or
traffic assignment problems and take optimization
approach using node-link-based graphs as the data
format. They consider pedestrians as a homogeneous
group to be assigned to nodes or links for
movements and do not take into account the
individual interactions during the movement. On the
other hand, microscopic models emphasize
individual evacuees' movement and their responses
to other evacuees and physi
cal environment such as
walls and obstacles. Microscopic models are mainly
based on simulation and use fine-grained grid cells
as the base format for si
mulation. They have been
used by experts in different domains including
architectural design for the
analytical purposes of the
structural implications on the human movement
especially in emergency situations.
Figure 1: Helbing's so
cial force model.
Different micro-simulation models have been
proposed over the last decades (Schadschneider
2001) but two approaches are getting attention;
social force model and floor field model (Kirchner et
al. 2002). A frequently cited model of former type is
advanced by Helbing and collegues (Helbing et al.
1997, 2001) and is based on strong mathematical
calculation acted on agents to determine its
movement to destination (e.g. exits). Helbing's
model considers the effect
s of each agent upon all
other agents and physical environment (Figure 1)
leading to the computation of O(n
2
) complexity,
which is unfavorable for computer-based simulation
with many agents (Henein et al. 2005, 2007).
In recent years there is
a growing interest to use
cellular automata as the base of micro-simulation
(Blue et al. 1999, Klupfel
et al. 2002). Kirchner and
colleagues (Kirchner et al.
2002) have proposed CA-
based floor field model, where two kinds of fields—
static and dynamic—are in
troduced to translate
Helbing's long-ranged inter
action of agents into a
local interaction. Although this model considers only
local interactions, they showed that the resulting
global phenomena share pr
operties from the social
force model such as lane formation, oscillations at
bottlenecks, and fast-is-slower effects. The floor
field model uses grid cells as the data structure and
computes movement of an agent at each time step
choosing the next destination among adjacent cells.
This makes computer simulation more effective.
In this paper we focus on Kirchner's model as
our base model. We will later describe the limitation
of his dynamic field computation strategy and how
we revised it.
MODEL
In our previous study (Park et al. 2007) we had
proposed a 2D-3D hybrid data model that can be
used both in 2D-based semantic queries and 3D
visualization. We used two separate models, 2D GIS
layers and 3D models, and combined them using a
database table as the linkage method.
Although the previous file-based approach was
satisfactory in incorporating semantic and
topological functionality into a 3D model, it has
some drawbacks. First, two models are created
separately and need additional table for linkage,
which makes consistent maintenance difficult.
Second, building a 3D model by separating
compartments requires additional time and cost.
Finally, such file-based models are not easy to store
many buildings and, most importantly, they cannot
be integrated with client/s
erver applications such as
sensor systems (i.e. RFID, UWB, thermal sensors).
A 3D INDOOR PEDESTRIAN SIMULATOR USING A SPATIAL DBMS
15