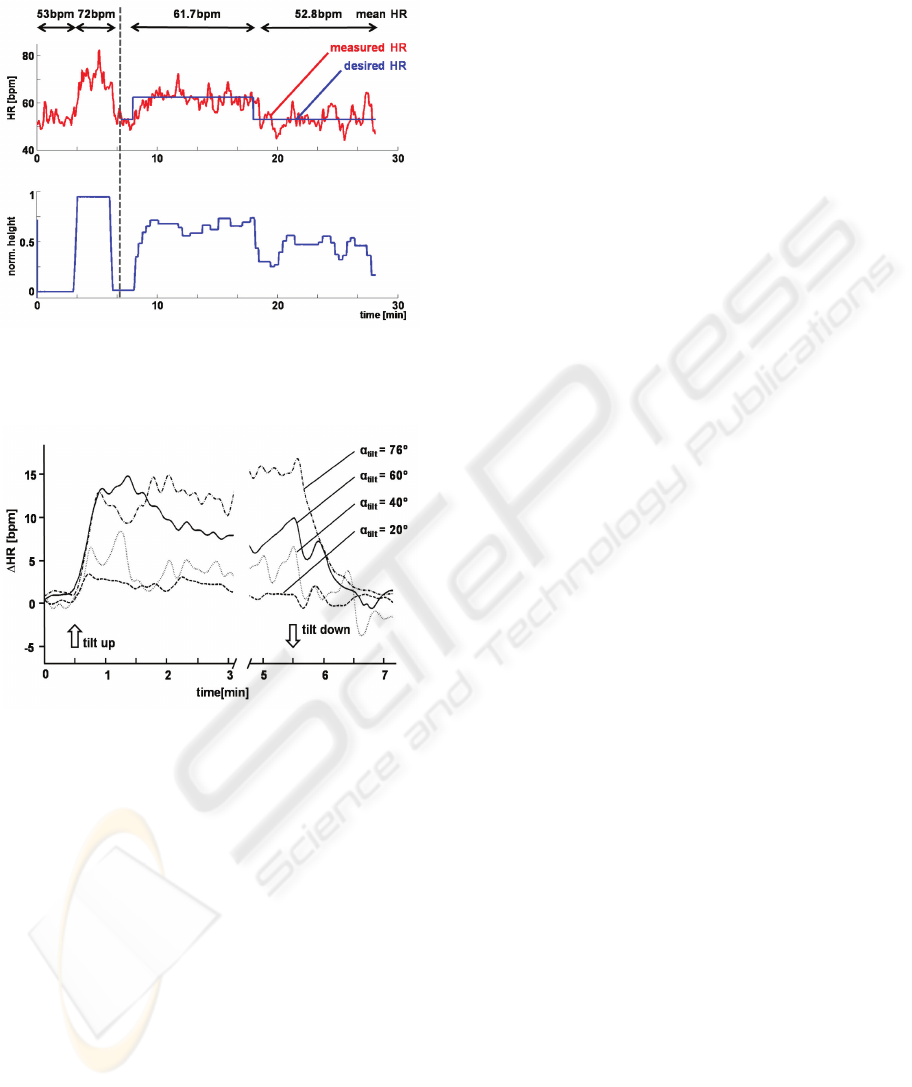 bpm (desired value: 62.5 bpm) and 52.8 bpm
(desired value: 53 bpm), respectively.
Figure 4: Controlled HR (measured HR) with the desired
HR (upper panel) and the corresponding normalized
height (lower panel).
Figure 5: Mean HR during di
fferent normalized heights
for all patients (n=3) during a stepping frequency of 48
steps per minute. The standard deviation for
α
tilt
= 20°,
40°, 60° and 76° was 2.23 bpm, 3.45 bpm, 3.06 bpm and
5.50 bpm, respectively.
The patients' data show a very similar behaviour to
different normalized heights while the stepping
frequency was also fixed to 48 steps per minute
(Figure 5). Generally, during the tilting phase the
variability is higher in patients compared to healthy
subjects. No clear steady st
ate can be seen in the
data. With this preliminar
y data set, differences
regarding stepping and normalized heights are not
statistically significant.
3.4 Discussion
A general issue is the subjects inter- and intra-
variability between different measurements.
However, a relationship between mean HR and
different normalized heights can be clearly
demonstrated. Figure 3 shows mean values
composed of 8 healthy subjects and consequently,
most of the short-term variability is cancelled out in
that illustration.
Establishing a control strategy for cardiovascular
signals requires working with signals from
individual subjects. As shown in figure 4, even with
no control of the HR signal in the first 6 minutes the
natural short-term variability can be relatively high
(±5 bpm). For that reason it was necessary to
implement strategies that can cope with this
variability. Two issues are implemented to deal with
such a high variability: First, the normalized height
was only changed in the interval of 20s and, second,
the height was only modified when the measured
value differed more than 10% of the desired value.
Using such mechanisms it was not possible to
eliminate the variability, but during the two control
phases (2 times of 10 minutes) it could be shown
that the mean values (61.7 bpm and 52.8 bpm)
differed less than 1 bpm from the desired values
(62.5 bpm and 53 bpm). For a clinical application
the control of cardiovascular signals in longer time
periods is more important than short term effects.
Heart rate variability (HRV) is a sign of healthiness
and, therefore, it is worth to sustain it or perhaps to
support it. In contrast, in the long term it is
important for the cardiovascular system of patients
to be maintained within well defined bounds. Thus,
short term effects like the variability are not
essential for our control strategy and control over
longer periods is satisfactory.
The patients' data also show a repeatable
response to different normalized heights.
Nevertheless, during the tilting phase no clear steady
state can be observed in the data (Figure 5). This
may be due to the small sample size (3 patients),
whereas, the data of healthy subjects is based on 8
persons. On the other hand minimally conscious
patients are clinically not
stable and, therefore, it
could be that these patients don't show a steady state
because of the medication or
the individual injury.
The study is still in progress and more patients will
be assessed before drawing clear conclusions based
on the acquired data of patients.
4 CONCLUSIONS & OUTLOOK
We conclude that the HR of healthy subjects as well
as of patients in minimally conscious state shows a
clear response to different normalized heights. With
HEALTHINF 2010 - International Conference on Health Informatics
80