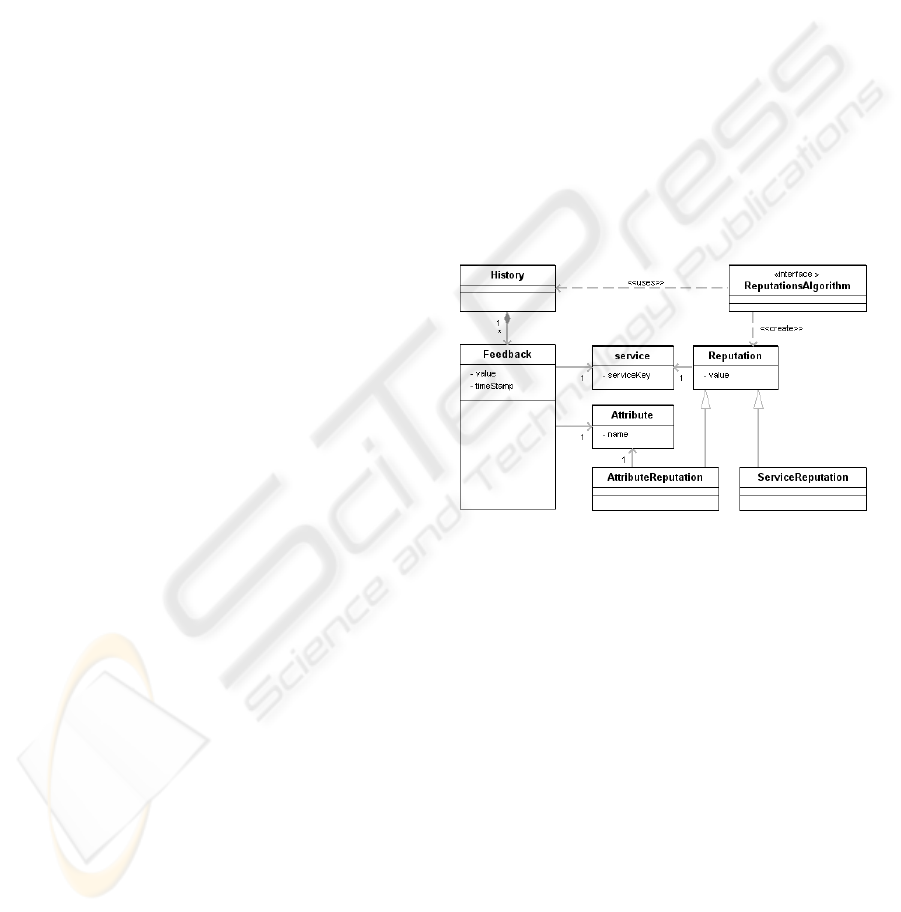 The rest of this paper is organized as follows.
Section 2 presents an over
view of related work in
this area, followed by a description of the feedback
model used in X-Fee. The overall architecture of
X-Fee is explained in Section 4. In Section 5 we
discuss the strength and weaknesses of our approach
and finish the paper with a conclusion.
2 RELATED WORK
Feedback in service-orient
ed architectures and the
IoS is very well investigated. Started with the
question how feedback information can be
formalized, Maximilien and Singh (Maximilien and
Singh, 2002) published their conceptual model of
web service reputation. Today, this feedback model
is the de-facto standard and is also the basis for X-
Fee.
Kalepu et al. analyse fe
edback in the IoS and
categorize it into monitoring and user feedback
(Kalepu et al, 2002). With the author's definition of
reputation as f(User Ranki
ng, Compliance, Verity)",
they argue that both feedback categories have to be
considered to get meaningful results.
The first approaches for techniques to provide
monitoring feedback are presented by Robinson
(Robinson, 2004) and Fickas et al. (Fickas et. el,
1995). Both authors propose a technique to monitor
web service requirements. Raimondi et al.
(Raimondi et al., 2008) investigate monitoring of
SLOs more closely and define a methodology for
online monitoring of web service SLOs based on
timed automata.
Beside techniques to monitor SLOs, commercial
and academic monitoring systems are developed.
However, the main disadvantages of these
approaches are the lack of interoperability,
flexibility and extensibility.
The well-know commercial
monitoring system is
Nagios (Pervilä, 2007). Despite its many extensions
and modular sensors, it is not flexible enough to
monitor SLOs. Two meaningful academic monitor
approaches are Grand Slam (Spillner et al., 2009)
and SLAMon (Ameller et al., 2008). Both are
modular systems, which can be extended by future
functionality. Unfortunately the core modules can
not be adapted. Thus the fields of usage of Grand
Slam and SALMon are limited; for instance, the
used SLA description format can not be changed. On
the contrary, X-Fee allows modifying any part of the
system.
In contrast to SLO-monitoring, techniques and
systems related to user feedback are well analysed
and discussed. One of the best survey papers in this
area is the one by Wang and Vassileva (Wang and
Vassileva, 2007). The auth
ors compare more than
ten academic as well as productive systems to
collect, compute an
d provide user feedback. None of
these approaches, however, is
interoperable, flexible
and extensible enough to be used in heterogeneous
systems and to be adapted to individual requirements
of system providers.
3 FEEDBACK MODEL
Feedback in the context of the IoS evaluates a
service's functional and non-functional attributes. It
is created for each service separately after each
interaction.
X-Fee organizes the different kind of feedback
information and the resulting reputations in a
conceptual feedback model, depicted Figure 1.
Figure 1: Conceptual feedback model.
The feedback model is based on the conceptual
model of reputation of Maximilien et al.
(Maximilien et al., 2002), which allows rating each
service's attribute separately instead of the whole
service. This feedback information is defined as a 4-
tuple, consisting of the service and the service
attributes which were rated, the evaluation value as
well as the time stamp. All feedback information is
stored in the history, which is used to calculate
reputations based on reputation algorithms. A
reputation can be related to a service or just to a
service attribute. We call the first service reputation
and the latter attribute reputation.
The feedback model of X-Fee is independent of
the feedback category. Thus it can be used to save
monitoring as well as user feedback information.
ICSOFT 2010 - 5th International Conference on Software and Data Technologies
120