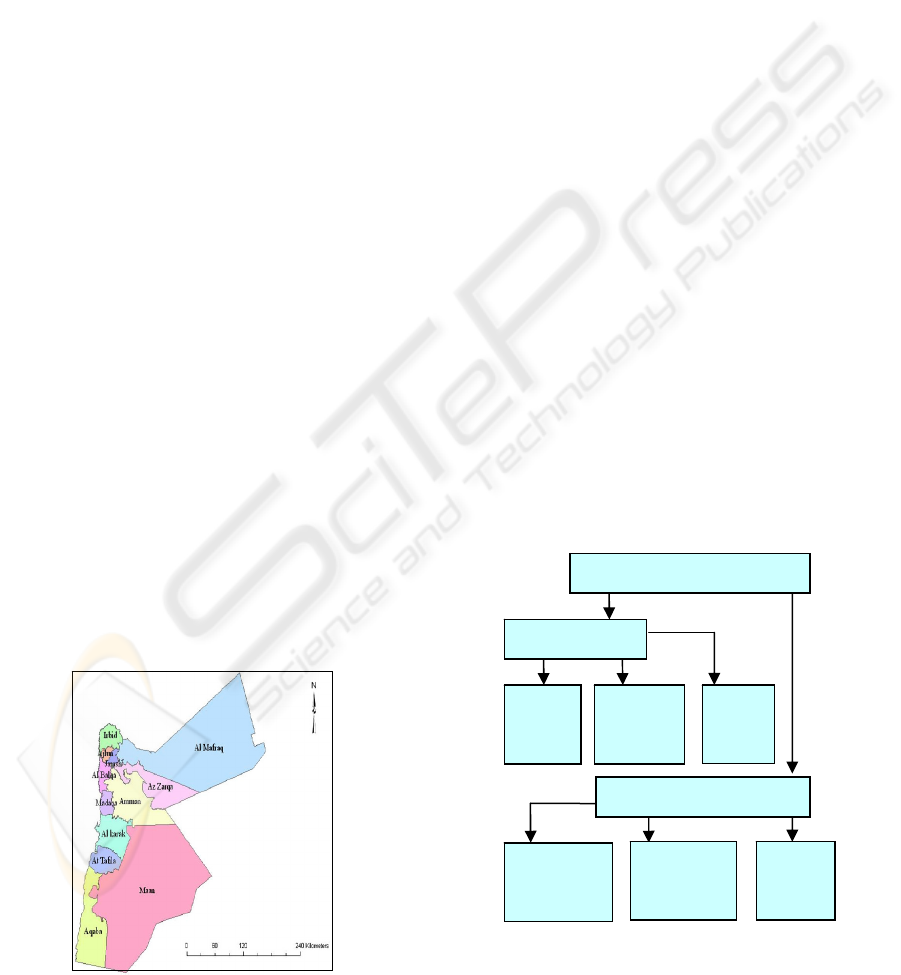 especially in the world of emergencies and life
saving process. During Catharine storm in the USA,
GIS (created for transportation purposes) was the
only way to locate people during the hurricane when
all other methods failed (Andronache et al., 2006). It
helped in saving the lives of thousands of citizens
and opened the eyes to the benefits of GIS
technology. GIS and related technology will help
analyze large datasets, allowing a better
understanding of terrestrial processes and human
activities to improve economic vitality,
environmental quality, and response to emergencies
as well as, finding the way to a supermarket. Today,
GIS is a multibillion-dollar industry employing
hundreds of thousands of people (planners,
engineers, economists, etc.) and used extensively in
all aspects of planning.
Jordan is a Middle Eastern country located in
Southwest Asia. Administratively, it is divided into
12 governorates: Ajlun, Amman, Aqaba, Al-Balqa,
Irbid, Jerash, Al-Karak, Ma'an, Madaba, Al-Mafraq,
Tafilah, Az Zarqa (Fig.1). The department of
General Statistics in Jordan categorizes its data
according to governorates. GI
S is used in this work
to create a digital data to reflect the different nature
of each governorate, its resources, population, etc.
The created digital data for the country will allow all
kinds of analysis by governorate to clarify and
reflect their strong and weak points, needs. This will
help in defining indicators for development and
planning. ArcGIS software is used in our work for
capturing, organizing, analyzing, mapping, and
presenting spatial information.
Our main Objectives are to: (a) create a global
digital data for the country by governorate, (b) allow
the usage of endless capabilities of GIS analysis and
(c) offer the possibilities of web posting and e-
government utilization.
Figure 1: Jordan Governorates.
2 METHODOLOGY
GIS Data Model:
GIS systems handle two types of
data, raster and vector data. Raster data from
scanned or remotely sensed images are poor at
representing points, lines and areas, but good at
surfaces. Vector data model uses points stored by
their real coordinates, sequence of these points build
lines and areas. The spatial data we used in building
our GIS includes: Jordan Map (scale 1:1,000,000)
and a Spot Satellite Image for Jordan. Global
Positioning System (GPS) is used to collect the
coordinates of important points to enrich our GIS
such as: Universities (8 points), Hotels (58 points),
Hospitals (29 points), Police Stations (44 points),
Water Companies (11 points), Civil Status and
Passport department (11 points), Municipalities (12
points), Airports (3 points). All points were taken
according to Google Earth Map.
Attribute data give more information about features
in tabular form. Attribute Statistical Data for Jordan
for the years (1990 - 2005) were used to create the
GIS database. All kinds of data such as: population
count, population density, urban population, rural
population, population by gender, number of births,
deaths, marriages, and divorces, crimes, rain fall,
water supply for domestic purposes, fuel
distribution, number of new telephone subscribers,
pharma- cies, registered engineers, post office mail
boxes, post offices, road accidents, hotels, registered
lawyers, charitable societies, bookshops, hospitals,
health centers, dental clinics, schools etc. Available
and field collected data were included in the work.
Figure 2: Collected data flowchart.
Collected data
Spatial data
Maps
Spot
Satellite
Image
Points
by GPS
Statistical
book of
Jordan
Field
data
Available
data
Attribute data
A GEOGRAPHIC INFORMATION SYSTEM (GIS) TO DEFINE INDICATORS FOR DEVELOPMENT AND
PLANNING IN JORDAN
33