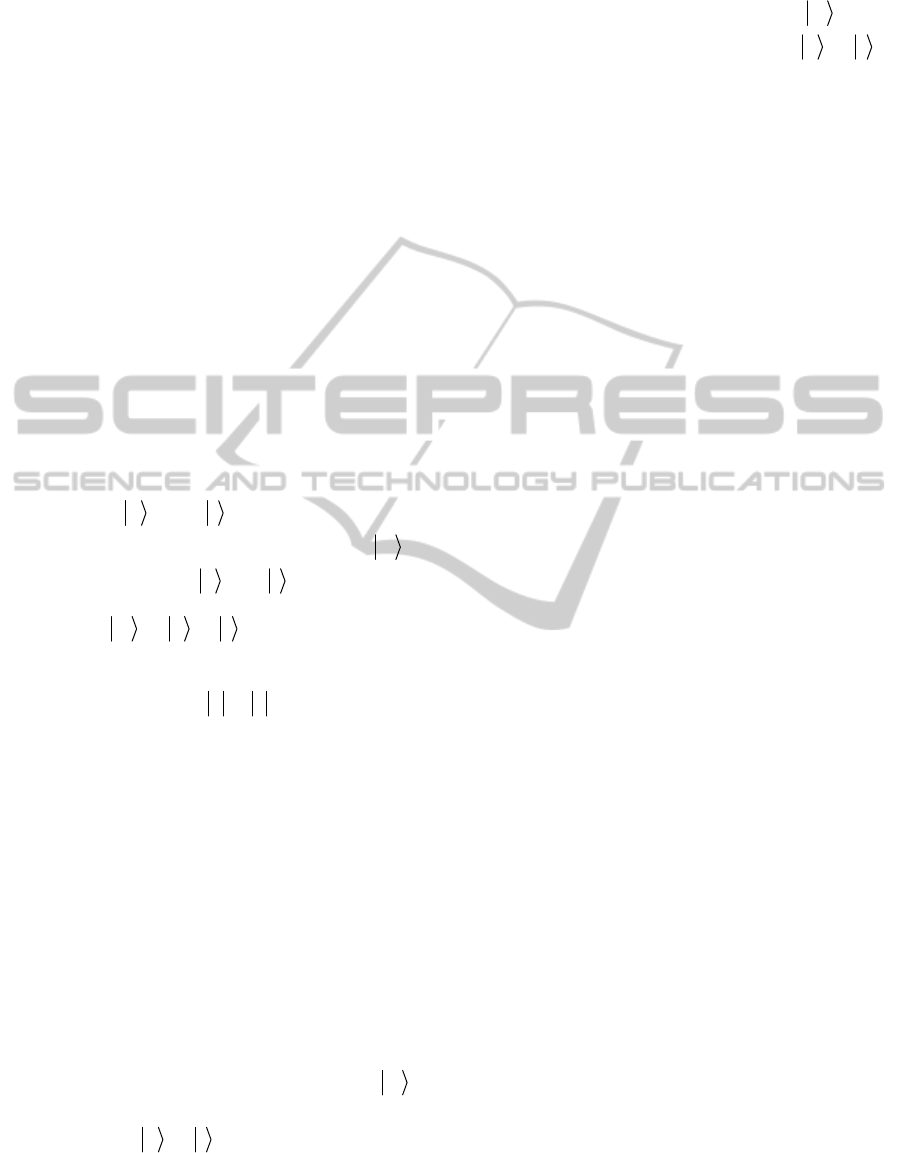 up approach (Feynman, 1960), has been put forward
over the last few years. It is based on the idea of
building a computer with its underlying hardware
based on single molecules, self-assembled
supramolecular entities and/or chemical reaction
networks coupled with diffusion processes. The
development of molecular logic gates will allow not
only electrical but also ot
her physical and chemical
inputs and outputs to be exploited. The purpose is to
find out molecular systems whereby not only
Boolean but also Fuzzy logic can be processed.
2 COMPUTING WITH
MOLECULES
Working with single atoms and molecules entails to
deal with the laws of the quantum-mechanics,
therefore quantum computation can also be carried
out. The elementary unit of quantum information is
the qubit or quantum bit (Schumacher, 1995). A
qubit is a quantum system that has two accessible
states, labelled
0
and
1
, and it can exist as
superposition of them; in other words, a qubit (
is a linear combination of
(1)
wherein a and b are complex numbers, and a
normalization convention
1
22
adopted. A computer based upon qubits promises to
be immensely powerful because it can be in
multiple states at once. For
instance, if it consists of
n unmeasured qubits, it can be in an arbitrary
superposition of up to 2
n
different states
simultaneously, differently from a classical
computer that can only be in one of the 2
n
states at
any one time (Bennet, 2000). The superposition can
involve also the quantum states of physically
separated particles, if th
ey are entangled (Plenio,
2007).
The main difficulty in building a quantum
computer comes from the fact that quantum states
must constantly contend wi
th insidious interactions
with their environment triggering loss of coherence.
The superposition state of a qubit, for example
defined in equation (1), collapses by decoherence,
into a single state,
0
or
1
, with probability a
2
and
b
2
, respectively.
Whenever decoherence effects are unavoidable,
the lure of quantum inform
ation vanishes. However,
it is, anyway, possible to compute with molecules by
processing crisp logic. Since a qubit,
collapse into one of two available states,
it seems obvious that just Boolean logic can be
implemented at the molecular level.
The ability of making computation by molecules
resides in their structures
and their reactivity (i.e.
affinity). The order, the way the atoms of a molecule
are linked, and their spa
tial distribution rule the
intra- and inter-molecular
interaction capabilities of
the molecule itself, defining its potentiality of
storing, processing and conveying information.
Any molecule or supram
olecular assembly that
can exist in two states of different chemical or
physical properties, may be regarded as a potential
logic gate if there exist physical or chemical stimuli
that can change reversibly the state of the system.
Computing with molecules
allows multiple inputs
and outputs to be used: not only electrical but also
chemical, optical, mechanical, thermal, magnetic
and other physical ones. The nature of logic gates
that can be implemented depends on the response of
chemical compounds to the physical or chemical
inputs.
When computations are performed through an
ensemble of a huge number of molecules, the
collective response of the chemical system is
continuous on a macroscopic level, although only
discrete processes of Bool
ean character are involved
at the molecular level.
Whenever the macroscopic
input-output relation has sigmoid shape, it has
digital character and is suited to process binary
logic. For this purpose, it
is necessary to establish a
threshold value and a logic convention for every
input and output variable. The variables can assume
simply high or low values that become digital 1 or 0,
respectively, in the po
sitive logic convention,
whereas the negative logic
convention reverses this
relationship. On the other hand, whenever the output
variable varies smoothly as response of the
continuous variation of th
e input, their relation has
analog character and can be exploited to process
Fuzzy logic. For this purp
ose, the entire domain of
each variable, referred to as the universe of
discourse, is divided into different Fuzzy sets whose
shape and position define their membership
functions.
Different technological so
lutions have been put
forward for the implem
entation of chemical
computers. They can be grouped in two sets: one
that can be defined as based upon "interfacial
hardware" and the other that is based upon the so-
called "wetware". In the case of "interfacial
ICAART 2011 - 3rd International Conference on Agents and Artificial Intelligence
206