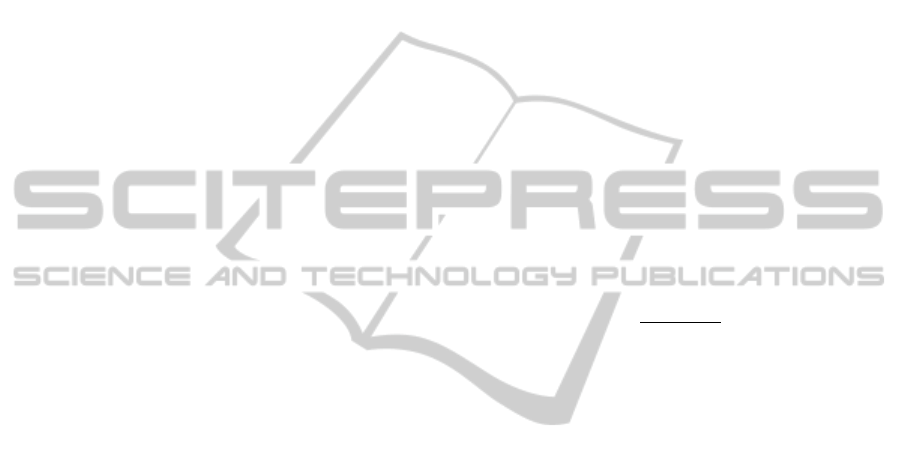 possibility to control separa
tely these two fingers we
just have to discard this correlation, which in our
experiment is expressed by the couple 9-12: we will
just need eight sensors in spite of seven.
Data acquisitions were performed measuring the
nine basic movements described in the following,
repeated 10 times by 5 different healthy persons 25-
40 aged.
3.1
Position A: Open Hand
The open hand position is a fundamental position,
useful in different occasions and can be a transition
posture from one gesture to another.
3.2 Position B: Fist
Closing completely the hand in the fist posture, all
the fingers and the thumb are almost in the
maximum bent position. It is adopted, for example,
any time we want to keep something small in our
hand.
3.3
Position C: Index Finger Up
The index finger up position is the main gesture of
the hand: it is used every time we want to point
somewhere or somebody, or to press a button.
3.4
Position D: Index and Middle
Finger Up with Thumb Closed
This fourth position, with the index and middle
finger up with the other fingers bent.
3.5
Position E: Index and Middle
Finger Up with Thumb Open
In this posture the thumb and the first two fingers
are completely outstretched while the others are
bent.
3.6 Position F:
Hand Open, with
Thumb Closed
This position represents the motion of thumb
independently, while all fingers remain outstretched.
This posture represents the gesture that we do, as an
example, to collect something with thumb and index
finger, maintaining the others opened. It differs from
the position used to hold a pen because the DIP of
the index in this gesture is bent.
3.8
Position H: Grabbing an object
This position is what we do to grab and hold an
object.
3.9
Position I: Holding a Pen
When holding a pen the DIP of the finger does not
bend while the thumb is almost closed and the other
fingers are relaxed.
We asked every subject to repeat all the A-I postures
in sequence 10 times, so
obtaining a corresponding
dataset of 450 x 14 sensors. For every couple of the
14 finger joint angles, we measured the Pearson
product-moment correlation coefficient, which is
expressed by the following formula:


,

=







(1)
where
cov
(

X

,

Y

) is the covariance of the two random
variables
X,Y
that we are comparing, and
σ
is the
standard deviation.
In table I we reported all the correlation
coefficients. Numbers indicat
e the joints as shown in
Fig 2.
It's important to notice that if our aim is limited
to a specific application, the number of correlations
would be surely higher and the complexity achieved
lower. For example if we want to develop a
prosthesis capable just to
grab and release objects
we could relate every DIP and PIP to their respective
MCP (e.g. angles 5 and 4 represented by angle 3).
An observation that we can do is that all joints
from last two fingers are very highly correlated: this
is clearly due to the fact th
at last two fingers always
move together, in particular MCP, PIP and DIP of
third finger (9, 10, 11) ar
e correlated respectively
with MCP, PIP and DIP of fourth finger (12, 13, 14).
Moreover, different articulations of the same
finger are almost correlat
ed: MCP is correlated with
PIP. this is valid for the first finger (0.990), third
finger (0.955) and fourth finger (0.986), but
correlation seems less strong in second finger
(0.832). Also PIP is correl
ated with DIP: this is
strongly visible in the second, third and fourth finger
but not in the index. We expected this result because
the DIP of the index can bend (e.g. in position H) or
not (e.g. in position I).
HEALTHINF 2011 - International Conference on Health Informatics
244