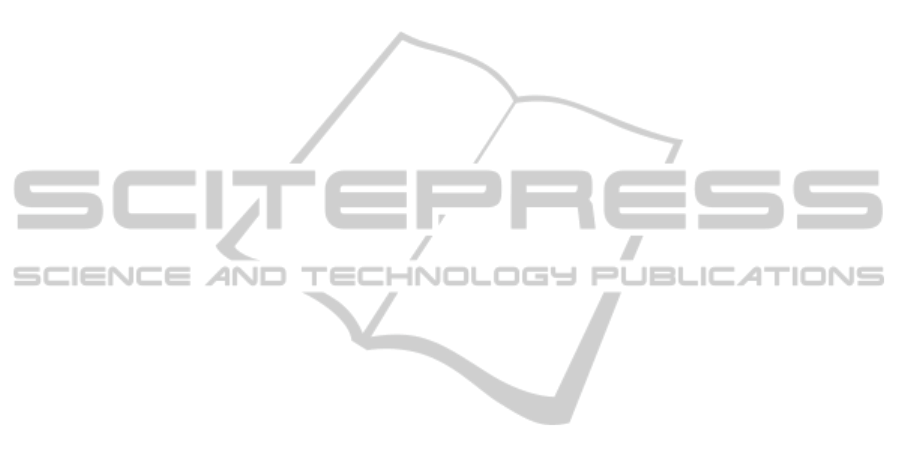 behaviour, and mapping URLs to the reference
ontology; the profile adaptation and learning phase,
which forms the dynamic user profile; and the
personalization engine
phase, which provides
recommendations based on the dynamic user profile.
In this paper, we investigate the first phase, mapping
URLs to a reference ontology, which is essential for
the subsequent phases. Indeed, capturing inaccurate
user interests in the first phase would directly affect
the personalization performance. Therefore, this
paper gives much needed attention to the first phase
by introducing two novel algorithms that aim to
improve the mapping process. These two algorithms
each have characteristics th
at enhance particular
aspects of the mapping process. The first algorithm,
called Gradual Extra weight (GEW), is applied to an
ontology to maintain a balance between a user's
general and specific interests. The second algorithm,
called the Contextual Concept Clustering (3C), is
designed to exploit the user's context and thereby
improve the mapping accuracy.
The paper is structured as follows. Next we
discuss related work and following that we discuss
the process of modelling the user profile. Section
four presents the details of the two techniques and
the next section presents a set of experiments that
have been conducted along with the results. The
paper ends with the conclusions and pointers to
future work.
2 PREVIOUS WORK
A number of approaches have been presented to
improve the overall accuracy of the mapping
process. One such approach
is to use a reference
ontology with a limited number of levels. Liu et al.
(2002), for example, mapped users' interests to a
level-two ontology, while other approaches utilized
a three-level ontology to map users' interests (Chen,
Chen and Sun, 2002 and Trajkova & Gauch, 2004).
As to retrieval precision, using a limited number of
levels has been reported to improve overall
accuracy, but a great limitation of this approach is
that levels two or three of the ontology may still be
too general to represent a user's actual interests.
Another approach that has been applied to map
interests to an ontology is adding a pre-defined
percentage of each sub-concept's weight to its super-
concept. The idea behind this
approach is that if a
user is interested in a particular concept, then he or
she also has some interest in its more general super-
concept. Middleton et al. (2004) and Kim et al.
(2007) applied this approach by adding an extra 50%
for each concept's weight to its super-concept's
weight, and then repeating the process until the root.
Although this method offered an improvement over
the original cosine similarity approach, its
accumulation behaviour led to more emphasis on the
top-level concepts, which are too general to
represent a user's actual interests, while the middle
and low-level concepts receive less attention.
Daoud, Tamine and Boughanem (2008), on the other
hand, assumed that representing interests with two
levels of the ontology is too general, while leaf-node
representation is too detailed, and that the most
relevant concept is the one that has the greatest
number of dependencies. Based on these
assumptions, they proposed a sub-concept
aggregation scheme, the main goal of which was to
represent all user interests with three levels in the
ontology. The weight of a level-three concept in this
system is calculated by adding the weights of all its
sub-concepts and then associating each user's
interests to one level-three concept.
All of the approaches that have been proposed to
improve the mapping process have limitations. Users
tend to have general and specific interests on a wide
range of topics. Therefore, assuming a two or three-
level representation of all users' interests cannot be
accurate or particularly eff
ective. For instance, in the
Open Directory Project (ODP) ontology, level-two
Computers/Programming and level-three
Computers/Programming/Languages are both too
general to represent, for example, an interest in Java
or C# programming languages. On the other hand,
approaches that rely on ad
ding extra weight to a
super-concept based on its sub-concepts also suffer
from a serious limitation since the accumulation
behaviour leads to more emphasis on top-level
concepts, which are too general to represent actual
user interests. Therefore,
we need a new approach
that is capable of maintaining both general and
specific interests. The focus of this paper is on
introducing new techniques that can maintain a
balance between general and specific interests.
3 PROFILE MODELLING
In this section, we pr
esent our approach for
modelling ontological user profiles. The process of
modelling user profiles involves three aspects: (i)
tracking the user behaviour; (ii) using a reference
ontology; (iii) mapping concepts to the ontology.
These are explained in the subsequent sections.
ICAART 2011 - 3rd International Conference on Agents and Artificial Intelligence
322