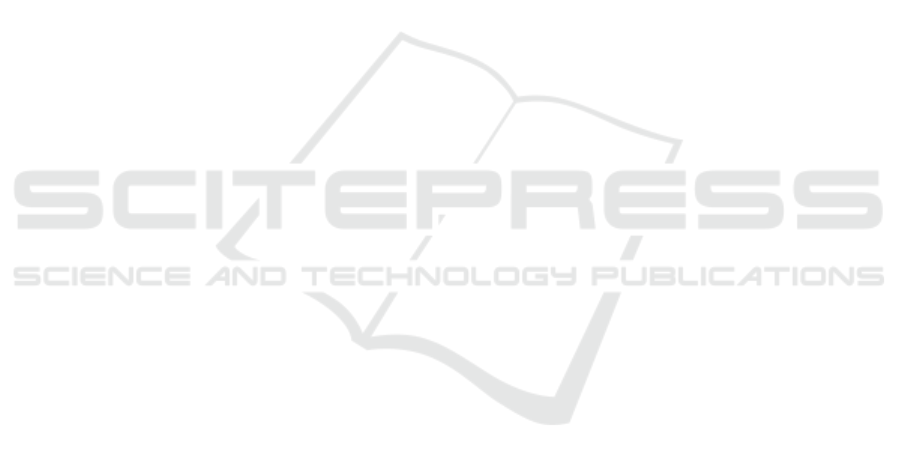 COMPUTER-AIDED AND VIRTUAL REALITY TECHNIQUES
FOR GRAPHICAL ARTWORKS
Héla Ben Mallem
1,2
, Mickael Naud
2
, Paul Richard
2
, Jean-Louis Ferrier
2
and Abdelaziz Labib
1
1
Laboratoire Lumières et
Modernité, Université Tuni

s El-Manar, Tunis, Tunisia
2
Laboratoire d'Ingénierie des Syst
èmes Automatisés (LISA), Unive

rsité d'Angers, Angers, France
Keywords:
Computer graphics, Vi
rtual environments, 3D interaction techniques, Graphical artworks.
Abstract:
Recent advances in computer graphics and 3D
interaction devices raise ne

w possibilities for artworks.
However, extended analyses of the underlying technol
ogy as well as usability experiments have to be
carried out. Moreover, 3D interact
ion techniques have to be proposed

and evaluated. Another important
aspect concerns the way computer technology may assist or support artistic creation. The objective of the
work presented in this paper is to propose both a theo
retical framework for the an

alysis of computer-aided
artistic creation and 3D interaction techniques
allowing user-centered artworks. Two immersive
configurations along with 3D in
teraction techniques are proposed

and analyzed. These interaction
techniques are based on infrared cameras and 3D interaction devices such as a data-glove or the Nintendo
Wiimote
TM
.
1 INTRODUCTION
Art has entered in a new phase of experimentation,
reinforced by the creation and the implementation of
complex models. The process of artistic creation has
evolved since its origins in terms of tools, forms,
styles and contents. This evolution is undergoing an
important step through the opportunities offered by
computing technology (Couchot et al., 1988), (Jaspart
et al., 2001), (Benayoun, 1998), (Chevalier, 2010)
(Bilda et al., 2005), (Bird et
al., 2007), (De Gotzen et
al., 2008), (Candy et al., 2002), (Saunders et al.,
2002), (Costello et al., 2005). 3D interactive
environments and virtual reality (VR) technology
participate to this evolution in an original and
consistent manner.
With the continuous improvements in computer
technology, it is now possible to develop 3D artworks
with standard high-end personal computers and low-
cost interaction devices such as the Nintendo
Wiimote
TM
. However, extended analyses of the
underlying technology as well as usability
experiments have to be carried out. Moreover, 3D
interaction techniques have to be proposed and
evaluated. Another important aspect concerns the
way computer technology may assist or support
artistic creation.
In this paper, we propose a framework for the
analysis of computer-aided artistic creation
and new
3D interaction techniques allowing user-centered
artworks. Two immersive configurations along with
interaction techniques are proposed and analyzed.
They are based on projection displays and propose
3D interaction techniques based on infrared cameras
and 3D interaction devices such as a data-glove or the
Nintendo Wiimote
TM
.
In the next section we present the proposed
theoretical framework for the description,
classification and analysis of computer-aided
graphical artwork. In section 3, we describe the
proposed configurations and interactions techniques.
The paper ends by a conclusion and proposes some
tracks for future works.
2 THEORETICAL FRAMEWORK
Our theoretical approach was guided by the AIP cube
(Autonomy-Interaction-Presence) proposed by
Zeltzer to describe and analyze VR systems (Zeltzer,
1991). We propose a framework to describe, classify
and analyze computer-aided
environment for artistic
creation. This framework (the CIA cube) illustrated in
Fig. 1, has three independent components: creativity,
immersion, and autonomy.
In the proposed framework, the creativity axis is
related to the user's creativity, i.e. what he/she could
imagine and create without the assistance of the
347
Ben Mallem H., Naud M., Richard P., Ferrier J. and Labib A..
COMPUTER-AIDED AND VIRTUAL REALITY TECHNIQUES FOR GRAPHICAL ARTWORKS .
DOI: 10.5220/0003377603470351
In
Proceedings of the International Conference on Computer Graphics Theory and Applications
(GRAPP-2011), pages 347-351
ISBN: 978-989-8425-45-4
Copyright
c

2011 SCITEPRESS (Science and Technology Publications, Lda.)