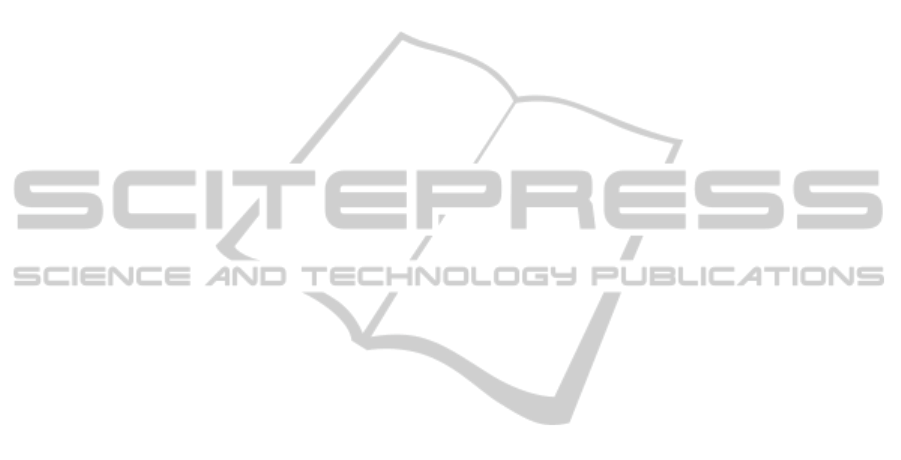 R1: Interoperability with Local Security
Requirements
In decentralized workflows, no single point of
control exists; instead, the workflow specification
itself travels from service
to service (Kuntze and
Sch, 2008). Access to local resources is typically
determined by local security policies. Integrating or
transforming independent local security policies into
global policy enfo
rcement is a very complicated
task; especially, when serv
ices dynamically join or
leave the workflow with free will. As such, it is
desirable that security should be maintained locally
and the requirements corresponding to local policies
are specified in a uniformed format and published
among participating services in a workflow.
R2: Separation of Duty (SoD)
Services with compleme
ntary competencies are
joined to carry out a special task. SoD ensures that
conflicting services cannot be part of a workflow
execution to circumvent conflict-of-interest
situations. Typically, a service is assigned to a
specific role for a particular task, where SoD
policies are verified based on role assignment
(Nyanchama and Osborn, 1999, Jaeger and Tidswell,
2001). However, this method only permits workflow
owners to enforce policies from their perspectives,
but preventing participating services to express their
SoD requirements. Our TS a
llows arbitrary services
to impose their own requirements through TS
formulae.
R3: The Association betw
een Tasks and Services
As noted, several services with complementary
capabilities can be gathered to perform a
sophisticated task. On the other hand one service is
also allowed to execute several tasks in a workflow.
For example, an online pa
tient record service is
responsible for acquiring patients' information and
providing statistical analysis to the National Health
Service. Privacy and confidentiality are two
requirements of the first while the later concerns
with data accuracy. Conseque
ntly, the trust level of
such service is differently determined depending on
the task in responsible.
R4: Flow- and Task-oriented Property
There are two perspectives of trust in workflow
executions. The first is flow-oriented perspective
describing that services involved in a flow execution
must possess certain proper
ties. For example, to
protect data secrecy, digital patient's records must
be transmitted over SSL among services involved
along the flow. Another focuses on task-oriented
executions. Properties of services responsible for a
particular task can be verified before trusting. Since
one task can be connected by many services, the
properties of other services may have an influence
on trust of a target service. For instance, the
insurance claiming task must be approved by two
different services, one fro
m an insurance company
and another from a contracted hospital. To trust a
hospital, an insurance service must be presented.
R5: Enforcement of Sequences
Security of a workflow also depends on the
sequence of tasks that are dependent on one another.
One particular task might require the results from
others occurred before, as well as to provide its
results to the services afterwards (Kuntze and Sch,
2008). From the service viewpoint, it is desirable
that they are able to specify properties related to the
sequence of tasks and service associated. For
example, the task of issuing a check for a tax refund
can be done after a financial and general manager
have approved in order.
R6: Flexible Degrees of Restriction
The absence of the end-to-end visibility of a
workflow has led workflow research to re-examine
and to find the way for workflow cooperation
(Falcone et al., 2003). Flexible degrees of visibility
enable entities to retain the level of privacy and
confidentiality of internal processes. This fact gives
rise to security difficulties for one to accurately
specify properties of other se
rvices in a workflow. In
response to this, TS should be flexible to formally
express requirements w
ith several degrees of
restriction based on visibility.
R7: Protection of Workflow Data
Since data is traversed from one service to another in
a workflow path, protecting the data against security
threats becomes necessary. This requirement has
been sufficiently accommodated by protections
offered by traditional security. For example,
integrity refers to the prevention of unauthorized
modification; authenticatio
n refers to verifying
identity accessing to information; authorization
refers to access control enforcement; and
confidentiality is achieved by the use of
cryptography. These requirem
ents are essential to be
specified as the required
properties where TS should
be developed in a way to address this requirement.
3 RELATED WORK
Although trust has long been investigated, one
topic which has been treated less is in the area of
FORMALIZING TRUST REQUIREMENTS AND SPECIFICATION IN SERVICE WORKFLOW ENVIRONMENTS
197