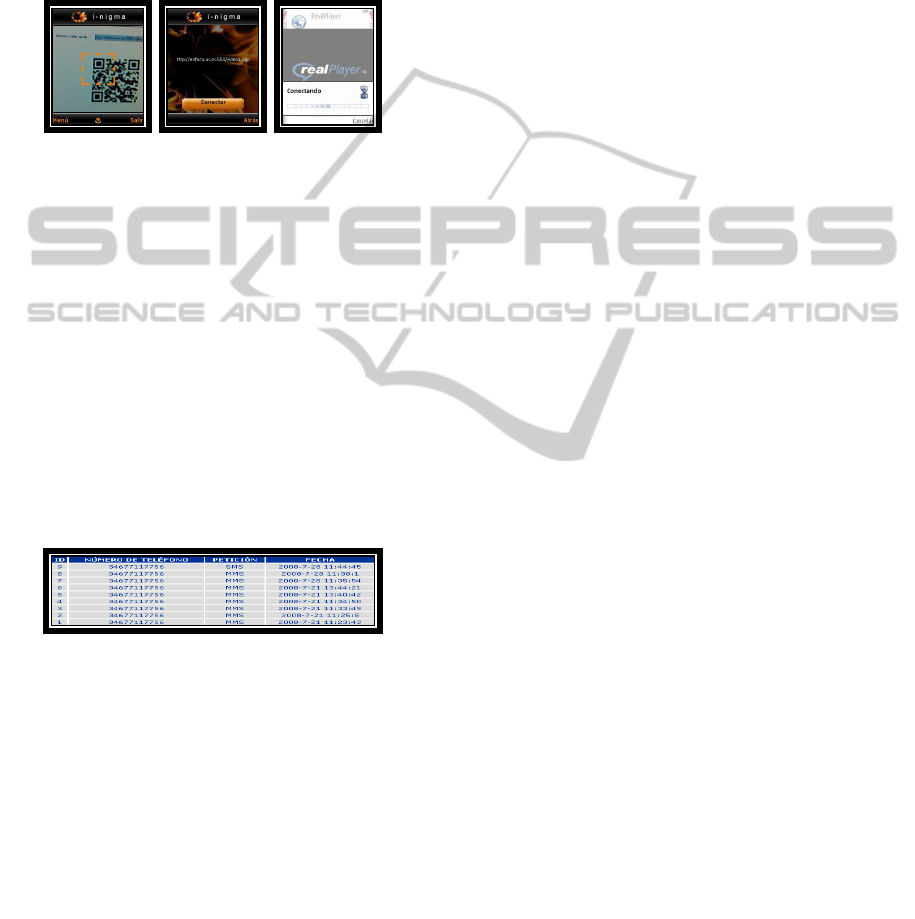 Finally, we check the video display on the
terminal through video streaming. To do so, the user
should access a URL very
characteristic since the
protocol to be used will not be "http" but "rtsp". The
terminal N95, used for the development of the
project, will interpret that it is a question of a
transfer for streaming and will automatically open
his streaming video player to start viewing the video.
Figure 8: Video visualization process.
5.2 Statistical Results
This section is responsible for displaying different
statistics generated by the system RedBox. A series
of tables are created where
the information stored in
the database appears.
In the first table will display data as total
requests, demands complete, incomplete or
erroneous. In the second table the requested requests
are stored supplying data; as data of the request, the
type, the origin and the message. In the third table
(table 1), a list of all requests sent to the platform
and the type of message requesting will be shown.
Table 1: Mobile
table requests.
6 FUTURE WORK
You can study the integration of these codes in
various scenarios that generate added value.
An application of QR codes is the possibility of
incorporating them along a cultural visit, for
example, in a museum next to a sculpture or a
painting, where, to take a picture the code in
question, will facilitate the reproduction an audio
(streaming).
Also, in the poster for a concert you can include a
QR code to provide access to
buy the ticket through a
secure payment platform (via web). Then it will be
provided a link to an image with a QR, which is your
e-ticket. Only have to access this link to download it.
7 CONCLUSIONS
The mobile terminals are
increasingly smaller sizes
to provide user mobility. But as a disadvantage,
appears to have to enter web addresses in the
browser using a keyboard too small. This article has
been shown how the use of QR codes facilitates this
work. QR codes are based on open standards,
allowing us to use in any environment without
restrictions. This makes the QR useful for mobile
payment platforms and applications through mobile-
oriented web pages. This opens a wide range of
development opportunities in the mobile
environment. It requires a
joint effort of all actors
involved in technology development and public
administration to facilitate standardization and
technology integration. Also, the advantages QR
codes have been joined
the use of the Platform
RedBox Vodafone. The integration of the two makes
it even easier access to mobile Internet.
ACKNOWLEDGEMENTS
The authors would like to acknowledge MCyT
Grants DPI2010-19154 and the European
Commission (EC) (FeedNet
Back Project, grant
agreement 223866), for funding this work.
REFERENCES
IEEE. Barcode, 2008; /less
ons/crackingthecode.pdf
E. Ohbuchi; H. Hanaizumi; L. AH Hock, Barcode Readers
using the Camera Device in Mobile Phones;
International Conference on Ciberworls
; 2004. IEEE.
Tasos Falas, Hossein Kashani, Two-Dimensional Bar-
Code Decoding with Camera-Equipped Mobile
Phones,
Fifth IEEE Int. Conference on Pervasive
Computing and Communications Workshops
, 2007.
Yue Liu; Bo Yang; Yu Yang; Bar Code Recognition in
Complex Scenes By Camera Phones;
Fourth Int.
Conference on Natural Computation
; 2008.
BOLETÍN INFORMATIVO TEC (TIC). Códigos
Bidimensionales, 2008;
www.tec-mex.com.mx
OPEN MOBILE INTERNET ALLIANCE (OMIA).
OMIA Mobile 2-D Bar Code Standard. 2007;
www.meworks.net/
VODAFONE.
Red Box, 2008; :/vodafone.es/empresas/
servicios/mensajeria/redbox/
H. Shulzrinne, R. Lanphier.
RTSP, 2007; www.javvin.
com/protocol/rfc2326.pdf
SIGMAP 2011 - International Conference on Signal Processing and Multimedia Applications
22