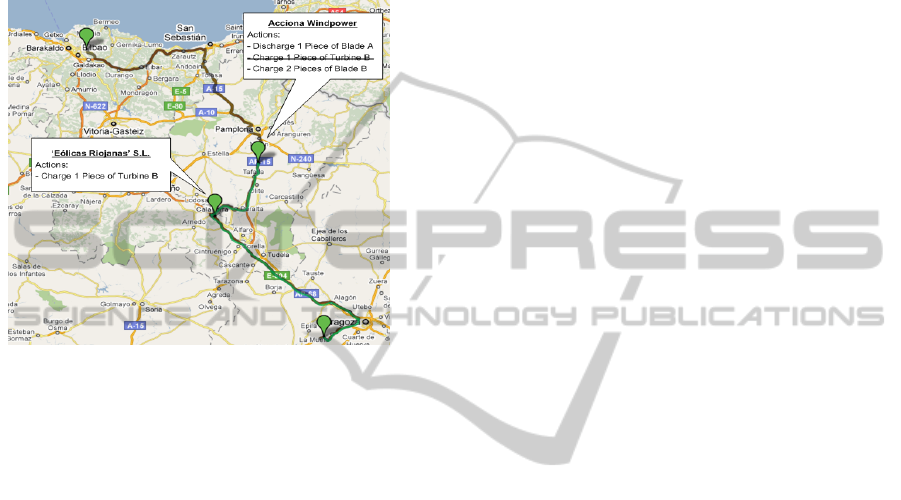 have a new stop (Eólicas Riojanas, S.L.) where we
have to collect the material we needed (one turbine
of type B). Thus, arriving
at WindFarm "La Muela",
we can discharge all the components we have.
After finishing the test we can conclude that we
obtain the expected results,
detecting incidences in
real time and minimizing the time needed to manage
them.
Figure 5: Route changed: an additional stop.
5 CONCLUSIONS
The result of our current work is an ICT solution
with real-time tracking capacities for improving the
incidence recovery timing in the transportation of
industrial equipments. It is considered an innovative
solution because it faces
technological challenges
concerning to this transpor
t, such as interoperability
with manufacturing informat
ion systems, real-time
fleet and goods traceability, management of the
route and job operations, onboard information to
carriers, and real-time in
cidence management and
recovery. Now, a first prototype has been
successfully validated.
The current implementation of the system uses
passive RFID tags that should be verified by a
portable HF RFID reader which connects to the
mobile device by simply sending ID codes of the
RFID tags. These passive tags can be replaced by
active ones which can store more information and
improve the reach of the re
ader. In that way, the
employee does not have to validate each individual
piece with the portable RFID reader, but can
perform the tasks of loading and unloading of
materials being automatically validated.
Consequently the traceability of goods can be
carried out in a non-intrusive way (without
modifying the behavior of
transport staff). This will
made the system portable to other areas such as rail
or pharmaceutical. Other important aspect of future
work must be to improve the way in which the
planning of the routes and job actions is done,
because a non-automatic process is used in this
moment. A higher level of automation in the task of
rescheduling, based-on the use of Artificial
Intelligence techniques, is a desirable issue.
ACKNOWLEDGEMENTS
This work has been funded by the Ministry of
Industry, Tourism and Trade of Spain under Avanza
funding program (Grant TSI-020100-2008-582).
Special thanks to Avangroup Business Solutions,
S.L. for their support.
REFERENCES
Cleland-Huang, J., Settimi, R., Romanova, E., Berenbach,
B. and Clark, S., 2007.
Best Practices for Automated
Traceability. Computer, Vol. 40, Issue 6, pp. 27-35.
Schwägele, F., 2005. Traceability from a European
perspective.
51st International Congress of Meat
Science and Technology (ICoMS
T), Meat Science, Vol.
71, Issue 1, pp. 164-173
Abad, E. et al. 2009. RFID sm
art tag for traceability and
cold chain monitoring of foods: Demonstration in an
intercontinental fresh fish logistic chain.
Journal of
Food Engineering, Vol. 93, Issue 4, pp. 394-399
.
Kelepouris, T., Pramatari, K.
, Doukidis, G. 2007. RFID-
enabled traceability in the food supply chain.
Industrial Management & Data Systems, Vol. 107
Issue: 2, pp. 183-20
Manikas, I., Manos, B. 2009.
Design of an integrated
supply chain model for suppor
ting traceability of dairy
products.
Int. Journal of Dairy Technology, Vol. 62,
Issue 1, pp. 126-138
Huang, G.Q., Zhifeng Qin,
Ting Qu, Qingyun Dai. 2010.
RFID-enabled pharmaceutica
l regulatory traceability
system.
2010 IEEE International Conference on
RFID-Technology and Applications (RFID-TA),
Guangzhou, China, pp. 211-216
Bertolini, M., Bottani, E., Rizz
i, A., Volpi, A. 2010. The
Benefits of RFID and EP
C in the Supply Chain:
Lessons from an Italian pilot study.
The Internet of
Things, Part 4, pp. 293-302
Al-Kassab, J., Blome, P., Wolfram, G., Thiesse, F.,
Fleisch, E. 2010. RFID in the Apparel Retail Industry:
A Case Study from Galeria Kaufhof.
Unique Radio
Innovation for the 21st Century, Part 4, pp. 281-308
Crowl, S., Mares, V., Moor
e, M. 2006. Radio Frequency
Identification (RFID) application at dell computer.
IEEE Engineering Management Conference, Austin,
TX, USA, pp. 28-30.
REAL-TIME TRACKING AND INCIDENCES MANAGEMENT - Improving the Transportation of Industrial Equipment
through an ICT Solution
213