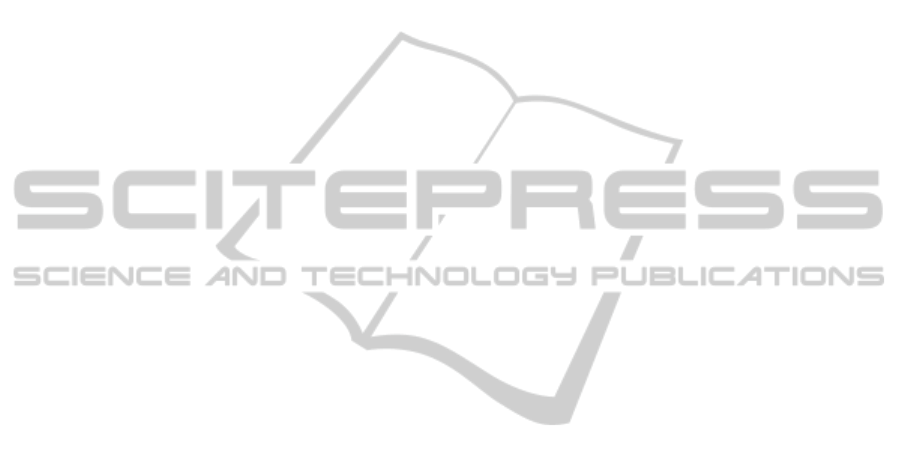 presented in this paper has been illustrated by
reviewing existing relevant literature in the domain
of data, information quality, architecture, enterprise
architecture (EA) and IA.
The theoretical proposal
presented in this paper consists of concepts and their
relationships, as identified from literature, which
have been further demonstrated in real case study.
Thus, this research can be described as being
interpretive and grounded in literature.
3.1 Information Quality
Information is difficult to manage from business
standpoint. More specifically, it is not the
information itself that is difficult, the problems lie
with the people and processes using that
information. So, in order to improve IQ under
sharing environment across organizations, we must
focus from dynamic perspective: the process of
distributing information. Common definition of IQ is
"fitness for use". Information are high quality if they
are fit for their intended uses in operations, decision
making, and planning (Wang, 1998). In this sense,
when information shared and exchanged among the
parties are deemed of high
quality if free of defects
and process desired features. It point to the notion
that IQ needs to be measurable and being measured
appropriately while they
are shared by multiple
organizations.
Data is produced by measurements or
observation (Drake et al., 2004), which brings to an
important concept—a notion of data context or
metadata—that is critical to the success of IQ
improvement efforts. One of
the causes for poor IQ
problems is the lack of sufficient information
context. To solve the poor IQ problem, information
context should be defined and well understood
(Drake et al., 2004, Eden and Kazman, 2003).
3.2 Architecture Approach
The word architecture is us
ed whenever a high-level
overview of interrelated components wanted to be
defined, and when the relationships among them are
complex and difficult to und
erstand. Architecture is
generally can be captured as a set of abstractions
about the system that provides enough essential
information to form base for communication,
analysis, and decision making. (Foegen and
Battenfeld, 2001, IEEE, 2000, Kazman et al., 1996,
Kruchten et al., 2006, Rechtin, 1992). This points to
the notion that archit
ecture allows better
understanding on the components and their
relationships. In-depth discussion of various
architectures is out of scop
e for this paper. We focus
on EA to analyze enterprise-level IA.
Various EA frameworks define several views
that focus on specific aspects such as business,
technology, information, and so on, to reduce the
complexity. IA has been indicated as one important
component for EA (IEEE, 2000, Laudon and
Laudon, 2002). IA defines and establishes the
information component of the EA by providing
abstract representations of
corporate information.
This is where information
requirements are specified
at a high level, typically as subject areas, entities,
and relationships. In doing so, all other EA
components must be included. These relationships
characterize how and by whom data is used and
where it flows. The IA is used for understanding the
information needed and used by people in
performing tasks and business processes.
Information is created by
processes and tasks and is
shared with other processes and tasks (Rood, 1994).
Figure 1 presents an understanding on the trend
and focus of IA based on the timeline. IA is
originated with static structure for information
management. Researchers initially identify and
employ the need for flexible IA in considering of the
dynamic information environment. With the
increasing dynamic requirem
ents, researchers begin
to focus on IA framework to demands under
different situations (Campbell and Hummel, 1998,
Duncan and Holliday, 2008, Ray et al., 2003, Riva
and Rodriguez, 2002). From the time trend, it shows
increasing attention on dyna
mic aspects in terms of
the changeable and situational environment, as for
example the structure or design of the environment
with the data collection, data exchange. As dynamic
concept is developing, such concept is applied back
to and strengthened the context of static IA
(Sherman, 2002).
Definition of architecture has been discussed by the
researchers and practitioners, but there are no single
defined concept is accepted. In general, there are
two basic approaches that
can be noticed regarding
these definitions, one sees architecture as a
descriptive concept (show as
close circle in Figure
1) that factually describes the characteristics of
existing artifacts, whereas the other sees architecture
as prescriptive concept (show as open circle in
Figure 1) that defines how artifact should be
realized. It indicates that
the former approach allows
information elements exchanged and shared to be
described and mapped for IQ assessment and
measurement; the later appro
ach indicates that from
design point of view, ente
rprise-level IA allows a
contextual environment to design to guard the IQ.
AN ARCHITECTURAL APPROACH TO ANALYZE INFORMATION QUALITY FOR INTER-ORGANIZATIONAL
SERVICE
439