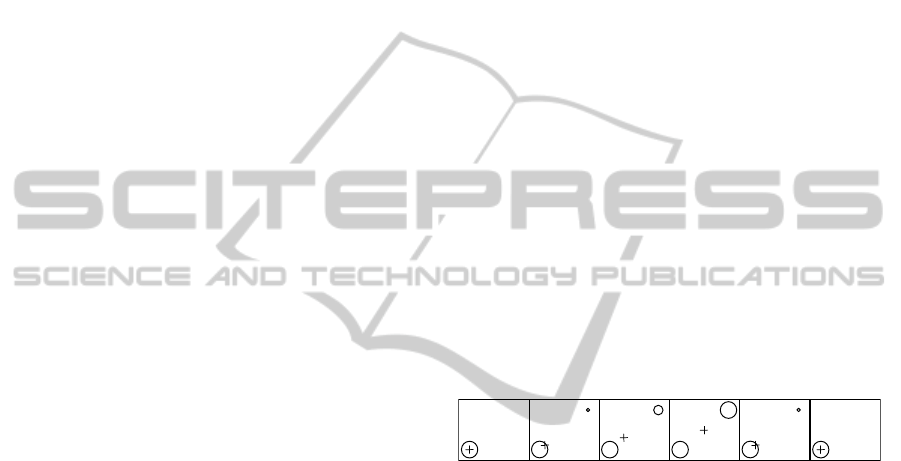 Other technologies include strain gauging, surface
acoustic wave, optical imaging and frustrated total
internal reflection.
In many touch screen usage cases individual
applications have their user interface tailored to the
given task and touch interaction. Especially
technologies that register multiple simultaneous
touches and thus cannot have their output mapped to
a pointing device require user interfaces to be
designed with respect to that (Buxton, 2011)
(Nichols, 2007). However, touch screens are often
employed as a mouse compatible complement to a
personal computer with general, unspecified use.
This includes already widespread presentation and
education screens such as SmartBoard, but also
special industrial solutions
, such as the Interactive
Mural touch wall (Guimbretière, Stone, &
Winograd, 2001). Such kind of a setup then runs a
variety of applications in
a WIMP user interface of
some operating system, usually MS Windows.
As mentioned in the introduction, many user
activities in a WIMP interface involve a right mouse
button press. The most prevalent touch screen
technologies, however, interpret touch only as a
single left mouse button press. Therefore, different
methods are being used to emulate the missing right
mouse button on touch screens in general
applications.
SURROGATE
Basically two methods are being used to surrogate
the right mouse button on touch screens. Following
the first method, usually called tap&hold, a user
maintains touch for at least the set time period, after
which the touch is interpreted as a right mouse
button pressed and released event. A short time
period can cause frequent false alarms, i.e. incorrect
touch interpretation as a right mouse button press
user did not intend. On the other hand, a longer time
period increases the delay before following activities
and also amplifies motoric strain, especially on large
touch boards.
Second class of methods requires the user to
notify the system before the intended right mouse
button press. Individual implementations can differ;
some manufacturers solve the problem at the
software level – user touches some object displayed
on screen; other solutions include physical button
placed near the touch screen. This method, even
more than tap&hold, hinders users in their work and
causes grater strain from repetitive movements. This
is prominent especially on large touch boards in
combination with a physical button.
From the construction of resistive touch screens
it is possible to infer that multiple simultaneous
touches will be interpreted as a single touch in the
centre of pressure. This assumption was empirically
verified on several resistive and capacitive
technology devices from different manufacturers.
The assumption leads to the new right mouse
button substitution method proposed in the paper.
The intended right mouse button press is indicated
by sequentially simultaneous touch of two fingers.
The user touches the desired point with her index
finger, maintains the touch and simultaneously
presses and releases her middle finger in adequate
distance and, finally, releas
es her index finger. The
first touch sets coordinates to the desired point. The
increasing pressure from the second finger causes
the coordinates to move towards the point of the
second touch. The movement stops when the
pressure is maximal and after that coordinates move
back to the desired point. See figure 1. After the first
finger is released, resp
ectively after coordinates
reach the desired point, the touch is interpreted as a
right mouse button click, respectively as a right
mouse button press.
Figure 1: Coordinates moveme
nt caused by second touch,
pressure illustrated by circle diameters.
The described semantic assignment of the index
and middle finger is natural and intuitive (the fingers
usually operate left and right mouse button), but the
proposed method does not depend on it; any two
fingers of one or both hands in any order can be
used. The important thing is the sequence press first
– press second – release second – release first.
The proposed interaction scheme may be
detected directly in hardware based on the used
technology, but it can also be done based solely on
the inferred coordinates.
3.1 Implementation
Since the proposed interaction scheme can be
evaluated from coordinates, the method can be
implemented in software independently of the touch
screen hardware. The
captured coordinates,
interpreted by the operating system as mouse
coordinates, change in time when second touch
occurs. The resulting path, which is sampled into
RIGHT MOUSE BUTTON SURROGATE ON TOUCH SCREENS
305