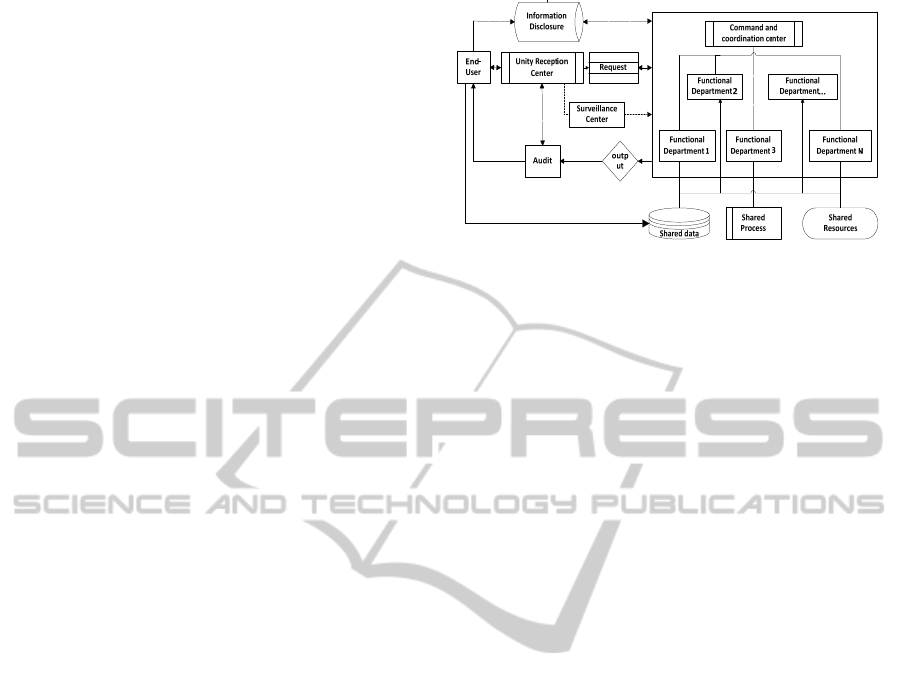 2.1 Grid Management
1
.
Content of Grid Management
Grid management is the integration of a variety of
distributed resources of the community to achieve
the goal of efficient, eco
nomical, fast and convenient
management for the purpose of efficient
transmission of information to save materials and
energy and enhance the ef
ficiency of resources.
Huanchen Wang proposed grid management as
an emerging management mode to deal with the
current complex management issues; this idea is
based on the grid boundaries in the chosen system to
achieve information integration, operational
synergies, and combined slice of modern style of a
management network system. In the view of system
structure, grid management should have the features
of grid layout. In the view
of resource association, it
should have the feature of resource sharing. In the
view of the operation of the system, it should have
the feature of operate c
ooperatively and presses
orderly (Wan et al., 2007). In the structure and
operation grid management, it involves at least five
essential factors, namely material, energy,
information, space and time, referred to as MEIST.
2
.
Basic Process of Grid Management
Fig. 1 illustrates the basic process of grid
management that can be abstracted into the
following aspects.
(1) Business acceptance: Accept all classified
business within the network.
(2).Business dispatch: Standardized assessment
and operational coordination, after the approval of
the command center, the segmentation of tasks will
go to the corresponding functional department.
(3) Business process: Functional department
accept business task, organizing work tasks to meet
demand.
(4). Service delivery: The completed task will
turned back to the reception center, by passing to the
users.
(5).supervision and inspection: Monitoring center
compared the completion of verification of service
and user demand.
(6) Disclosure of Information: During the entire
business process, users can query the real-time
business process (Zhen et al., 2005).
Figure 1: Basic process
of grid management.
2.2 Mobile Grid
With the rapid development of mobile wireless
network system, the user can access to global
network resources at any place and any time, which
means grid system should
also take mobile nodes
into consideration, and this combination leads to
mobile grid computing. It supports mobile users and
resources in a seamless, transparent, safe and
effective way; it is an integration of wireless
technology and girds computing. Mobile grid
integrates mobile devices into grid, becoming a new
type of resource sharing network.
Currently, most grid structures and algorithms do
not take mobile devices into account as mobile
devices have not been considered as a legitimate grid
computing resources or
interfaces. There two
methods to locate mobile devices in the grid
computing environment. The
first one: as the as the
interface to interact with the grid system, the user
can require service via mobile devices from grid
system to complete tasks, you can perform remote
monitoring and obtain required results from the grid
system. The other one: as the computing resources of
grid system, mobile devices involves in grid
computing task, not just the recipient of grid service.
Therefore, effectively embedded into the grid, the
mobile device can not only wo
rk as a recipient of the
grid service but also can be used as grid service
providers. Fig. 2 is the designed mobile grid
computing system structure.
The grid system is divided into three parts: static
grid sites, mobile devices group and the gateway
which connects static and mobile resources. Mobile
devices can be connected to
Internet via WLAN or
remote cellular network. On the side of mobile
devices and gateways, mobile agents and service
agents are required. When a mobile user submits a
task to obtain the service of grid computing service,
RESEARCH ON GRID-BASED MOBILE BUSINESS PROCESS AND SIMULATION
87