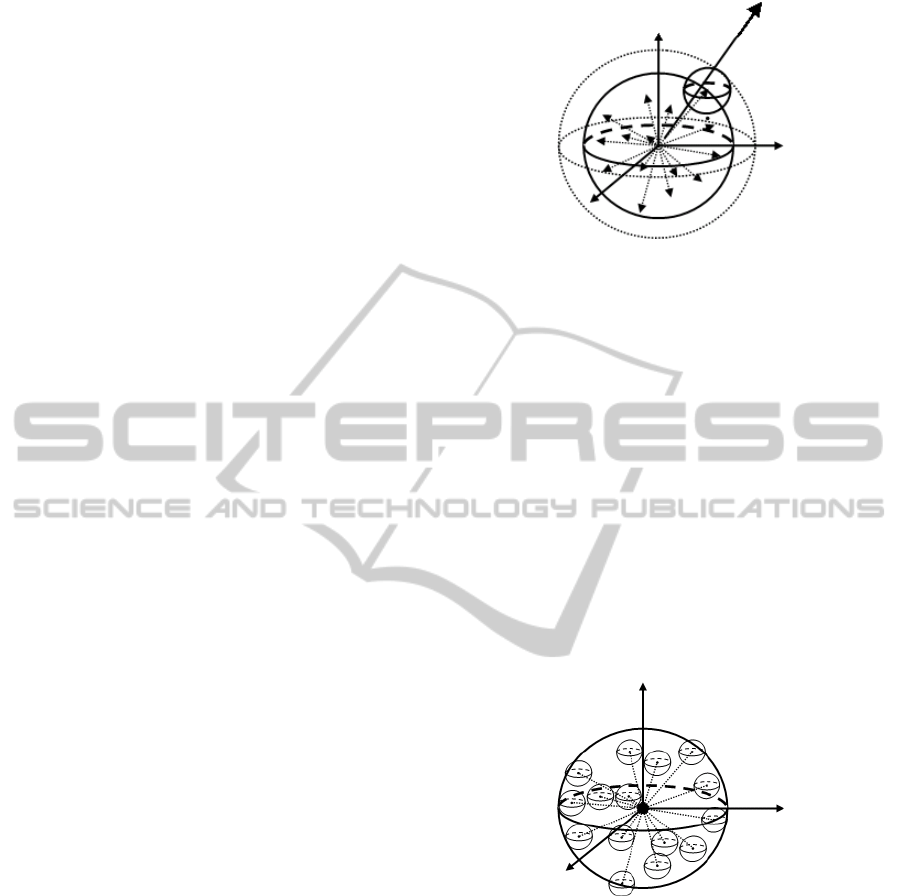 opposite.
11
lll




represents the set of
paths of network space.
ij
l
represents the path
between
i
j
i
j
shining points or reachable points,
ij
.When at least one of
i
j
p
is vanishing point
or unreachable point,
ij
l
is considered as a broken
path or inexistent.
2.2
The Mode of Information Diffusion
in Ideal Cyberspace
In cyberspace, the informa
tion diffusion is a process
of information transmitted from one point to another
(Deng, 2008). In ideal cyberspace, the information
dissemination is not affected by any restraints of
objective and subjective conditions .In such a
circumstance all the info
rmation source nodes are
shining points, and all the information sink nodes are
reachable points
.All the paths
ij
l
Therefore, in ideal cybe
rspace the information on
the information source node is transmitted to the
numerous information sink nodes in diffuse way
during
(0)
tt

. As Fig. 1 showed, the numerous
nodes formed a spherical surface with
radius. The surface is form
ed by the information
transmitted to all the information sink nodes after
t


. During the next

t

, all the information sink
nodes become information source nodes, then the
information on the nodes is transmitted to the
numerous new information sink nodes in diffuse
way. Obviously, a new spherical surface is formed
by each node. Because
surface is formed
out of the previous one with the
same sphere's center, but the radius of the new
spherical surface is 2
t


. So when the number of

t
approaches infinite, nume
rous spherical surfaces,
with
(1,2,...)
ntn



as their individual radius
and the same center, are fo
rmed. Thus, a sphere with
tnt
 as the radius is formed after

nt
.The
formation of the sphere with
information diffusion in the ideal cyberspace. This
diffusion way is there-dimensional from point to
plane. The information transmission mode is
constructed as globular radiation model of
information in ideal cy
berspace (Cai, 2010). The
model can fully reflect that information diffusion is
a complex process of time variation and space
spreading. This section must be in one column.
Figure 1: The picture of the process of the information
diffusion.
2.3
The Mode of Information Diffusion
in Reality Cyberspace
Unlike in the ideal cyberspace, however,
information can not spread to every information
node in the reality cyberspace .Due to various
reasons, a few information nodes related to the
information of information source are not able to
receive information .Such information node is called
vanishing point of information. According to
different kinds of information, the number of the
vanishing points of information is different. A
vanishing point can lead to a number of unreachable
points. Figure 2 is a schematic illustration of
vanishing point of information.
Figure 2: The picture of vanishing points of information
diffusion.
2.4
The Globular Radiation Model of
Information in Cyberspace
Described as the globular radiation model of
information in ideal cyberspace, it is the amount of
information of diffusing that formed infinitely many
spherical surfaces with
radius and the same center. The amount of
information of diffusing formed a sphere with
tnt
2
tt

()
t
is the surface area of the sphere at time

t

and
RESEARCH ON THE INFORMATION GLOBULAR RADIATION MODEL IN CYBERSPACE
419