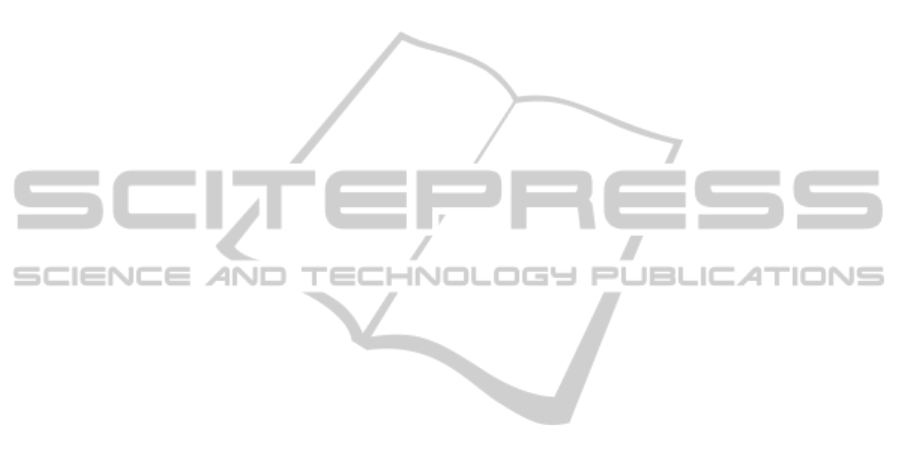 4.1
The Feasibility of Value Assessment
There are clearly concerns
on how feasible it is to
conduct a full assessment of
the value contribution
of an information system to a business organization
(Remeni, 2000; Love et
al., 2005). Common reasons
given include a) cost and benefits change and evolve
over time and some benefits tend to be intangible; b)
managers do not understand the importance of the
investment evaluation process or the concepts
involved; and c) organisational problems (such as
lack of time, management support, and
organisational structure) hindering the evaluation
process (Thomas et al., 20
07). However, there are
likely to be more fundam
ental reasons. A piece of
equipment (e.g. an automated production line) in a
business represents an investment, just like many
projects. The value contributions of capital assets to
a business is captured at sales and are recorded in
the accounts as a whole, not always discernable for
each asset. The accounting system simply treats
capital assets as one of the inputs into an operational
black box. It is difficult to separate the contributions
made by each input. It is so difficult that it might be
counter-productive consider
ing the cost involved.
The activity-based-costing (ABC) method is one
attempt to isolate value contributions from different
inputs. Its success has been rather limited (Katz,
2002; Agndal & Nillson, 2007). Even the ABC
method does not attempt to isolate the value
contributions from every input. It regards some
activities simply as "business sustaining" (Drury,
2007, p231). While further research should be
encouraged to see how the ABC method can help
evaluate projects, the cost and benefit of doing so
should be assessed at the same time.
However, a value assessment is compulsory at
the project initiation stage. Without a full value
assessment, how could any project investment
decision be taken? Even a "business sustaining"
investment has its attached value if we believe
everything can be measured (Hubbard, 2007). The
important thing is to document whatever assessment
assumptions and methodology used so that they may
be peer reviewed both before and after project go-
ahead decisions on a
continuous basis.
It has to be acknowledged that with our current
understanding of the economics of information
(Remenyi, 2000), not all benefits can be
meaningfully separated from other sources of value
contributions and measured accordingly (HM
Treasury, 2003). In other words, the theory of
benefits measurement for IT investment is simply
not mature enough. For this reason, NHS (2008) is a
useful and courageous attempt.
4.2
The Baseline for Value Assessment
This section aims to address the question of how a
project assessment may be linked into the initial
business case (IBC). An IBC should provide a
baseline in terms of project scope, cost, time and
value propositions as well as project expenditure.
Assuming that the project sponsor is rational, the
estimated project value should exceed the total
project cost. In the language
of Yu et al. (2005), the
initial estimated NPOV (V
0
) should exceed that of
NPEC (C
0
) in order that a project may be authorised
to proceed. It stands to r
eason that any assessment of
the project value should be benchmarked against V
0
.
However, this is not the case with NHS (2008), in
which the IBC is not mentioned. This is clearly an
oversight in NHS (2008), demonstrating the lack of
a clear conceptual framework within the NPfIT
authority in constructing the benefits statement.
There is a specifically
documented overall business
case (NPfIT, 2004) and individual business cases for
constituent projects within the programme.
However, the IBC for the programme (NPfIT,
2004) is itself lacking in necessary details. In
addition to providing baseline value propositions, an
IBC should also make re
ference to a methodology
on assessing project benefits. The same
methodology should then be used at different project
stages to ensure consistency. The IBC for NPfIT
does not make reference to such a methodology.
4.3
Methodology of Assessment
Considering that NPfIT is undertaken within the UK
government where useful ideas for benefits
measurement have originat
ed (HM Treasury, 2003;
OGC, 2007), the NPfIT authority could have made
use of readily available methodologies like HM
Treasury (2003). As a major government run
programme, there is really no need to re-invent a
methodology for benefits assessment. There is even
less excuse not to apply it when it is readily
available. It would be better of course for the
programme authority to have adapted guidelines in
HM Treasury (2003) to its
circumstances. After all,
any large-scale programme has its specific
assumptions and circumstances that a general
methodology will not be able to cover. There is no
evidence that either the
programme's IBC (NPfIT,
2004) or its benefits statement (NHS, 2008)
articulated a coherent methodology of assessment.
A CRITIQUE OF THE BENEFITS STATEMENT 2006/2007 FOR THE UK NHS NATIONAL PROGRAMME FOR IT
485