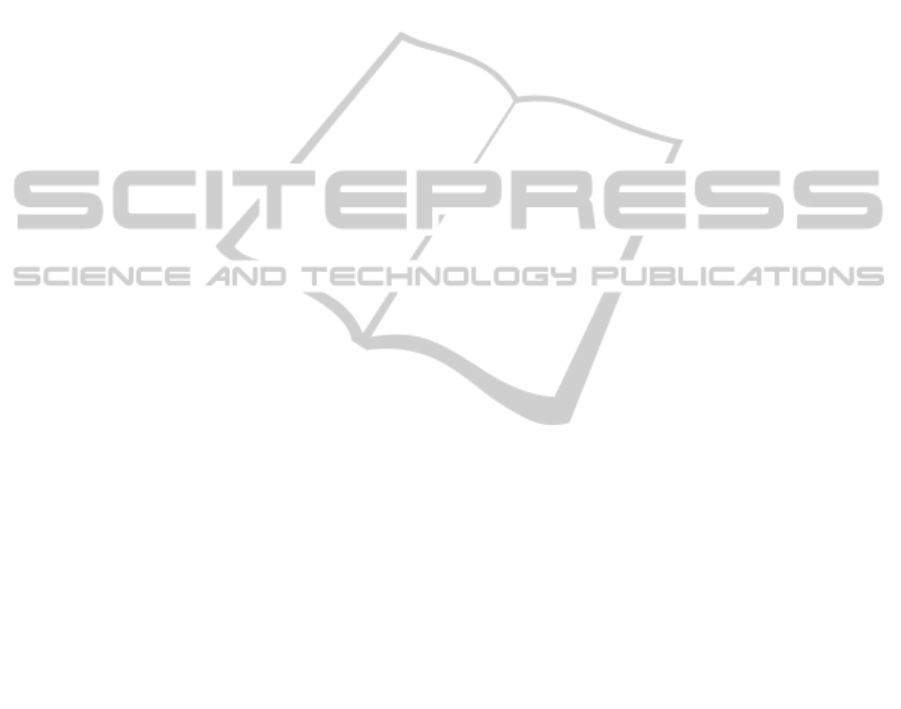 MultimediaContent class; the name 'Hammamet'
was then associated to it, exploiting the 'instance
browser. It could be noti
ced that, for the properties
previously created, the hasMetadataLocation and
doesExpress fields appear already compiled.
On the other hand, we had to define the elements
to insert in the hasMetad
ataDescription field and the
ExifSchema,UnknownMeta
data,ExifSchemaHamma
met and UnknownmetadataHammamet instances.
The latter belongs to the class devoted to the
representation of unknown metadata belonging to a
standard.
At this stage, the ExifSchemaHammamet
instance could be filled out with all the fields
returned by the Flickr tool. In this way an univocal
correspondence between in
formation and metadata
related to it was created.
The entire Exif schema must be checked in order
to know which tags of the picture are present or not.
We entered the missing data manually.
Once the values were ready to be entered into the
tags, we created a different data-type instance for
each data. Afterwards a Date_1-type instance was
created for the tiff:dateTime
tag.
Since the data type belongs to the EXIF schema,
it requires some additional attributes for temporal
information
(
exif:subSecTimeDigitized,exif:subSecTi
meOriginalexif:subSecTime
); thanks to the
existing relations, the fields related to such attributes
were displayed as well.
4 CONCLUSIONS
The purpose of this work was to study, design and
create an ontology that could formalize the
multimedia content semantics and geocoded data,
starting from the most used standards in representing
that domain, especially the Adobe XMP standard.
The aim was to offer a structure enhanced with
semantics, that could serve as base support for the
creation of a software platform for web content
management.
Another powerful tool is represented by the same
shared standards: in fact, they guarantee
interoperability, i.e. the ability for various
technological systems and services to communicate
and exchange information among themselves and
with other systems, which is a feature of utmost
importance. Given the way the ontology was
organized and structured, we might think of its
future application as a support to a software platform
which would allow different subjects to develop
high-value services based on the input of multimedia
content in a context of semantic organization,
integrated by localization services.
The system could be acce
ssible through mobile
devices such as PNAs (Personal Navigator
Assistant), that would use
a geolocalization system
to know their location.
The platform, thanks to the modelled concepts,
could give users the chance to collect and add
contents originated from va
ried sources (websites,
web portals, local files) and to influence the value of
the contents though
ratings, comments and
preferences. Thus contents could be gathered,
aggregated and geocoded, and then distributed to
each user.
Such a platform should clearly be provided a
powerful tool capable to
"conform" every piece of
information about the added contents to the form
designated as representation standard within itself.
In other words, it must be able to map any kind of
metadata present in contents.
Once again the ontology we created would be an
impressive tool for fulfilling that requirement.
REFERENCES
Adobe Systems Incorporated, (2010).
Adobe XMP
Specifications, additional properties.
Retrieved from:
http://www.adobe.com/content/dam/Adobe/en/devnet/
xmp/pdfs/XMPSpecificationPart2.pdf/
Adobe XMP, http://www.a
dobe.com/products/xmp
Alesso, H. P., Smith, C. F. (2008). Thinking on the Web:
Berners-Lee
,
Gödel and Turing
.

Wiley
.
Becker, H., Chapman, A., Daviel, A., Kaye, K., Larsgaard,
M., Miller, Nebert, D., Prout, A., Wolf, M. P. (1977).
Dublin Core element: Coverage
. Retrieved from:
http://www.alexandria.ucsb.
edu/public-documents/met
adata/dc_coverage.html
Benitez, A., Chang S. (2003). Automatic multimedia
knowledge discovery, summarization and evaluation.
IEEE Transactions on Multimedia
.
Bertini, M., Cucchiara, R., Del Bimbo, A., Torniai, C.
(2005). Video annotation with pictiorally enriched
ontologies. In
Proceedings of IEEE Int'l Conference
on Multimedia and Expo (ICME 2005).
Bertini, M., Del Bimbo, A., Torniai, C., Cucchiara, R.,
Grana, C. (2006). MOM: Multimedia Ontology
Manager. A Framework for
Automatic Annotation and
Semantic Retrieval of Video Sequences.
ACM MM
2006
, Santa Barbara, California, USA.
Bray, T., Paoli, J., Sperberg-McQueen, C. M. (1998).
Extensible Markup Language (XML) 1.0
, W3C
Recommendation. Retrieved from: http://www.w3.
org/TR/1998/REC-xml-19980210
Brickley, D., Guha, R.V. (2000).
Resource Description
Framework (RDF) Schema Specification 1.0
. W3C
KMIS 2011 - International Conference on Knowledge Management and Information Sharing
94