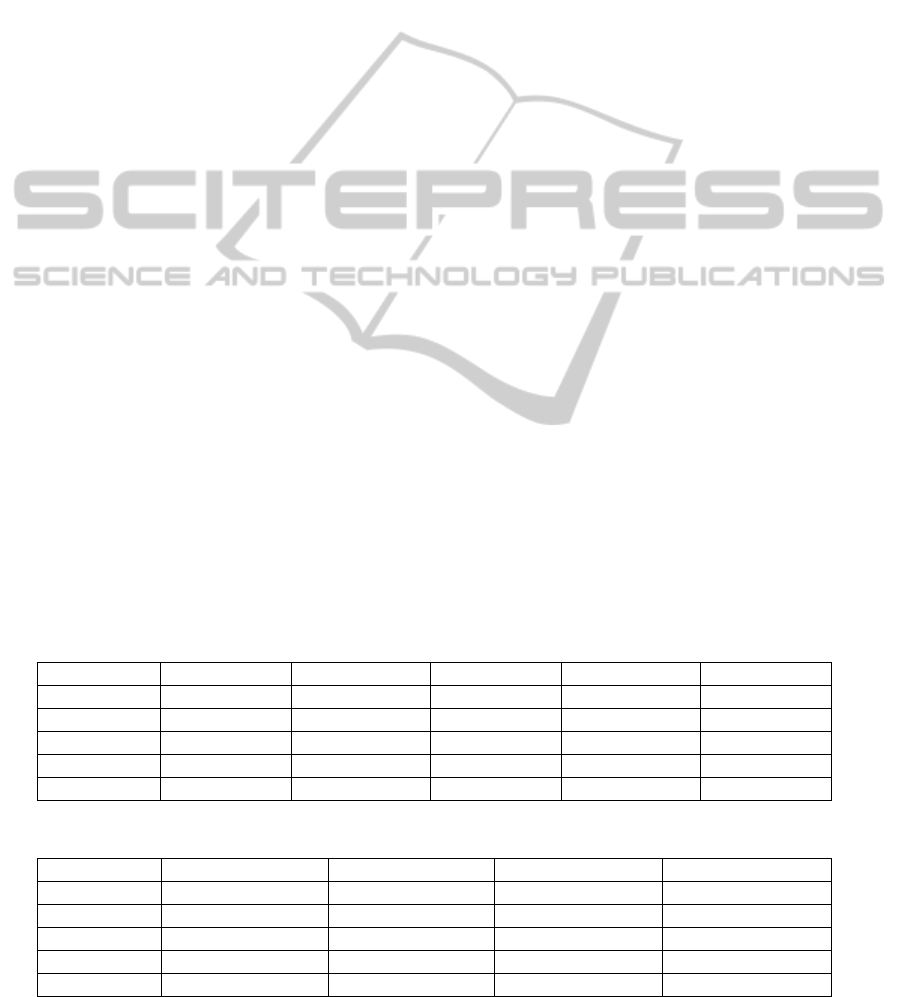 Different computation time costs are required in
the four regularization discriminant methods. The
time costs of them are sorted decreasing in the
following order: KLIM, KLIM_L, LOOC and RDA.
This will be validated by
the following experiments.
4 EXPERIMENT RESULTS
In this section, the cla
ssification accuracy and time
cost of KLIM_L are compared with LDA (Linear
Discriminant Analysis, Aeberhard, 1994), RDA,
LOOC and KLIM on COIL-20 object data (Nene,
1996).
COIL-20 is a database of gray-scale images of 20
objects. The objects were placed on a motorized
turntable against a black background. The turntable
was rotated through 360 degrees to vary object pose
with respect to a fix camer
a. Images of the objects
were taken at pose intervals of 5 degrees, which
corresponds to 72 images
per object. The total
number of images is 1440 and the size of each image
is 12
In the experiment, the regularization parameter
h
of KLIM is estimated by

trace(

)

/hd

Σ

. The
parameter matrix
h
W
of KLIM_L is estimated by
Eq. (22). In RDA, the values of
and
are
sampled in a coarse grid, (0.0, 0.25, 0.50, 0.75, 1.0),
resulting in 25 data points. In LOOC, the four
parameters are taken according to the table in
(Hoffbeck, 1996). Six images are randomly selected
as training samples from each class to estimate the
mean and covariance matrix. And the remaining
images are employed as testing samples to verify the
classification accuracy. Since the dimension of
image data is very high of 128×128, PCA is adopted
here to reduce the data dimension. Experiments are
performed with five different numbers of
dimensions. Each experiment runs 25 times, and the
mean and standard deviation of classification
accuracy are reported as results. The results of
experiment are shown in table 1 table 2.
In the experiment, the cl
assification accuracy of
KLIM_L is the best among the five compared
methods, while the classification accuracy of KLIM
is the second best. The classification accuracy of
LOOC is the worst among the compared methods
except in dimension 80,
where the classification
accuracy of LOOC is higher than that of LDA.
Considering the time cost of regularization
parameters estimating, KLIM_L needs a little more
time to estimate the regularization parameters than
KLIM needs, while RDA and LOOC need much
more time than KLIM_L needs. The experimental
results are consistent with the theoretical analysis.
5 CONCLUSIONS
In this paper, the KLIM_L covariance matrix
estimation is derived based on MDL principle for
the small sample problem with high dimension.
Under the framework of MDL principle, multi-
regularization parameters are estimated simply and
directly by point estima
tion which is approximated
by two-order Taylor expansion. KLIM_L is a
generalization of KLIM. With the KL information
measure, total samples can be used to estimate the
regularization parameters in KLIM_L, making it less
computation-expensive than using leave-one-out
cross-validation method in RDA and LOOC.
Table 1: Mean classification accu
racy on COIL-20 object database.
classifier LDA
RDA
LOOC
KLIM
KLIM_L
80
81.6(2.6) 87.2(2.2) 82.2(1.8) 87.7(1.8) 90.0(2.2)
70
83.6(2.2) 86.4(1.8) 81.2(2.8) 87.0(1.7) 87.9(1.8)
60
85.0(2.2) 86.8(2.2) 82.8(2.3) 87.7(1.4) 88.1(1.6)
50
85.0(2.5) 86.3(2.4) 80.3(2.9) 87.5(2.0) 87.8(2.3)
40
86.9(1.7) 86.9(1.7) 80.6(3.2) 87.6(1.3) 87.6(1.6)
Table 2: Time cost (in seconds)
of estimating regularization parame

ters on COIL-20 object database.
classifier RDA
LOOC
KLIM
KLIM_L
80 62.0494
1.8286 3.8042e-005 8.1066e-005
70 48.8565
1.5147 3.4419e-005 7.8802e-005
60 34.2189
1.0275 2.9890e-005 5.2534e-005
50 23.9743
0.7324 2.9890e-005 4.9817e-005
40 16.2443
0.4987 3.0796e-005 4.9364e-005
NCTA 2011 - International Conference on Neural Computation Theory and Applications
116