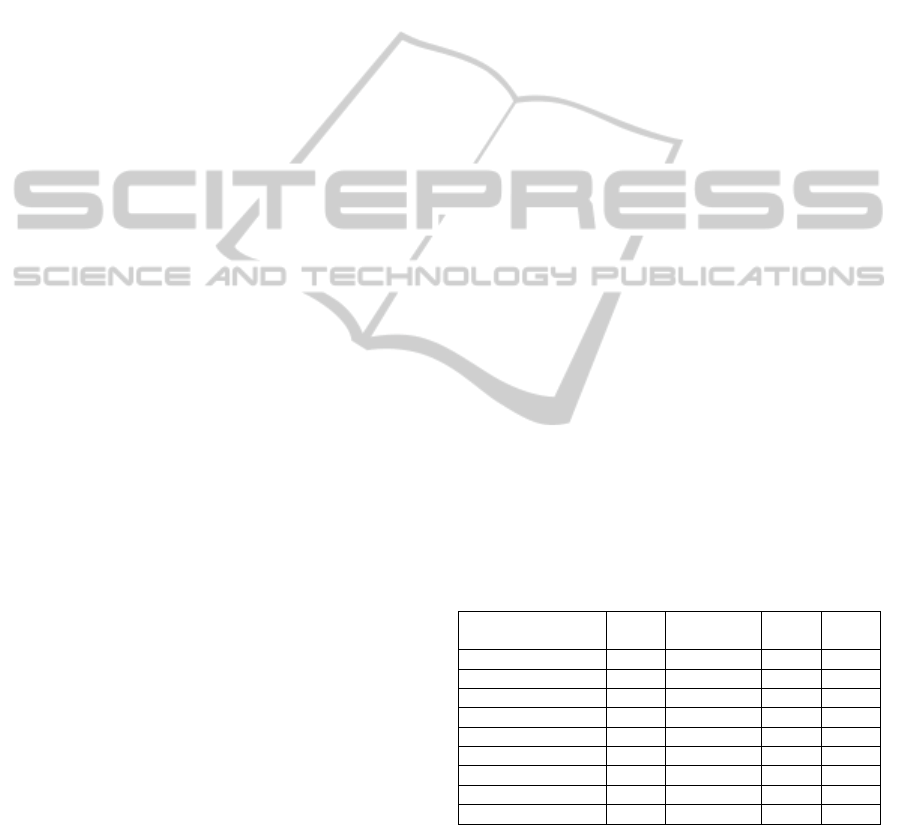 2.5 Lifecycle Assessment
In the practical LCA, ther
e are various indexes of
environmental burden such as emissions of CO
2
,
SO
x
and NO
x
throughout entire product lifecycle,
usage rate of renewable material and reuse / recycle
rate, which are determined by entire product
lifecycle scenario. However,
because this research is
at an early stage, the proposed method handles only
selection of reuse / recycle / disposal scenario at the
EOL stage and carbon emission as a design variable
and an index of environmental burden respectively.
Total carbon emission of each design proposal is
calculated by the following concepts.

Carbon emission is evaluated for each part and
sum of them is defined as total carbon emissions
GHG
total
. GHG is an acronym for Green House Gas.

There are two types of parts. One has the fixed
value of carbon emission
GHG
i
and the other has the
value of carbon emission per unit area
uGHG
i
. Most
parts belong to the former type, whereas some parts
such as an electronic subs
trate belong to the latter
type. In the latter type, actual value of carbon
emission is calculated by multiplying
uGHG
i
by the
i
calculated by layout optimization.

The value of carbon emission varies with the
selection of reuse / recycle
/ disposal scenario, so the
value for each scenario needs to be assessed by LCA.
The selection also affects
performance and cost of
the part, so the relationship among scenario selection,
carbon emission, cost and performance needs to be
assessed. For example, use of recycled material
increases manufacturing cost in exchange for lower
carbon emission. Reuse of used parts considerably
reduces both carbon emission and cost but
performance of such parts can not be expected. In
particular, in the field where rate of technological
evolution is high, old parts become rapidly obsolete,
so reuse of such parts equals use of low performance
parts. Thus the proposed method is useful in
balancing product eco-friendliness and other criteria
at higher level.
Finally, total carbon emission
GHG
total
is calculated
by the below equation.



n
j
jj
m
i
itotal
uGHGAreaGHGGHG
11
(1)
i
is the fixed value of carbon emissions
j
is the value of carbon
emissions per unit area of part
j

.

Area
j
is the value of
3 CASE STUDY
3.1 Problem Description
In the case study, internal devices of a personal
computer are designed using the proposed method .
"Internal devices" means that input devices, a
display and an enclosure are not included. To make
the case study simpler, only reuse and disposal are
considered as alternatives
of the lifecycle scenario at
the EOL stage. Reuse scenario means reuse of the
part used in the previous generation whereas
disposal one means use of the new part.
A computer consists of the following 5
components: motherboard, HDD, cooling system,
power supply and auxiliary storage. Motherboard,
cooling system and power supply can be
decomposed into more than one part, whereas HDD
and auxiliary storage can not be decomposed any
more. Figure 6 shows its functional structure. Note
that, due to space limitation, the lower functional
structure of Motherboard B is not described in this
figure. Motherboard B is similar to Motherboard A,
but has powerful CPU, more Memory and discrete
graphic card. (R) writen after the part name means
that the part is reused one. Table 1 shows examples
of their alternatives and
specifications. As for the
new parts, prices and sizes are based on their retail
price surveys and size measurments. Performances
are subjectively and intuitiv
ely configured. Carbon
emission is based on the reference (Japan Environm
ental Management Association For Industry, 2007).
As for the reused parts, their specifications are
estimated from ones of the similar or same new parts.
Table 1: Part example (HDD).
HDD
Cost
(USD)
Dimension
(cm)
Perfor
mance
CO
2
(kg)
MK8009GAH 75 5.5*8.0 2 1.31
MK1214GAH 150 5.5*8.0 3 1.31
MK4007GAL (R)
30
5.5*8.0
1
0.78
WD1600BEVT
42 7.0*10.0
4 2.72
WD3200BEVT
66 7.0*10.0
5 2.72
MK8025GAS (R)
21 7.0*10.0
2 1.63
WD5000AAKB 160 10.0*14.5 7 10.88
WD1002FBYS 220 10.0*14.5 10 10.88
6L320R0 (R)
80
10.0*14.5
4
6.53
As for criteria, performance is handled as an
objective function, whereas
cost, total area and total
carbon emission are handled as constraint conditions.
Table 2 shows parameters of HGA and GA.
INTEGRATED OPTIMIZATION OF PRODUCT DESIGN CONCEPT AND PRODUCT LIFECYCLE SCENARIO
BASED ON GENETIC ALGORITHM
211