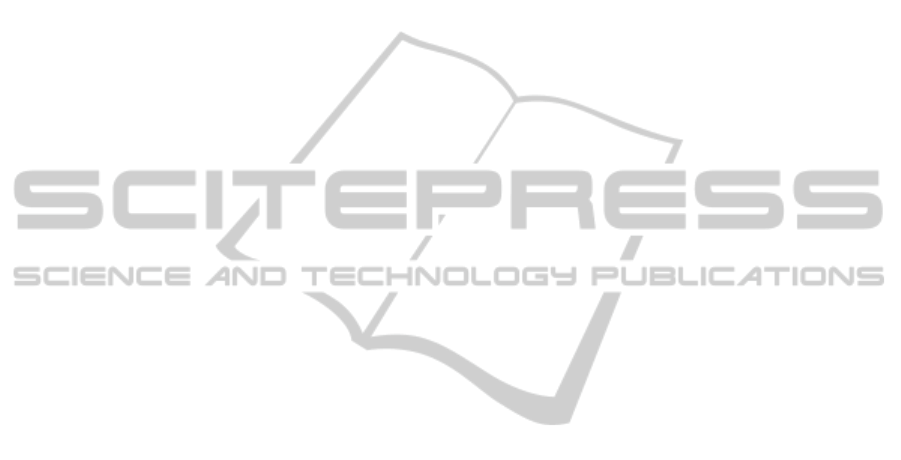 3 RESULTS AND DISCUSSION
Fitness Functions to Study Hard Evolutionary
Problems
: There is every reason to believe that both
biological evolution and natural GA solve problems
of considerable difficulty. The current literature
provides grades and cla
ssifications for problem
difficulty; we select several representative types of
problem with which to benchmark our approach.
Typical combinatorial optimization or biological
evolution fitness functions may be described by
rugged landscapes (Kauffman and Levin, 1987),
with large numbers of lo
cal extrema and difficult
elements such as plateaus and valleys. Evolving
populations can typically get stuck on one of the
local peaks.
Trap Functions
: Some of the simplest discrete
analogues of fitness functions with many maxima
are concatenated trap functions (Goldberg, 1987;
Goldberg, Deb, and Horn, 1992). They have been
proven to be GA hard and are of particular interest
from an experimental point of view for testing
algorithm improvements. Here we use fully
deceptive trap functions (D
eb and Goldberg, 1993).
A trap function of order k is given by
F(x) = r (k-1-u(x)) / (k-1), if u(x) = k,
where u(x) counts the number of 1-bits in string x;
otherwise F(x) = 1. r<1 denotes the fitness ratio
between optimal and sub-optimal solutions. A
higher-dimensional function can be made by
concatenating n trap functions together. The bit-
string's fitness is computed as the sum of the
fitnesses of the n traps.
The concatenated trap
function has 2n local optima. The global optimum is
a string of all 1's.
The Royal Road Fitness Functions
: Mitchell and co-
workers designed a class of fitness landscapes called
Royal Road functions (RR): R1, R2, R3 and R4
(Mitchell et al., 1992; 1994); (Forrest and Mitchell,
1993). These were specifically designed to test the
"building block" (BB) approach (Goldberg, 1989);
(Holland, 1992), in which a solution can be
decomposed into BBs (which may have genetic
functional relevance), which can be searched
independently and then combined to obtain a good
or even optimal solution. RR have a fixed number of
predetermined schemata, allowing for the study of
GA performance over time
. RR are a generalization
of the MaxOnes function: rather than simple
zero/one bitstrings in which the overall count of
ones determines fitness, RR strings have discrete
blocks of sub-sequences of bits, with fitness
evaluated for each block. Royal Staircase (RS) is a
variation of the Royal Road functions, using a
simple landscape with clearly defined neutral layers
(van Nimwegen and Cr
utchfield, 2000).
Although RR functions were designed to study
GA, some features of the
RR functions, especially
R3 and R4, are reminiscent of known aspects of
molecular biological evolution (van Nimwegen and
Crutchfield, 2000, Crutchfield and van Nimwegen,
2001).
We chose RR-type and trap functions for benchmark
performance tests of our approach versus standard
GA: they reflect many of the significant properties
of biological evolutionary searches and are well-
studied and sufficiently simple to permit statistical
analysis, allowing fo
r comparison between
theoretical expectation and the results of
experimental runs.
The same suite of programs was used to run both
trap and RR function tests. Our package allows a
choice of either the RC or the GRC operators, and
also supports the two alternative reproduction
strategies, RStr1 and RStr2. The RC operator can
process binary strings with three tags and the
interpretation rules listed in Table 1, or eight tags
and the interpretation rules listed in Table 2. In the
current version of our pack
age, the GRC operator is
incapable of processing tags (it ignores them). For
each of the tested fitness functions, 5 series of
experiments were performed: 3 tags and RStr1; 3
tags and RStr2; 8 tags and RStr1; 8 tags and RStr2;
and the current implementation of the GRC operator
(tags ignored). Outcomes did not depend on the
reproduction strategy.
Rugged Landscapes - Trap Fitness Functions
: We
used the same parameters for trap function tests as
van Kemenade (1997). We ran a set of experiments
to characterize the efficiency of the different
approaches on different BB sizes (3, 4, 5, 6, 7 and 8
bits). The number of BBs was adjusted such that the
total length of the bit-string was approximately 40
bits. That is, starting from trap order 3, with 8192
extrema, we increased the trap function to order 8,
with 16 local extrema. We
used a fitness ratio of r =
0.7.
In all runs, the search terminated when the
optimal solution was obtained, or when the number
of function evaluations exceeded 500,000. The
initial population size was 4096 strings. All results
(Fig. 3) are averaged over 1000 independent runs.
As seen in Fig. 3, the 3-tag version of the retroGA
ECTA 2011 - International Conference on Evolutionary Computation Theory and Applications
236