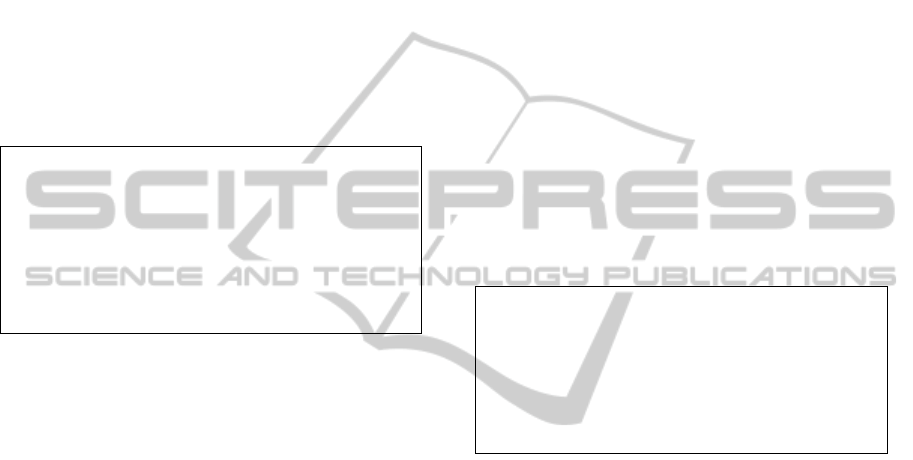 weights for each context type. Subsequently, it is
easy to realize that this would be a futile attempt, as
the weights of each context type are naturally
dynamic and can vary under different use contexts
(see scenario in figure
2). The example scenario
introduces the problem of context-derived specific
importance (vs. general importance) and shows that
a decent approximation to
the calculation of this
term is very difficult, due to the infinite variability
of context itself and the complexity of its
dimensions. A possible solution however could
come from the field of Databases and IR, where
dimensionality reduction is a technique often used to
automatically extract im
portant features from
complex data and reduce the complexity of searches
in multidimensional spaces.
Take the example of "John", a contact that the user
calls every day and "Jane" another contact that is only
called once a year. "John" can be considered generally
important. However if the us
er is running late for a
meeting with Jane Doe that will take place in 10
minutes, then Jane becomes undeniably more
important than anyone else, and her importance should
rise and decay naturally as time flows around the
scheduled event.
Figure 2: The Importance Scenario.
5 DIMENSIONALITY
REDUCTION (DR) IN M-PIM
ACCESS
DR, as the name suggests, is an algorithmic
technique for reducing the dimensionality of data,
applied in several computer science fields such as
databases, information retrieval, data mining,
recommendation systems, signal processing etc.
Real-world data usually has a high dimensionality, a
fact that affects data pro
cessing performance (the so
called "curse of dimensionality" originally appearing
in (Bellman, 1957) that
suggests exponential
dependence of an algorithm on the dimension of the
input). The idea is to transform data from a high-
dimensional space to a low-dimensional space,
preserving some critical relationships among
elements of the data set. In mathematical terms,
given a p-dimensional object x=(x
1
,…,x
p
)
T
, find a
lower dimensional representation of it, s=(s
1
,…,s
k
)
T
with k
≤
p, that captures the content in the original
data, according to some
criterion (Fodor, 1992).
There are two categories of methods in order to
solve the problem: a) feat
ure selection, where an
optimal subset of features (dimensions) is chosen
and b) feature extraction,
where existing features are
combined and transformed to new ones.
Our research idea is to perform DR to context
augmented personal information items, such as
entries in a contact list, an idea that has not yet been
proposed and applied in scientific literature as far as
we know. Feature selection for context DR is not
practical, as it is neither possible to know the best-
describing features of th
e context vector nor their
weights in advance. Since, as already presented,
context augmented personal information items can
be represented as multidimensional vectors, we find
it highly appealing to try to extract a small number
of features that could accurately represent the
original items and their relationships, so as to enable
quick and accurate similarity searches for related
personal information items. Furthermore, after
reducing the dimensions of the items, it might be
desirable to map them to a
1-d, 2-d or 3-d space, as
often done in high-dimensional data projections,
since visualization tends to reveal existing groups of
objects.
FastMap algorithm:
1.
Find two objects that are far away.
2.
Project all points on the line the two objects
define, to get the first coordinate.
3.
Project all objects on a hyperplane
perpendicular to the line the two objects
define.
Figure 3: The FastMap Algorithm.
There is a wide range of
algorithms with diverse
characteristics that achieve dimensionality reduction,
following different approaches. An interesting
method that could be appropriate for the case of
mobile phones due to its simplicity and
computational efficiency is the FastMap algorithm
(Faloutsos and Lin, 1995). FastMap is a fast
algorithm that maps high-dimensional objects into
lower-dimensional spaces, while preserving well
distances between objects
and the structure of the
data set, as a result preserving also dis-similarities
between objects. Experiments presented in
(Faloutsos and Lin, 1995)
show that the algorithm
performs well for visualization and clustering. The
algorithm functions as shown in figure 3 and its
complexity is O(Nk
2
), where k are the dimensions of
the target space. A further advantage of this
approach is that context v
ector "atoms" need to be
defined by application developers just once – the
recursive and atom-agnostic nature of the algorithm
allow it to work for any context description vector.
KDIR 2011 - International Conference on Knowledge Discovery and Information Retrieval
496