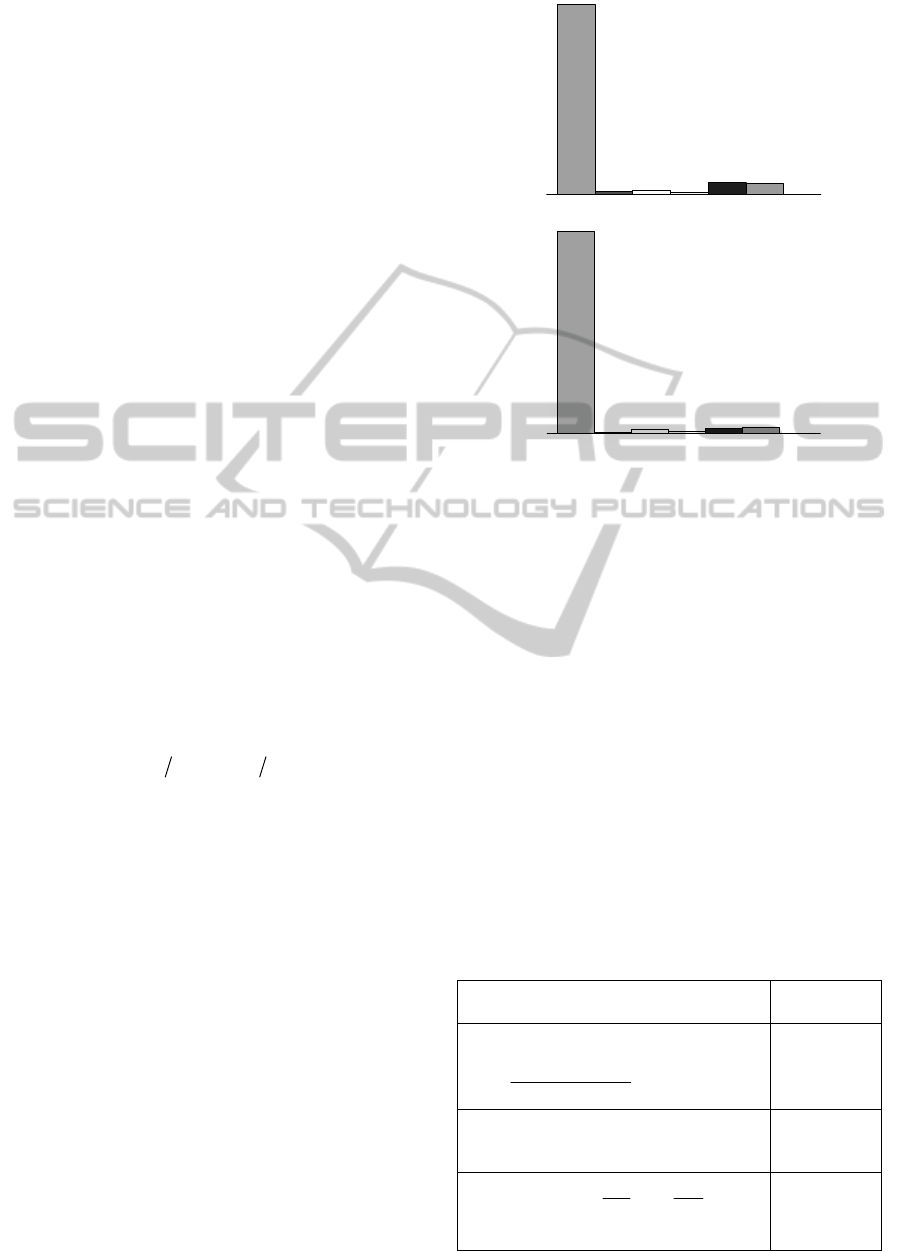 3 HYBRID ALGORITHM
Hybrid algorithm allows to
combine advantages of
both metaheuristics and derivative based methods.
This association will
enhance the quality of
decisions compared to using methods individually.
Hybrid algorithm based on genetic algorithm and
derivative based methods (gradient descent method,
Kalman filter, least squares method) has been
developed. The following hybridization technique is
suggested. At the first stage, least squares method is
used to adjust consequents parameters. Then,
modified genetic algorithm is started. The essence of
the modification is in applying gradient descent
method or Kalman filter together with mutation
operator of the genetic algo
rithm to tune antecedent
parameters. In doing so, part of the individuals in the
population change with gradient descent method or
Kalman filter. Such muta
tion take place with a
′
′
∈
(0,
p
),
where
p
– probability of
individual mutation). The
other individuals are
subject to mutation with the probability
p-p
′
by
means of random one-point or multipoint mutation.
Once antecedents are tuned, consequents tuning is
performed with least squares method.
4 SIMULATION RESULTS
The idea of the experiment was to use fuzzy model
for approximation of the following test functions:
a)
]5;5[,,2sin2sin),(
212121
ππ
].2/;2/[,),sin(),(
212121
ππ
Based on test functions, the tables of 121 lines
were built and then, using these tables training of
fuzzy models was carried out. Triangular-shaped
membership functions are considered for each
variable.
Figure1 shows the results of the suggested hybrid
algorithm and separate methods used for selected
test functions. In the left
column of the histogram
the mean-square error (MSE
) of initial solution is
given, the other columns correspond to the averaged
values of MSE of the fuzzy model for each of the
algorithms.
LSM 0,00312
hybrid 0,0000
initial 0,05799
GA 0,00083
SAA 0,00124
KF 0,00052
GM 0,00379
a)
GA 0,00009
LSM 0,00037
initial 0,01372
SAA 0,00024
KF 0,00052
GM 0,00379
hybrid 4,269 E-0
b)
Figure 1: Experiment results fo
r test functions a)-b) (GA –
genetic algorithm, SAA – simu
lated annealing algorithm,
LSM– least squares method, GM – gradient descent
method, KF – Kalman filter, hybrid– suggested hybrid
algorithm).
The results of the experi
ment allow to conclude
that the suggested hybrid
algorithm provides better
results than each method separately.
To compare the developed hybrid algorithm with
the existing methods of bu
ilding fuzzy models, the
study of approximation results was carried out for
the nonlinear functions presented in table 1.
The values of mean-square approximation error,
obtained with the developed algorithm and
analogues for these functions
are shown in table 2.
Considering the obtained results, it is possible to
conclude that the suggested hybrid algorithm in most
cases yields fewer errors
compared to the existing
analogues.
Table 1: Data sets considered
in experimental analysis.
Test Function
Number of
Observation
()
]1;0[,
1,0
)5,1/(125sin
)7,0(100exp101)(
2
∈
⎟
⎟
⎠
⎞
⎜
⎜
⎝
⎛
+
+
⋅
⋅−⋅−⋅+=
x
x
x
xxf
100
]5;1[,
,)1(),(
21
25,1
2
2
121
∈
++=
−−
xx
xxxxf
400
]5;5[,
,
2
sin
2
sin),(
21
21
21
−∈
⎟
⎟
⎠
⎞
⎜
⎜
⎝
⎛
⋅
⎟
⎟
⎠
⎞
⎜
⎜
⎝
⎛
=
xx
xx
xxf
ππ
441
FCTA 2011 - International Conference on Fuzzy Computation Theory and Applications
514