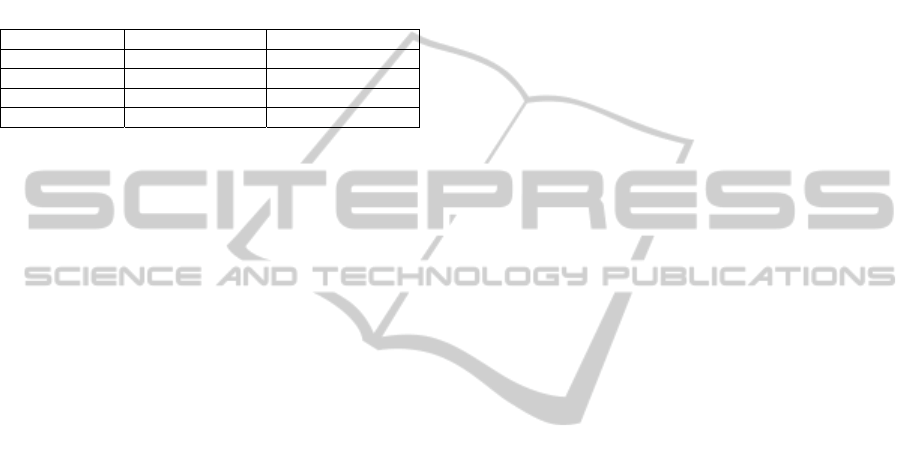 patogenicity GIs from PAI DB (http://www.gem.
re.kr/paidb/about_paidb.php). The rate of false
positive predictions was estimated by counting the
numbers of GIs predicted by one program which
were not confirmed by other programs. To optimize
the Sniffer's program run settings the factorial
experiment was used. Results of program
comparison are shown in Table 1.
Table 1: Comparison of different programs for GI
identification.
Program
False negative rate
False positive rate*
*It has to be taken into consider
ation that not all unconfirmed GIs
are false positives. It is assumed that the false positive rates in this
column are at least twice as much as they are.
Sniffer and SIGI-HMM predicted more than 60%
of know pathogenicity GIs, and Sniffer showed the
smallest rate of false positives.
In this work we searched
for GIs in a set of 637
bacterial genomes representing different taxonomic
classes. In a total, 2,622 GIs were predicted (visit
http://anjie.bi.up.ac.za/geidb/geidb-home.php for
more information). Then these GIs were clustered
basing on OU pattern similarity. The assumption is
that the GIs which originated from the same source
share compositional similarity. Compositional
similarity was measured as 100% –
D

. GIs with a
pattern similarity above 75% were often found to
share homologous blocks of DNA sequences. Hence
a pattern similarity index of 75% was chosen as a
threshold for clustering of GIs. In total 1,305
clusters were obtained; however, 1,158 of the total
clusters were singletons. To visualize the relations
between GIs in clusters, an in-house Python script
with Graphviz incorporation and a graph pruning
criterion implementation was used. The pruning
method was implemented as follows: if three nodes
in a graph are interlinked, the edge representing the
smallest similarity percentage gets pruned. The
script consequently determines sequence similarities
between linked GIs by bl2seq algorithm and
generates a graphical output (Fig. 1.)
2.3
Stratigraphic Analysis of Genomic
Islands
Inserts of foreign DNA undergo a process of
amelioration, which influences their OU patterns to
start to reflect the OU pattern of their host
chromosomes overtime (Lawrence, 1997). We
hypothesized that the comparison of GIs of the same
origin which are distributed in organisms that share
similar genomic OU patterns would result in
different
D
-values relative to the time of their
acquisition. In Fig. 2 the differences in
D
-values are
depicted by grey colour gr
adients. The darker colour
gradients depict GIs which have been acquired
recently, while the lighter
colours depict ancient
acquisitions.
3 DISCUSSION
DNA molecules encoding
functional enzymes,
transcriptional regulators and virulence determinants
are fluxing through the bacterial taxonomic walls.
They endow environmental
and clinical strains of
bacteria with new unexpected properties. Lateral
genetic exchange, particularly of drug tolerance
genes has been recognized for a long time; however
the phenomenon of the horizontal gene transfer is
generally obscure. Linguistic approaches based on
the analysis of biased distribution of
tetranucleotides, which were applied in this study,
showed to be instrumental for the identification of
GIs in bacterial genomes; grouping of inserts
originated from one or multiple sources; and also for
the estimation of the approx
imate time when transfer
events have occurred. This information is relevant to
understanding of the role that the horizontal gene
exchange plays in evolution of new pathogens. The
analysis of the complete genome sequence of the
strain
E. coli
TY-2482 isolated from the latest
outbreak of entero-aggregative-haemorrhagic
(EAHEC) infection in Europe in 2011 showed that
its extraordinary virulence and lethality are
associated with the virulenc
e determinants located in
horizontally transferred GIs (Brzuszkiewicz, 2011);
(Manrique, 2011). Enterobacteria (
Escherichia

,
Shigella
and
Salmonella

) share multiple GIs shown
in Fig. 1 and 2 in cells A2-B4, which comprise all
well known enterobacterial pathogenicity GIs (see
PAIDB at www.gem.re.kr/paidb/about_paidb.php).
It was found that the inserts of antibiotic
resistance genes in
E. coli
TY-2482 and several
Salmonella
ontologically are not linked to the major
cluster of the enterobacterial GIs but fall into a
rather versatile group of mobile genetic elements
distributed among beta-Proteobacteria, alpha-
Proteobacteria, Actinob
acteria (predominantly
Mycobacteria) and Acidobacteria, which is shown in
Fig. 1 and 2 in cells E1-F2. Many of these GIs are
old inserts but those in gamma-Proteobacteria are
very recent acquisitions.
BIOINFORMATICS 2012 - International Conference on Bioinformatics Models, Methods and Algorithms
120