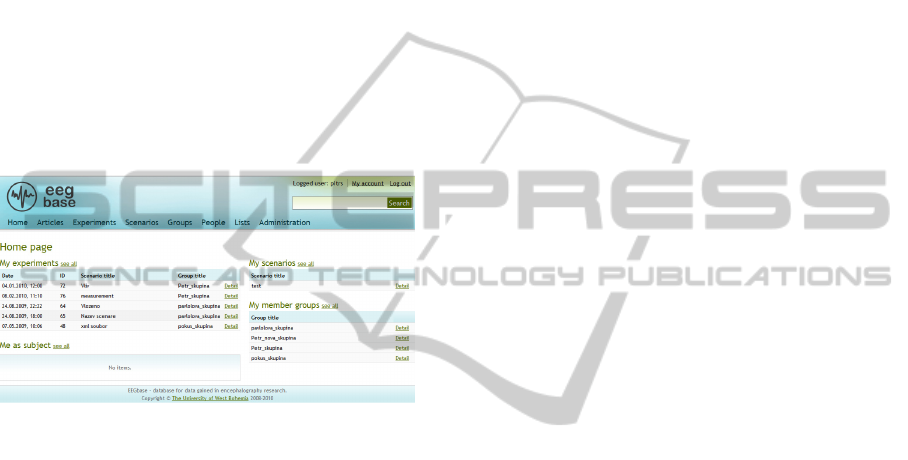 objects. Object-relational mapping is ensured by the
Hibernate framework.
The application layer ensures processing of user
requests, managing user accounts and user groups
according to user privileges. The layer is
implemented using the Spring framework (includes
Spring Core, Spring Security and Spring MVC).
This layer also contains a module for the dynamic
generation of the Semantic web structure from data
stored in the database mapped to POJOs according
to a search agent request.
The presentation layer is created by a set of JSP
pages translated into a HTML output shown in
a user web browser.
The EEG/ERP Portal preview is in Figure 1, the
full system specification is in (Ježek and Mou
č

ek,
2009).
Figure 1: EEG/ERP Portal
3 OBJECT ORIENTED CODE TO
SEMANTIC WEB MAPPING
3.1
OWL and OOP Differences
There are fundamental differences in richness of
semantics between OWL and OOP. OWL is based
on description logic and an open world assumption
while OOP deals with closed world assumptions. It
means that if some information is not present in an
object oriented code it is considered to be false. By
contrast if some information is not present in an
OWL document, it may be true.
3.2 Framework Selection
We tested several frameworks that provide
a mechanism for transforming an object oriented
code (classes and their attributes) to an RDF or
OWL output. From the tested tools we selected
JenaBean (JenaBean, n. d.) and OWL API (OwlApi,
n. d.). This selection and integration was described
in (Ježek and Mou
č
ek, 2010) and (Mou

č

ek and
Ježek, 2010). Using selected tools we are able to
sufficiently transform data from our EEG/ERP
portal to the Semantic web output (one side
transformation is used). Since the object oriented
model has poorer semantics, capabilities of OWL
are not used. The next sections of the paper describe
a semantic extension of object-oriented code.
3.3 Existing Approaches
There are many frameworks
that try to enrich an
object oriented code by adding missing semantics.
(Oren et al., 2007) developed a library ActiveRDF
for accessing RDF data from Ruby programs.
(Po-Huan et al., 2009)
present the Semantic
Object Framework (SOF) as a solution that uses
embedded comments in source codes to describe
semantic relationships between classes and
attributes.
(Liu et al., 2007) developed a solution named
eClass. EClass is a Java class with changed syntax
containing additional semantic information about
methods and properties.
The tested frameworks have several important
disadvantages. The most of them are difficult to use
either because they do no
t include suitable means for
adding missing semantics, or they require
a modification of common programming syntax.
4 ANNOTATION FRAMEWORK
The specification of requirements originated from
the needs of the Semantic web output provided by
our EEG/ERP Portal. We e
xpect that our solution
could serve a wide community of researchers that
use object oriented systems and need to generate
ontologies. To support this idea we decided to use
only the standard syntactic structures of the Java
programming language for data input, which is
extended by missing semantics, and the standard
Java Runtime Environment for the transformation
process.
We introduced an idea to extend the JenaBean
framework in (Ježek and Mou
č
ek, 2011). As the
next step we proposed a framework using Java
Annotations that extend the semantics of Java
classes and fields. This approach ensures that our
framework could be used not only by the experts in
the Semantic web field but also by the software
engineers who are able to prepare data objects
suitable for the transformation to the Semantic web
output. In addition, when a user has difficulties with
SEMANTIC WEB IN EEG/ERP PORTAL - Extending of Data Layer using Java Annotations
351