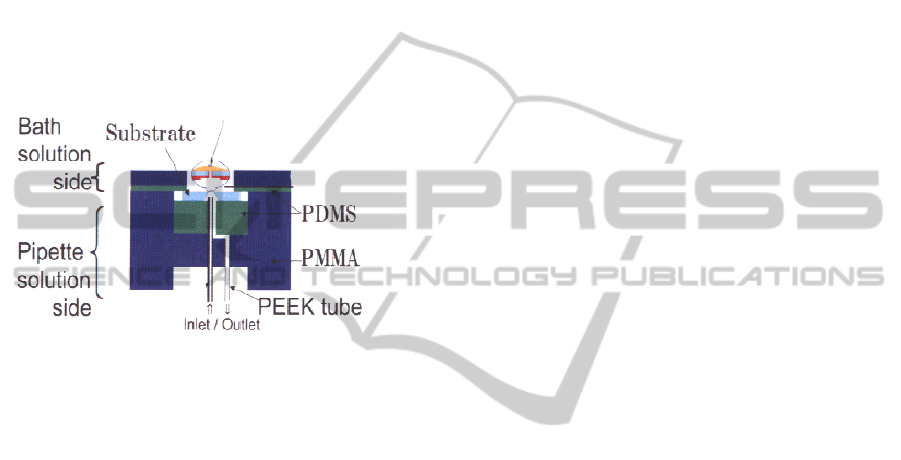 2.2
Biosensor Chamber and the Stable
Electrode
The 7 x 7 mm
2
(Si) or 11 x 11 mm
2
(PMMA) chip
was sandwiched by PDMS plates, and the sensor
structure was constructed as is shown in Fig. 3. We
fabricated the stabilized
AgCl/Ag electrodes, where
the AgCl/Ag wire was inserted into glass tube of 1
mm inner diameter filled w
ith the saturated KCl and
AgCl solution and the top of the glass tube was
sealed by the Vycor glass (Corning). We used these
stabilized electrodes for
both upper side (bath
solution , ground) and lower side (pipette solution)
electrodes of the biosensor.

Cell
Figure 3: Schematic structure
of the ion channel biosensor.
2.3
Expression of ChR2 and ChRWR
We used in this work channelrhodopsin 2 (ChR2)
and the chimeric channelopsin between chop1 and
chop2, which we call channelrhodopsin/wide
receiver (ChRWR), as light-gated ionchannel
molecules. HEK293 cells, which were a generous
gift from Mr. Minoru Wakamori at Tohoku
University, were cultured at 37
℃
and 5% CO
2
in
Dulbecco's modified Eagle's medium (Sigma)
supplemented with 10% fetal bovine serum and
transfected with cDNA of channelrhodopsin-Venus
using Effectene transfection
reagent (Qiagen, Tokyo,
Japan) according to the manufacturer's instructions.
After cloning twice with
the addition of G418 in a
10 cm dish, single colonies with bright Venus
fluorescence were select
ed by using a cloning
cylinder IWAKITE-32 (Asahi Glass Co., LTD,
Japan) and cultured in a medium containing G418
until they were confluent in the dish.
The surface of the sensor
chip was coated with
extracellular matrixes (ECMs), collagen type 4
(BD), which was diluted using 1 mM HCl to 100
μ
g/ml. 50

μ

l of the solution was dropped on the
substrate surface, followed by incubation for 2 ~ 4 h
at room temperature. At this stage, the surface
densities of the ECM were about 3 ~ 5
μ

g/cm
2
. After
removing excess solution, the substrate was rinsed
with sterilized water, dried under a gentle nitrogen
stream, and kept sterile before use. HEK293 cells
were cultured in dishes filled with the medium under
the conventional incubating conditions, i.e., 37
°

C
and 5% CO
2
. The culture medium was supplemented
with DMEM to which 10% (v/v) FBS, 1% (v/v)
GlutamaxTM (Gibco), and 0.5% (v/v)
penicillin/streptomycin (Gibco) were added. After
cells were detached from the culture dishes, the cell
suspension was seeded at a density of 100 ~ 300
cells/mm
2
on the chip coated with ECM. Channel
current was measured af
ter about 70% confluence
was reached in the biosensor.
2.5
Measurement of Light-gated
Ionchannel Current
The electrical measurement systems were almost the
same as those used in conventional pipette patch-
clamp experiments. The culture medium was
replaced with buffer. We used several of the buffer
solutions reportedly used in experiments on ChR2.
A typical bath solution in the upper chamber
contained (in mM): 140 NaCl, 3 KCl, 10 4-(2-
hydroxyethyl)-1–piperazineethanesulfonic acid
(HEPES), 2.5 CaCl
2
, 1.25 MgCl
2
, and 10 glucose at
pH 7.4 (with HCl). The lower chamber solution
(pipette solution) contained (in mM): 40 CsCl, 80
CsCH
3
SO
4
, 1 MgCl
2
, 10 HEPES, 2.5 MgATP, 0.2
Na
2
EGTA, (pH 7.4). All data were recorded using a
patch-clamp amplifier (Axopatch 200B) at room
temperature. Data were obtained at a 1-kHz cutoff
frequency and an output gain of 1 mV/pA, and they
were analyzed using pClamp 9.2 software. For
whole-cell current recordings, sub-nm conductive
pores through the cell membrane, which electrically
connected the inside of the cell to the lower
chamber, were formed by applying nystatin (Sigma)
solutions to the lower chamber. The nystatin stock
solution was prepared by dissolving nystatin in 1 ml
of methanol and succes
sively adding 45

μ

l of HCl (1
M) and 45
μ
l of NaOH (1 M), which was then
diluted with the lower chamber solution to final
concentrations of 100-200
μ
g/ml before use. The
formation of the whol
e-cell arrangement was
confirmed by there being
a capacitance increase of
about 6 pF in a time interval of 5-10 min after
addition of the nystatin solution to the lower
chamber. The laser beam from the semiconductor
laser with a 473-nm peak wavelength and 3.2-mW
INCUBATION TYPE PLANAR PATCH CLAMP BIOSENSOR - Basic Performances
145