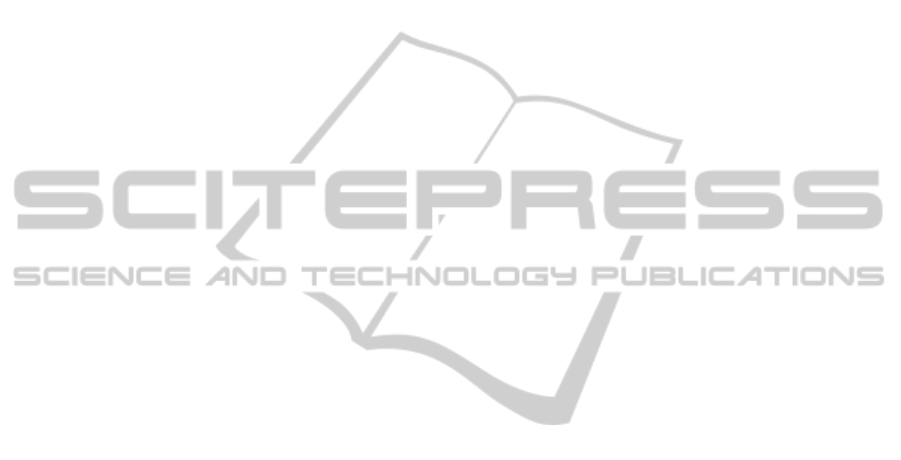 2 CHALLENGES
There are many challenges when developing
systems for advertising in ubiquitous computing
environments that are not usually found when
developing advertising systems for traditional media
or online advertising. Th
e particularities of these
environments make them very rich in interaction
mechanisms and create new opportunities for several
innovative applications but, at the same time, many
other additional difficulties should be considered.
Some of them are pointed out by (Muller et al.,
2009); (Partridge and Begole 2009) namely: the way
advertisers specify and
bid on ads; the extra
complexity of processing contextual information and
how to use this informati
on in an appropriate way;
serendipitous advertisings, privacy and security.
Others could be added: the difficulty in obtaining
information on the interests of the target audience or
how to get user feedback on each presented ad.
Globally, these challenges are not related with the
lack of content but with two central questions: how
to deliver the right content to the right people? and
how to deliver the right content in the best context.
2.1
Delivering the Right Content to the
Right People
How to deliver ads to people who are potentially
interested? How to capture users' attention? It is not
possible to answer these
questions without knowing
something about the users' interests or activities.
Only being aware of the users' needs the system will
be able to respond accurately and according to their
expectations. However, inte
ractions in public spaces
should be conducted effortless and potentially
demand little or no prior training. Additionally, in
public spaces, it is important
to consider that the
content is targeted to a large audience instead of a
person and thus rather than having a person profile
we need a profile that co
mbines the preferences of
the multiple users that may see the content.
It is well known that the relevance of a particular
content is strictly connected with the target
population and with the context where it will be
delivered. An ad can be highly relevant in a business
place but it is totally
misplaced and without
relevance if it is delivered in a school. An ad can be
very relevant in a time period before lunch but lost
its entire relevance after lunch. However, delivering
the content at the right time is not only about hours
or minutes. The main question is how to figure the
best possible time and the best possible context to
deliver the ad. The set of co
ntextual information that
can be used to improve cont
ent selection accuracy in
public spaces is vast. In
formation concerning the
social environment, the
physical and social space,
available devices to deliver
the content, time, and
also the views history can pl
ay an important role in
the selections of the next content to be presented. A
better use of contextual information can allow
pervasive advertising to be more effective and can
also better fit to the interests of the target population
but also the interests of the advertisers/publishers.
3 RELATED WORK
Several advertisements systems that adopt pervasive
computing technologies have been presented and
discussed in recent years. A significant part of them
are proposed to deliver online ads (Edelman et al.,
2007); (Googl inc. 2011) but some of them have
been built to deliver context-aware ads in public
places. (Partridge and Begol
e 2009); (Orsi, 2011)
use mobile phones as the main device to display ads
and other. Other systems explore public devices, like
large displays, in public spaces combined with
personal mobile device to understand users' interests
and activities and thus to deliver ads for groups of
people instead of a person. (Partridge and Begole
2009) explore how can histories of contextual data
help target advertising more effectively. The
BlueScreen (Payne et al., 2006) uses Bluetooth-
enable devices for identifying users and it explores
history information of past users' exposure to certain
sets of adverts. (Holleis et al., 2010) combine public
screens and mobile devices and explores personal
user profiles and explicit input from users in order to
provide appropriate ads. They use the users' mobile
phones to store information about their owners, track
their activities, and let them interact directly with the
display. There are many proposed systems that try to
provide personalized ads to individuals or for
recommending content to people in public spaces
but few of them base their decisions in the social
context that represents the place visitors' interests.
4 SELECTING ADS
When developing systems to delivering ads in public
spaces, there are two viewpoints that should be taken
into consideration: the advertiser viewpoint and the
SOCIALLY-AWARE SYSTEMS TO PRESENT CONTENT IN PERVASIVE ENVIRONMENTS
255