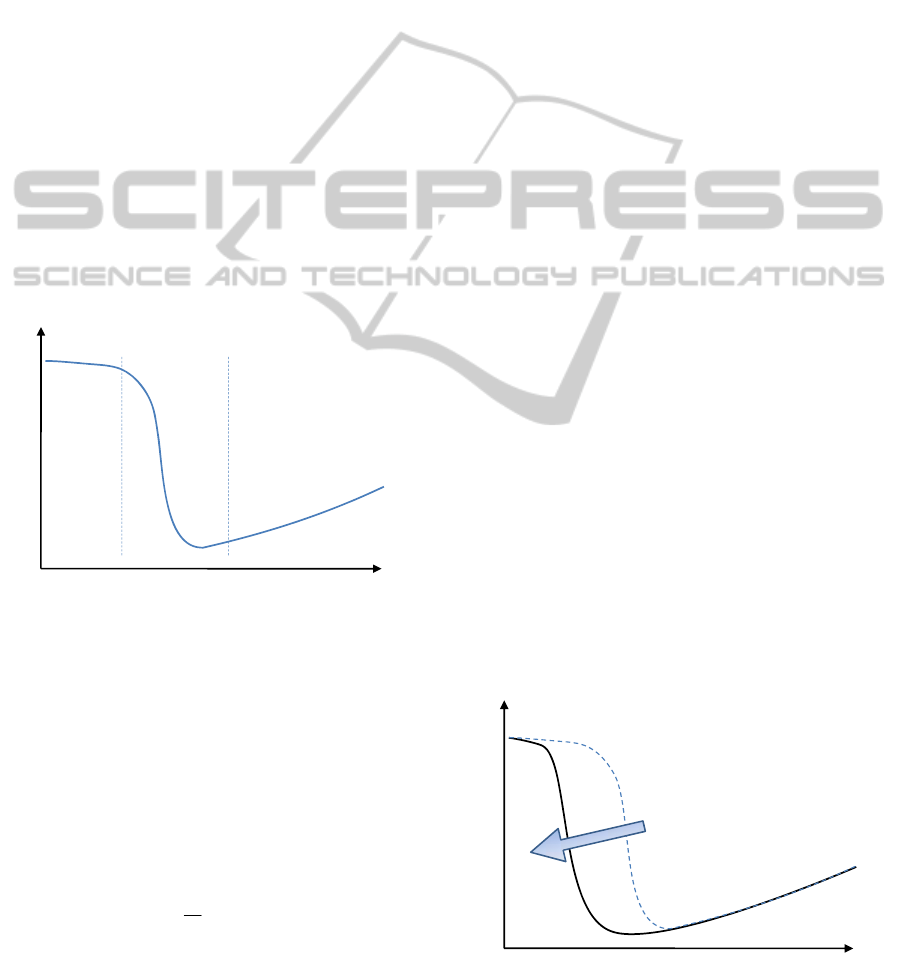 combinations (Pinchuk, 2006). The most usual
selection is a quasi-spherical metallic element
(stainless steel, Co-Cr-Mo, Co-Ni-Cr-Mo or Ti
alloys, in many cases with
ceramic coatings) housed
in a plastic element (mainly ultra-high-molecular-
weight polyethylene or UH
MWPE). Prostheses must
operate under very variable conditions (from static
conditions to very high sliding velocities) and in
such a delicate environment like the human body.
Therefore, good friction behavior and wear
resistance are required with the aim of avoiding the
need to substitute them, i.e. life of the prostheses is
expected to be longer than that of the patient.
2 LUBRICATION IN
PROSTHESES AND JOINTS
In mechanical systems three main lubrication
regimes are distinguished: boundary, mixed and
elasto(hydrodynamic)-EHL.
The friction coefficient
and wear under each regime are very different, as
shown in Stribeck's curve (Figure 2).
Figure 2: Different lubrication
regimes in Stribeck's curve.
The differences among regimes are given by the
specific film-thickness parameter (
λ
), which
provides the relation between the lubricant film-
thickness (
h
) and the combined roughness of both
surfaces (
σ
), see Eq. 1. When
λ
>3 a complete
separation between surfaces is
attained and therefore
EHL regime prevails. When 1<
λ
<3 the separation is
partial and mixed lubrication is assumed. Finally,
when
λ
<1, the contact wo

rks under boundary
lubrication regime (Stachowiak, 2005).
λ
h
=
(1)
In most working conditions, joints operate under
mixed lubrication, where the separation between
contacting surfaces is incomplete. Thus, low friction
coefficients are obtained due to the composition of
synovial fluid: including a liberation and
accumulation of glycoproteins and hyaluronic acid
within the cartilage interstices when the joint is
submitted to pressure (Gohar, 2008).
In the case of artificial joint prostheses, the
accumulation of synovial
fluid is much more
complex, as they are manufactured with very low
surface roughness (10 – 50 nm), what stands for a
specular finish on both contact surfaces. Such
extremely low roughness promotes a positive increase
of lubricant film thickness for low sliding velocities.
However a polished surface cannot effectively
retain lubricant and important adhesion and wear
problems appear at rest or at the beginning of
movement, as the contact is almost dry in such
conditions.
3 SURFACE
MICRO-TEXTURIZATION
3.1 Expected Benefits
of Micro-texturization
The main objective for introducing micro-textures
on the contact surfaces of ar
tificial joint prostheses
is to fulfill the need of retaining synovial fluid at
very low velocities. At the same time low surface
roughness is maintained, what allows for a complete
lubrication regime in such conditions.
Hence a lower friction coefficient is expected for
the whole functioning range and wear rate of
prostheses can be minimized and debris particle
formation can also be importantly reduced
(Kennedy, 2000). In addition the presence of micro-
textures somehow imitates nature and promotes
tissue formation and biointegration of the prostheses
(Díaz Lantada, 2010).
Figure 3: Improvement in Stribeck curve thanks to the use
of micro-textured surfaces.
Coefficient of friction,
μ
EHL
Mixed
Boundary
High
wear rate
Contact
between
surfaces
Very-low wear rate
Complete separation
between surfaces
Low wear rate
Partially separation
between surfaces
μ
=
EHL
Mixed
Boundary
Textured surface enlarge the EHL zone
reducing friction and wear
BIODEVICES 2012 - International Conference on Biomedical Electronics and Devices
292