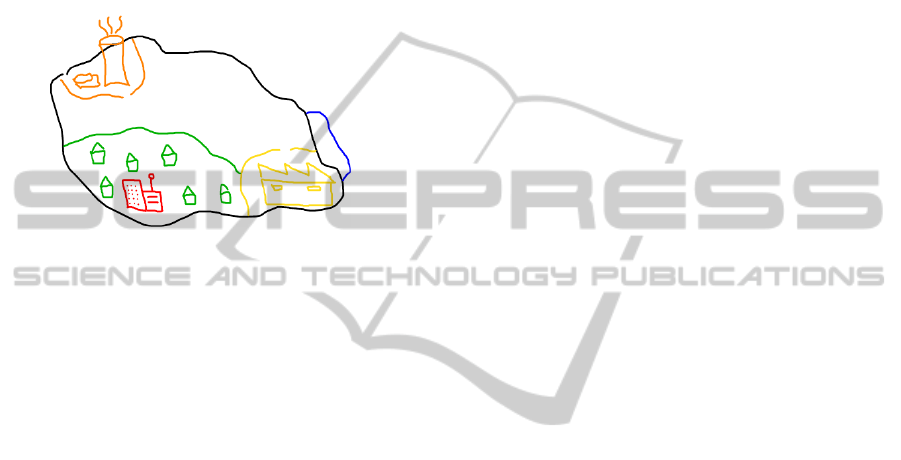 Bob also adds one component after the other to
his sketch and labels it according to the proposed
labels. However, when he hits the button "Check
Sketch", the message tells him to check the location
of the industrial area. He reflects on his sketch and
reads the assignment again.
After that, he notices
that the industrial area with
in his sketch is not near
the port, so he moves it closer to it. Then, he again
runs the check and now he also gets the message that
his sketch complies with the assignment.
Figure 2: Example sketch of an urban design.
3 APPROACH
As described in section 1, the overall process that is
supported by the sketch interpretation system can be
separated into the four tasks of segmentation,
recognition, assessment and feedback generation.
In the work presented here, the first two tasks are
in fact done by the learner, which has several
reasons. First, automatically discovering segments
and semantically analyzing them is difficult and
error-prone. Even a teacher sometimes misinterprets
the sketch of a learner and such an error results in
wrong assessment and feedback (both false-positive
and false-negative). The only person, who can define
segments and explain the semantics of a sketch for
sure, is the person that produced it. Additionally,
from a pedagogical perspective, this encourages the
learner to reflect on his sketch and its components.
In our case, the environment differentiated
between strokes and glyphs. As the most basic entity
in sketching, a stroke is
an arbitrary number of
connected points that the us
er has drawn at once. In
most sketching environments a stroke also has a
width (in pixels) and a color, but these properties are
not relevant for the purpose of this work. A glyph is
a collection of strokes that
also has a label attached
to it. In Figure 2 the different glyphs are all drawn in
different colors, but that
is not necessarily the case
and was done here just for clarity reasons.
The recognition is done by labeling the glyphs.
The learner can enter arbitrary texts, but he is
encouraged to choose labe
ls that are known to the
system by displaying a list of labels, that shows
already used ones in
green (c.f. Figure 1).
The next part of the recognition comprises the
spatial relationship between the segments or glyphs,
because often it is not sufficient to just know
what
is
presented in a picture, but also
where
it is located.
This discovery of spatial relations is the first part,
that is done automatically by the system. Spatial
relations can be generally
categorized in three of
topological, orientation (or directional), and metric
relations (Beaubouef and Petry, 2010):

Topological are those relations which are
invariant under topological transformations, i.e.,
translation, scaling and rotation (Egenhofer, 1989),
e.g. disjoint, surrounded.

Orientational are those relations which describe
the position of objects in relation to each other
(Hernández, 1994), e.g., left, under.

Metrical are those relations, which are based
upon distance of two obj
ects, e.g. near, far.
The de
fi
nition of spatial relations, in spite of
seeming to be self-evident, presupposes some
clari
fi
cation. (Freeman, 1975) pinpoints various
complexities in course of de
fi
ning spatial relations.
One problem, for example is to establish borders
implied by a given word: where does being left start
and where does it end. We calculate a value for each
glyph pair and for each sup
ported relation and then a
threshold is introduced, which is used for decision
making procedures. The supported relations are
surrounded (topological), left, right, bottom, top
(orientational) and near (metrical).
As soon as the spatial relations are known and
the labels of the glyphs match pre-defined concepts,
the system has finished the recognition and will start
to assess the sketch. Since this process needs
domain-specific knowledge about sketches, the
necessary information is encoded in an ontology.
This holds all the labels and spatial relations of the
concepts of the given assignment. The ontology is
rather simple and consists of the two classes "Scene"
and "Spatial Entity" and supports all spatial relations
as object properties of "Spatial Entity". A scene
represents the domain of an assignment and has
"belongsTo" relations to all spatial entities that
occur in this domain. A graphical example of an
ontology that expresses the knowledge about our
scenario assignment can be seen in Figure 3.
After comparing the relations among the
learner's glyphs and the expected relations in the
ontology, the system can
tell the learner exactly,
which glyph is missing and which pair of glyphs is
CSEDU2012-4thInternationalConferenceonComputerSupportedEducation
44