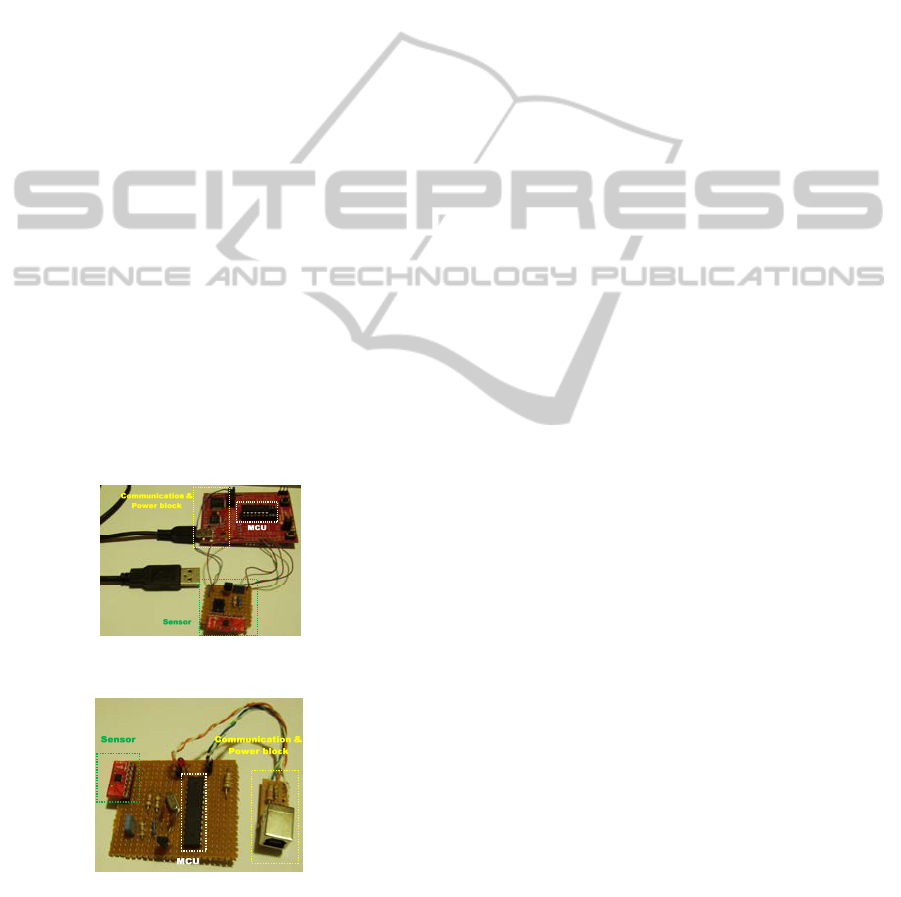 the lack of maturity since it is a new product and the
support by open source community is not very
widespread.
To overcome the last limitation we slightly
relaxed our cost limits in order to gain the better
results on the subject of expansion simplicity. The
selection of ATMEGA328 MCU provide us an
extremely huge community
support which expressed
by the use of programming tools which are suitable
for novice (Arduino, Fritzing, Minibloq e.tc.) as well
as a remarkable range of extensions. The main
disadvantage is the higher price (2.6€/per 25 only for
MCU) which leads to a complete product cost
around 11€.
2.1.3
Communication – Power Block
In order to fulfil the "plug-n-play" requirement we
adopt the use of USB connec
tion for data transfer to
host PC. In the case of MSP430, USB connection is
offered as standard in the LaunchPad board whereas
for ATMEGA328 we developed separately.
Since we focus on cost reduction we selected not
to include independent power supply unit. Instead of
this we used the power lines of USB connection for
producing the 5V and 3.3V supply required for our
circuits. The maximum current for each proposal
was not exceeded 150mA whereas USB can provide
500mA maximum.
Complete prototypes are depicted in Fig.2 and
Fig.3.
Figure 2: Prototype based on MSP430.
Figure 3: Prototype based on ATMEGA328.
2.2 Software Description
The required software for the experimental device
belongs to three categorie
s: firmware, accompanying
software and data exchange.
The firmware is going to be stored in MCU's
non-volatile memory. It will be public available at
http://research.teiath.gr/edu_tech_en/schoolseis at
the first quarter of 2012.
Programming each MCU is
quite straightforward for both MCUs.
The accompanying software suite is a collection
of public available software that fulfils three major
requirements regarding captured data: storage,
visualization and analysis. During system design
special attention received for the subject of data
format. The data streams that generated from the
experimental device sel
ected to follow three
different formats that widely used in seismological
signal processing: ASCII SAC, GSE binary and
ASCII CSV. By using these formats we are able to
use the vast majority of public available (and also
commercial) software for seismological analysis as
well as common data analysis products (MS-Excel,
Visio, Matlab e.t.c).
Data exchange software module is responsible
for the exchange and dissemination of each school
results in order to deploy a seismological school
network. It is scheduled to:

Send the results from each school to a
central database.

Produce the necessary maps to display the
results by means of Google Maps API.

Disseminate each school's results by using
several web projections (Dynamic web
pages, Twitter, Facebook, Pachube)
3 SYSTEM OPERATION AND
EXPANDABILITY
The operation of the syst
em is straightforward.
Users initially plug in the experimental device in an
available USB port. Before running the software for
the first time, users must ex
ecute a preliminary script
which is going to write the appropriate values to the
configuration files (i.e which USB port is connected,
synchronize PC clock with NTP, definition of
geographic location by using IP geolocation
services). The next step is to calibrate the sensor.
Users will receive instructions of appropriate
mounting and levelling of the sensor. Upon sensor's
start-up the firmware runs a series of calibration
tests in order to ensure that the sensor is adequate
installed (i.e X-Y components are in horizontal
plane and Z is in vertical, the noise level is below a
predefined threshold e.t.c). In opposite case, an
informational message window pops-up. After the
initial calibration users are ready to start the
CSEDU2012-4thInternationalConferenceonComputerSupportedEducation
358