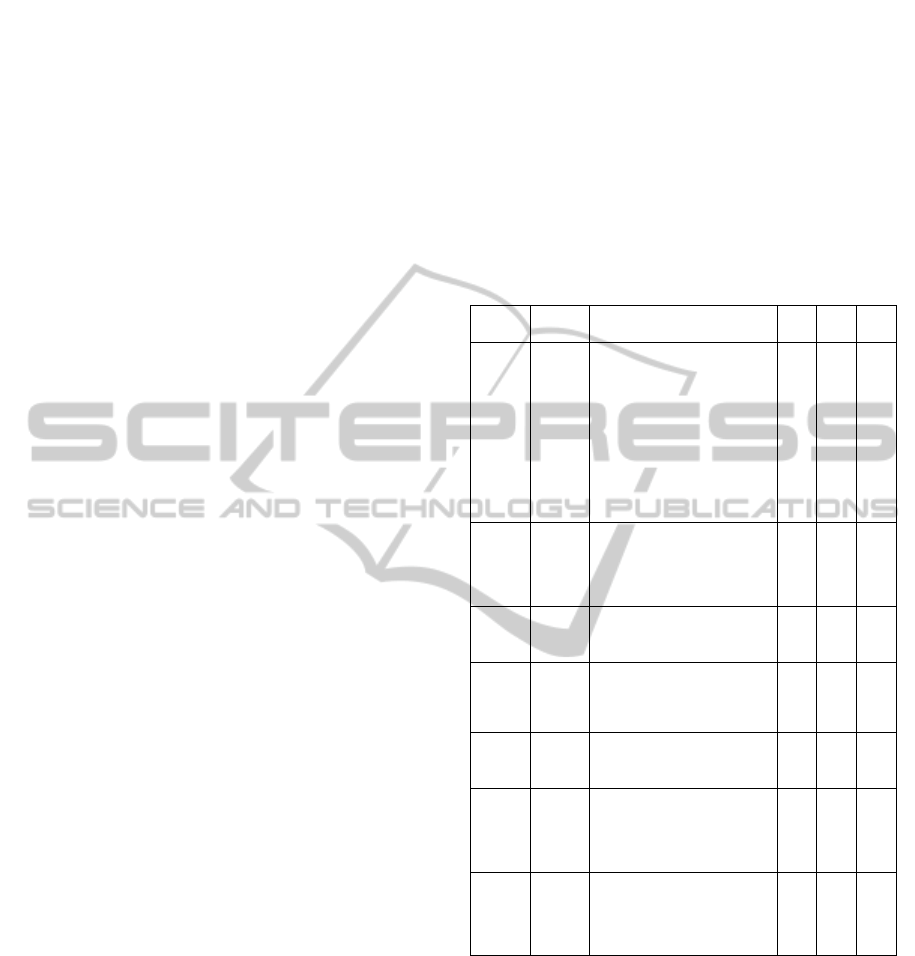 salient qualities of the reality, to provide controlled
conditions in which scientific research, experiments,
and measurements may be performed.
However, as shown from the few examples
described in Table 2 and as already reported by
(Georgious et al., 2007), only a few "Virtual
Laboratories" actually allow virtual experiments. In
fact, the concept of Virtual Laboratory is used by the
Chemistry community for web sites that provide
different kinds of resources, ranging from theoretical
material, to questionnaires (that may be in a game
format or not), demonstrations of experiments or
even detailed experimental procedures.
Just to mention some of the selected sites, the
Portuguese "Laboratório Virtual de Química"
developed by Minho University is a depositary of
supporting information (materials & methods,
procedures, queries, etc.) to be used by the students
before their experimental lab classes. The Virtual
Chemistry Lab, from infoPlease, is a completely
different application, as it provides the possibility to
execute several experime
nts online, representing
what is occurring at the molecular level; this site can
be used both by students (to improve concepts) and
by teachers (to better illustrate these concepts to
their classes). Virtlab, that claims to have users
registered from 100 nations, can be seen as a good
tool to illustrate theoretical concepts (during a class,
for instance), or to compar
e with calculations results.
2.2.3
Virtual Reality Chemistry
Laboratories
Virtual Reality has to be considered as a valid option
for the integrating environment of the future Virtual
Laboratory. It exists already some Literature
concerning Virtual Reality applied to Chemistry,
ranging from overviews and tutorials about how to
develop such labs (Casher et al, 1998), to a set of
already implemented Virtual Reality solutions
(Georgiou et al, 2007);
(Pérez et al., 2009).
Augmented Reality solutions (Azuma, 1997); (Braz
et al., 2007) are also worth to mention, as significant
progresses have recently been made in this field
(Núñez et al, 2007).
However, while a Virtual Reality environment is
seriously being considered to be used in the future
Virtual Lab, the use of an Augmented Reality
environment is out of the question, mainly because
of economic and technical reasons.
A simple Google query on Chemistry games gives
from 70E3 to 116E3 results (Table 1). These games
have, however, to be divided into games that really
require or illustrate some Chemistry, and others that
only use Chemistry as a theme or scenario, requiring
no real knowledge in the subject. In (Table 2) games
belonging to each category are presented. If we only
consider games that requir
e an advanced level of
knowledge (Keck, 2000) we
can state that most of
them are generally based on questionnaires, whether
a "time-attack" strategy is present or not.
Table 2: A few examples of claimed "Virtual
Laboratories". Under the ite
m "Demos" we include,
tutorials, theoretical material etc.
Name URL
Chemistry Materials
Exper
iment
Quizz Demo
Virtual
Chemistry
http://www
.chem.ox.
ac.uk/vrch
emistry/
i)
Movies of reactions between salts and
reagents.
ii)
The reagents of an organic
reaction appear and the student has to
draw the curly rows to indicate the
mechanism of that reaction. The
application answers back, saying
whether it is correct or not and giving
tips in the second case.
iii) VSEPR:

The
program shows one molecule, from a
list of 20, and the user has to select its
molecular geometry from a list. In case
it is correct, it shows a 3D
representation of that molecule.
Yes Yes Yes
VLabs
http://vlabs
.uminho.pt
/quimica/q
uimica.htm
l
Presents a list of experimental works,
including material & methods,
proceedings, safety instructions and
movies showing the experimental
procedures or illustrating particular
techniques.
Yes
Lab Virtual
de
Química
http://www
2.fc.unesp
.br/lvq/me
nu.htm
Description of several experiments:
involved materials and procedures.
Yes
Virtual
Chemistry
Lab
http://www
.infoplease
.com/che
mistry/siml
Illustrates seve
ral kinds of reactions at
molecular level. It is very interesting to
illustrate the role of each molecule
during a chemical reaction in solution.
Yes Yes Yes
Virtlab
http://www
.virtlab.co
m/main.as
px
nimations of several experiments
showing the evolution of several data in
time (concentrations,
pH, temperatures,
etc.)
Yes
Hi
hydrogen
http://libra
y.thinkque
st.org/114
30/researc
h/index.ht
ml
virtual experiments. The student virtually
"makes" the experiment and takes
conclusions.
Electronic
Homework
Pages-
CSUDH
Chemistry
Dpt.
http://che
mistry2.cs
udh.edu/h
omework/
hwintro.ht
ml
Exercises to do at home. At the end the
student puts his name and the name of
his instructor. We
believe each
instructor has access to his students'
scores. It is not a game. It is just one
more source of exercises to solve.
Yes
Our main contribution should be evaluated against
existing solutions:
3.
Existing solutions for VSEPR study
Considering our own experience with the two first
items and the validation results presented below on section
5, a few words should be said about the identified tutorial
LeMo-StudyingChemicalMolecularStructuresthroughGaming
509