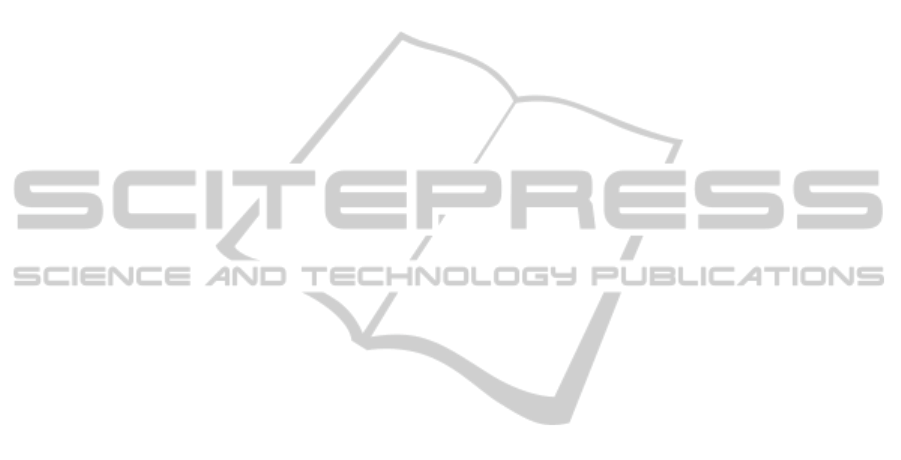 the pre-processed main content by the number of
tokens of the document) and, popularity (the number
of
inlinks – inlinks
are the number of Web links
pointing to Web page). In this work, the best results
were obtained with information-to-noise metric.
In (Bethard et al., 2009), twelve dimensions of
quality related to specific educational purposes are
identified. For each
quality dimension, some quality
indicators are identified. In
that work, the approach
to identify quality indicators consists on using a
training corpus where thes
e indicators are previously
annotated by reviewers (the indicators consist on
word sequences, for instance). The process of
quality identification consists in using Machine
Learning techniques to predict whether a resource
has good quality (contain indicators).
In addition, there are works in which the
objective is to evaluate a specific type of
information on the Web. One example is (Dalip et
al., 2009), where the quality evaluation of
Wikipedia's articles considers features like reviews
per day. The problem is that some of these features
are limited to Wikipedia's articles.
In (Denecke and Nejdl, 2009), the aim is to
identify if a text in a Web page, related to health
issues, is informative or affective. The authors
consider that informative
content has more value and
uses Natural Language Processing techniques to
identify this fact.
In (Yin et al., 2007) the authors try to identify the
most reliable Web page by comparing the content
(structured data extracted from Web page) of Web
pages. The process uses an iterative method, where
the data present in Web pages (e.g. year of
publication) are compared
and the most reliable
source (Web page) is identified.
It is possible to identify a set of quality indicators
to evaluate textual Web pages. Each quality
indicator/metric must be assigned to a specific
quality dimension that emphasizes a distinct quality
aspect. Regarding to quality dimensions, we follow
the definitions of (Wang and Strong, 1996)
(Naumann and Rolker, 1999) and (Naumann and
Rolker, 2000). Bellow, we present some quality
dimensions and quality indicators/metrics.

Accuracy. Spelling errors (Batini et al., 2008);
number of pages in a Web site (indicates how much
effort the author is devoting to the site, and more
effort tends to indicate higher quality) (Amento et
al., 2000); comparison of data with a reliable source
(Yin et al., 2007); information-to-noise evaluation
(Zhu and Gauch, 2000);

Believability. PageRank (Brin and Page, 1998);
inlinks (Amento et al., 2000); qualifications of the
author or provider of the page (HONCODE, 2009).

Timeliness. Creation date; last update.

Relevance. Cosine (Salton et al., 1975) and
metadata related to subject (Naumann and Rolker,
1999).

Verifiability. References to information sources
(e.g. Web links, references to papers or even to
persons or organizations) (Naumann and Rolker,
2000).
These indicators must be considered heuristics,
because since it may be difficult to evaluate some of
these aspects (i.e., accuracy). We note that quality
indicators related to verifiability are almost ignored
in the related works. We also verify that bad textual
Web pages (in general) do not indicate information
sources. Besides, verifiability is an important quality
criterion for Wikipedia
1
. Taking into account these
facts, we define our approach in the next section.
3 THE APPROACH
In this section, we present the proposal approach to
evaluate the content quality of textual Web pages
using verifiability indicators. Initially, considering
that quality means "fitness for use" (Wang and
Strong, 1996), the context of use for our approach is
defined. After, we describe a scenario of use for our
approach. We also discuss how to identify some
types of source references in the textual Web pages.
For defining the context of use, the start point of our
approach is related to Web search goals. A Web
search goal is related to a user query, i.e., users
construct queries to express his/her or her needs
related to some task. A relevant taxonomy of Web
search goals is presented in (Rose and Levinson,
2004). Another important aspect related to context
of use is the user profile. Thus, based on (Garzotto et
al., 1997), we define three types of Web users:
Casual (user does not have knowledge about the
subject); Intentional (user has some knowledge, or at
least a significant interest and Specialist (user has a
lot of knowledge on the subject).
In the proposed approach, we focus on Casual or
Intentional Web users with the following Web
search goals: Open (direct) or Advice (Rose and
Levinson, 2004). In this sense, the experiments we
have conducted (described in section 4) are related
WEBIST2012-8thInternationalConferenceonWebInformationSystemsandTechnologies
690