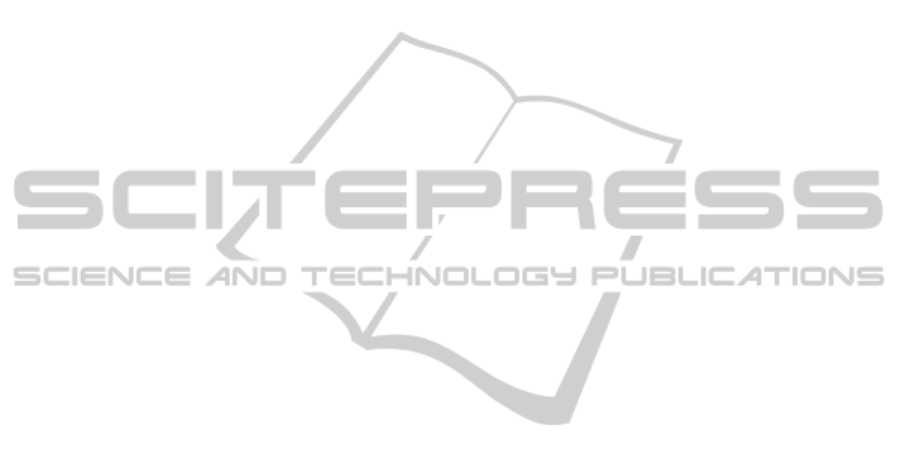 visualization. Narcissus (Hendley et al., 1995)
produces a graph-like representation of Web pages.
It focuses chiefly on the layout algorithm and one
problem is that a small change can cause the system
to re-organize. Natto (Shiozawa and Matsushita,
1997) demonstrates a method of de-occlusion by
manual control; however, selection becomes
difficult when the number of nodes increases.
WebPath (FrÈcon and Smith, 1998) generates a
three dimensional representation of a Web browsing
history within the DIVE (distributed virtual reality
environment). The layout is orthogonal so that the
maximum degree of node is limited. WWW3D
(Snowdon et al., 1997) incrementally constructs a
3D map of the user's current browsing session.
WWW3D suffers from limited scalability.
Munzner and Burchard (1995) visualize the
structure of sections of the Web by constructing
graphical representations in 3D hyperbolic space.
Lai and Huang (2010) combine Web data extraction
and graph layout techniques for WWW navigation.
However, they both lack the interactive interfaces
for users to manipulate the visualization.
There are also visualizations about social
recommendation (Gretarsson et al., 2010), Web
caching hierarchy (Huffake
r et al, 1998) and Web
cluster engine (Giacomo et al., 2007). They take
advantage of a variety of computer graphics
techniques and emphasize on graphic design.
To differentiate from the above listed Web
models, we combine Web structure mining with
information visualization techniques. Interesting
substructures such as cliques of Web graph are
located by a fast algorithm. And using clique
collapsing method a hierarchical framework of the
Web is built accordingly and displayed in 3
dimensional spaces.
3 DESIGN AND FEATURES
The following phases are necessary for generating
our 3D visualization tool to explore the Web graphs.
Phase one: use Web structure mining methods to
extract and highlight meaningful cliques in the Web
graph.
Phase two: apply modi
fied force directed
algorithm to plot Web graph in 3 dimensional
spaces. In this phase, in order to run force directed
algorithm effectively, the Web graph containing
Web cliques need to be pre-processed.
3.1
Web Clique Identification
3.1.1
Characteristics of Web Cliques
In graph theory, a clique in
an undirected graph is a
subset of its vertices such
that every two vertices in
the subset are connected by an edge. A clique in a
Web graph (without considering the direction of the
edges) generally represents strongly related Web
pages which share the same topic, views or interest
and the size of cliques may reflect the popularity of
common topics. Most isolated cliques on the Web
correspond to menu structures and usually exist in
single domains, and can be quite useful for detecting
harmful link farms (Uno, Ota and Uemichi, 2007).
Mining Web cliques is very useful, e.g. it can help
users better understand the evolution of Web content
and structure. Related research field such as Web
community identification has become quite popular.
Cliques are isomorphic such that all cliques of
the same size are equivalent. When comparing
objects, it is desirable to evaluate their properties
which seldom change. Cliques of a graph can serve
as invariants since the clique structure always
remains the same no matter how graph is
represented. The clique distribution may vary
significantly among Web graphs even if they may
look similar. By highlighting cliques inside graphs,
we may distinguish different graphs with better
precision.
3.1.2
Finding Web Cliques Recursively
Web graph is power-law degree distributed and
sparse. Therefore the size of most cliques is limited.
Even though max-clique algorithm is NP-complete,
we may still find a reasonable number of cliques in a
Web graph sample which can truthfully represent the
clique distribution. We modified the algorithm of
Carraghan and Pardalos (1990), one of the best
clique mining algorithms in sparse graphs. The
algorithm goes through each node to discover the
largest clique containing it and thus obtains a
distribution of cliques which defines a structural
property of the graph. The pseudo code of our
modified algorithm for finding Web cliques is
described below.
Find Web Cliques:
function clique(U, size, Set)
if |U|:=0 then
if size > max then
end if
remove last one of Set;
ICEIS2012-14thInternationalConferenceonEnterpriseInformationSystems
234