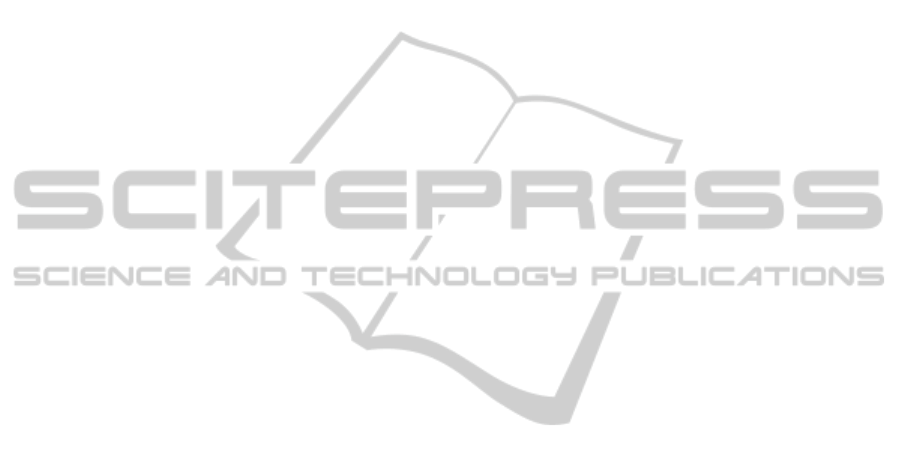 almost all virtual worlds implement initial
authentication through usernames and passwords,
very few (if any) virtual worlds have mechanisms to
verify the identity of the users after the initial log in.
The importance of subsequent verification results
from the possibility of intruders seizing control from
the genuine users initially logged in to the system.
The difficulty with continuously identifying users
inside virtual worlds is that it can be obtrusive and
prevent users from easily in
teracting with the virtual
world. However, continuous user identity
verification can be achieved unobtrusively through
analysing user interactions with the virtual
environments. Identifying users in virtual worlds
based on their interaction with these environments
not only will be useful for continuous user
recognition, but also for verifying the identity of the
users claiming to be the genuine users of the system
and possessing the genuine user password.
Knowledge based authentication mechanisms such
as passwords are currently used in virtual worlds;
however the virtual worlds are not capable of
distinguishing between genuine users and imposters
who possess the knowledge needed to gain access to
the virtual world. In addition current virtual worlds
are not capable of determining if the current user is
the continuing genuine user (who has been
authenticated to access the sy
stem at the start of the
session) or an imposter who has seized control of the
virtual world.
In this paper we propose a behavioural biometric
identification technique that utilises user interaction
with virtual worlds. The virtual worlds are strategy-
less 3D games that are implemented for the
identification purpose in order to collect the user
actions during the game play. While proposing a
more secure biometric identification system is the
main theme of this research, the study of the human
behaviour in a virtual world can have several other
applications. Examples of such applications are
differentiating humans from machines (bots) in
online games (Golle and Ducheneaut, 2005);
(Thawonmas et al., 2008); (Yampolskiy and
Govindaraju, 2007), and finding users operating
multiple accounts in an online system (Ishikawa et
al., 2010).
To the best knowledge of
the authors, there is
currently no research av
ailable which implements
behaviour based user recognition inside virtual
worlds. However there are a few studies that analyse
the behaviour of users inside virtual worlds
(Dharmawansa et al., 2011); (Gavrilova and
Yampolskiy, 2010); (Gonzalez-Pardoe t al., 2010).
2
BIOMETRIC IDENTIFICATION
Biometric identification as defined by ISO/IEC is
the process of searching against a biometric
enrolment database to find and return the biometric
reference identifier(s) matching the submitted
biometric sample of a single individual (Standing
document 2, 2007). Biometric identification systems
are usually classified into two categories:
physiological and behavioural biometric systems.
While there has been a significant surge in the
use of physiological biometric systems for user
identification and verificatio
n in recent years, they
have not been a perfect solution. There are a large
number of known attacks against these systems. A
few security attacks have been reported in (Buthan
and Hartel, 2005); (Ratha
et al., 2001). Buthan and
Hartel (2005) identified three types of spoofing
attacks to biometric systems: coercive
impersonation, replay attack, and impersonation
attack. Although ther
e are a number of
counterattacks against spoofing by using liveness
detection methods as described in (Toth, 2005), or
using a (multi-sensor) multimodal biometric system
(Schuckers, 2002), these methods add to the
complexity and cost of the biometric system and
they are not always successful.
To overcome some of these potential security
threats, a behavioural biometric system can be used.
Behavioural biometrics is a subset of biometrics
which uses measurable properties of a person's
actions for user recognition. The behavioural
biometrics of a user are not physically accessible, in
contradiction with the other physiological biometric
methods where the user biometric is usually
physically accessible (e.g. finger prints, iris, and
face). Therefore behavioura
l biometrics are more
resistant against the spoofing attacks mentioned
earlier.
The proposed system of this paper is a
behavioural biometric system, utilising algorithms
used in previous systems for user identification
inside virtual environments. However the feature
extraction techniques proposed in the paper are
novel and specifically designed to extract user
interactions with the virtual worlds.
2.2
Multimodal Biometric and
Score-level Fusion
A biometric recognition system is essentially a
pattern recognition system which works by
SECRYPT2012-InternationalConferenceonSecurityandCryptography
264