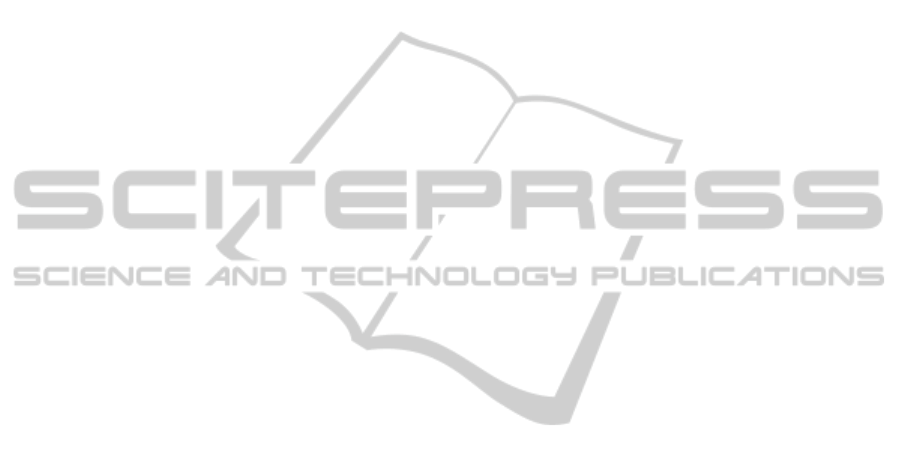 introverted and unable to interact with more people. However, when playing alone,
they were motivated and enjoyed the games. The results were positive in children.
They collaborated with each other and when
they got a correct answer, they celebrat-
ed it. However, when they failed, they en
couraged each other and

wanted to continue
playing. When repeated the session, the re
sults were even better than before; they
were more satisfied and motivated. Users c
onsidered the use of the system easy. The
new interaction way was nice and attractive for
them and they were able to feel them-
selves immersed in the game.
Acknowledgements
This research has been partially supporte
d by the Spanish CDTI research project
CENIT-2008-1019, the CICYT TIN2011-27767-C02-01 project and the regional
projects with reference PAI06-0093-8836 and PII2C09-0185-1030. I would like to
especially thank to Yolanda Cotillas Aranda y Erica González Gutierrez for their
collaboration on this project.
References
1.
Montague, M. and Castro, M. (2005). Atten
tion Deficit Hyperactivity Disorder: Concerns
and Issues». In P. Clough, P. Garner, J.T.
Pardeck y F. Yuen (Edit.), Handbook of Emo-
tional & Behavioural. London: SEGE Publications.
2.
Cromley, J. (2006) Control a car with your
thoughts – it's therapeutic. Los Angeles Times,
May 15, 2006.
3.
Wilkinson, N., Ang, R.P
., &Goh, D.H., (2008) Online Video Game Therapy for Mental
Health Concerns: A Review. International Journal of Social Psychiatry, 54(4) p.370--382.
4.
A. Rizzo, G. Buckwalter, T. Bowerly, A.
van Rooyen, J. McGee, C. van der Zaag, U.
Neumann, M. Thiebaux, L. Kim and C. Chua. Virtual envir
onment application for the as-
sessment and rehabilitation of attention and vi
suospatial cognitive process: an update, in
Proc. 3rd Intl Conf. Disability, Virtual Reality
and Assoc. Tech., Alghero, Italy, pp. 197-
207, 2000
5.
A. Rizzo, J. G. Buckwalter, T. Bowerly, C.
van der Zaag, L. Humphrey, U. Neumann, C.
Chua, C. Kyriakakis, A. van Rooyen and D. Si
semore. The virtual classroom: a virtual real-
ity environment for the assessment and rehab
ilitation of attention deficits, Cyberpsycholo-
gy and Behavior, no. 3, pp. 483-499, 2000
6.
Elmqvist, N. Distributed User Intefaces:
State of the Art .Workshop on Distributed User
Interfaces2011 (DUI) at the 29th ACM CHI Conference on Human Factors in Computing
Systems 2011, ISBN: 978-84-693-9829-6,
Vancouver, Canadá, May 7-12, 2011
7.
Romero,S., Tesoriero,R., González,P. , Gallud,
J. A., Penichet, V. M. R.: Sistema Interacti-
vo para la Gestión de Documentos Georefer
enciados basado en RFID. Interacción 2009, X
Congreso Internacional de Interacción Persona
-Ordenador. Barcelona. Septiembre 2009.
ISBN-13:978-84-692-5005-1
8. Parton et al., Parton BS, Hancock R, duB
usdeValempr AD. Tangibl
e manipulatives and
digital content: the transparent link that bene
fits Young deaf children. In: Proceedings of
the International conference on interaction design and children. 2010
9.
Luminosity game. http://www.lumosity.com/
108