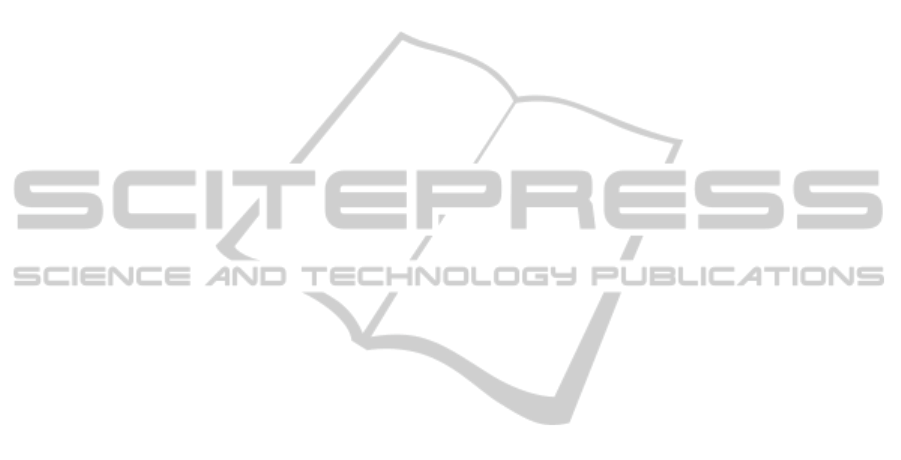 acoustic signal for the purposes of facilitating
communication or interpretation." Sonification
involves the translation and integration of
quantitative data through mapping to a sound model,
and enables recognition of patterns in data by their
auditory signatures.
While the term "sonification" dates back to the
1990s (Kramer, 1994), we and other colleagues
observe anecdotally that it has appeared with
increasing frequency over the last two years or so in
the parlances of the sciences and informatics. This
increase in awareness is perhaps somewhat
surprising, yet has for some time seemed inevitable
to those who have worked in the field, for a number
of reasons (Ballora, 2010).
Since both the eyes and
ears aid us in providing complementary and
supplementary information as we navigate through
the world, it seems unreasonable to expect that, as
information sources increase, visualization would
remain the sole means of
representing abstract
information. As researchers and analysts currently
face datasets of higher dimensions, or multiple
simultaneous situation reports from different areas,
there is a commonly acknowledged problem of
information overload.
Information presentation is critical for both
research and education. Scientists frequently rely on
highly developed visualization techniques for their
own understanding, as well as an aid in presenting
material to lay audiences. Science museums and
television programs such as
Nova
commonly engage
audiences with eye-popping visuals; these visuals
become the cultural basis of a generation of students
who are inspired to go into the sciences and push the
boundaries of a field of knowledge. The inclusion of
sonic demonstrations along with visualizations is
becoming a conceptual prior
ity in science education
and even in some popular music (Hart and Smoot,
2012; Hart, 2012).
Effective use of sound hinges on perceptual
understanding, and what types of tasks we use the
eyes and ears for. Visu
alizations are strongly
synoptic, that is, an entire image can be seen at once.
The eyes provide summary information of features
such as shape, size, and texture.
Many organizing principles of visual cognition
also apply to auditory per
ception. Like the eyes, the
ears create auditory gestalts that aid understanding
the nature of events, and make estimates when
presented with incomplete information (Bregman,
1991).
In contrast to visualization, a sonification, like a
piece of music, exists in ti
me. It cannot be "listened
to all at once." Being time
-based, the ears give us a
strong sense of dynamic elements of our
environment. The auditory system is also highly
adapted for following multiple streams of
information (Fitch and Kramer, 1994). That is,
listeners can readily apprehend a number of
simultaneous melodies if they are presented
effectively. Thus, sonification is an effective way to
display a multitude of signal processing operations
simultaneously, with each being represented as a
line of counterpoint, a series of chords, or a
succession of musical instruments. The auditory
system is also extremely adept at pattern
recognition, a capability that allows us to recognize
melodies in spite of transpositions or variations.
The auditory system is most sensitive to dynamic
changes involving periodicities: small changes in
pitch or tremolo rate are perceptible to untrained
listeners. Beyond this, other dimensions that may be
represented in an auditory display include changes in
loudness, instrument, stereo position, spectrum,
transient time, duration, and distance. Through
considered use of tools used in music synthesis,
information can be presented in an engaging and
informative fashion – in addition to boggling the
eyes, science should also dazzle the ears.
The study of fMRI images is opening new
avenues of understanding correlated activity among
brain regions when performing certain tasks. As
researchers advance in their understanding of this
information, new pattern types will be recognized.
We are exploring the use of
sound to represent this
information. On the one hand, this information may
be static, and therefore not
seem consistent with the
time-specific strengths of
the auditory system
discussed above. On the other hand, by capitalizing
on the sensitivities of the auditory system as we
translate the information to
sound, we expect that the
pattern recognition capability of the auditory system
will reveal new recognizable patterns.
3.1
Sonification Applications
In addition to the 1999 NSF summary referenced
earlier, the most authoritative summary of work to
date in the field is
The Sonification Handbook
(Hermann et al., 2011). Sonification has been
demonstrated to offer advantages in representing
multivariate data from a variety of domains,
including the financial markets, quantum physics,
and meteorology, as well as various situational
monitoring implementations. Of particular interest to
this project is prior work in medical informatics.
Sonifications of heart rate variability (Ballora et
al., 2004) have been shown to have diagnostic
potential. And there is a strong history of sonifying
EEG readings of brain ac
tivity (Hermann et. al.,
HEALTHINF2013-InternationalConferenceonHealthInformatics
26